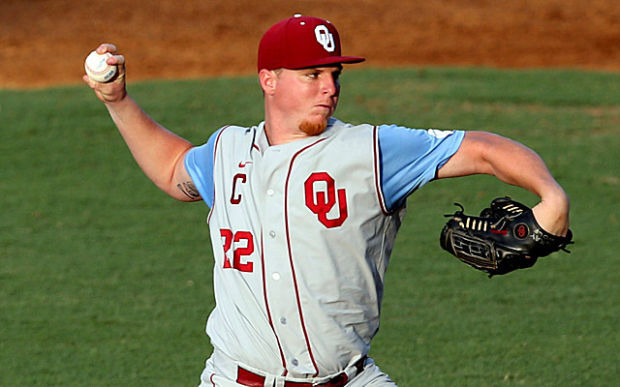 Pioneer League fans -- those in Grand Junction in particular -- have patiently waited to see No. 3 overall draft pick Jonathan Gray pitch this season. But the Rockies have taken their time with Gray, and have held him out of live action since the season began June 20. Gray signed with the Rockies out of the University of Oklahoma on June 12.
But KJCT-TV in Grand Junction reported Friday that Gray, a 6-foot-4, 240-pound right-handed power pitcher, will make his pro debut July 10 when the Mustangs visit. It will be Gray's first action since he last appeared with the Sooners earlier in June.
You have free articles remaining.
Why have the Rockies been so slow with Gray? It's mostly because he's coming off a collegiate season in which he threw 126 1/3 innings, a heavy workload for a college hurler. The 21-year-old Gray went 10-2 with a 1.59 ERA and 138 strikeouts for OU in 2013.
Grand Junction pitching coach Ryan Kibler explained the process this way to KJCT:
"He had a long season. We want to go nice and slow and make sure he's just right and ready to go. We didn't want to rush him along at all. He's everything that he's cracked up to be, especially watching him yesterday with some hitters standing in there throwing his fastball down in the strike zone and by some guys. It was fun to watch. He's for real."
Gray is the highest drafted player in the Pioneer League this season. He is one of three first round draft picks from 2013 in the league -- along with Idaho Falls shortstop Hunter Dozier and Mustangs outfielder Phillip Ervin.
Be the first to know
Get local news delivered to your inbox!