The Gazette's Top 10 sports stories of the year are selected through voting by The Gazette sports staff. Each staff member's votes are tabulated on a 1-through-10 scoring system. Here are stories 10 through 6 we feel most impacted Gazette-area readers for 2017. Items 5 through 1 will appear in Sunday's Gazette, and we will reveal our Sportsperson of the Year on Monday:
T10. MSU-Northern's Weber and Stroh win national titles
T10. The three-peat: Laurel-Billings Central girls soccer
For the third consecutive season, the girls soccer teams from Laurel and Billings Central met on the pitch to decide the Class A state champion. And on a sunny late-October day, the Locomotives were crowned champs, beating the Rams 2-0 on goals by Kaitlyn Dawes and Aspen Cotter. Laurel's win halted Central's two-year run as the title-holders, and was the Locomotives' second championship in the past four seasons. (Laurel beat Columbia Falls 2-0 in 2014, so the Locos have appeared in four straight title matches.) The rest of the state's Class A programs might be playing catch-up again next season, too. Both the Laurel and Billings Central rosters were loaded with talented underclassmen and likely have their eyes on playing each other yet again for the title.
9. Joey Moore caps career with record-breaking performance
8. Cats run over Griz ... again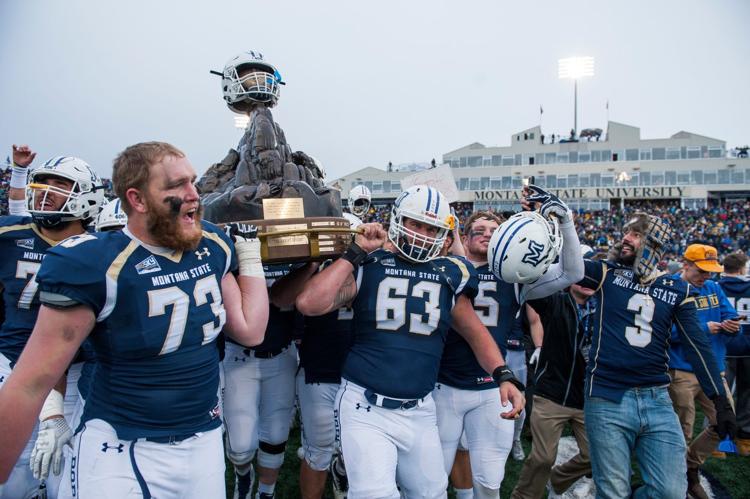 Montana needed a victory to make the playoffs. Montana State wanted to protect its home turf and win for a second consecutive year in the age-old battle between in-state rivals. The game was a near carbon copy of the season before, as fleet-footed quarterback Chris Murray and the Bobcats rushed for 322 yards and four touchdowns in a 31-23 victory over the Grizzlies in Bozeman. Nick LaSane piled-up a game-high 121 yards, including a 71-yard touchdown, Murray rushed for 99 yards and a score, and true freshman Troy Andersen had 64 yards and two second quarter touchdowns. The game proved to be a must-win for Montana's Bob Stitt, who was ultimately relieved of his duties as coach, which began the process of Bobby Hauck's return to the Griz.
7. NAIA Women's Tournament a success
6. West grad Dylan Donahue is drafted by the New York Jets
Billings West graduate Dylan Donahue was selected by the New York Jets in the 2017 NFL Draft. Donahue, a 2011 grad, was picked in the fifth round with the 181st selection. Taking the unconventional route to the NFL, Donahue began his college career at Montana Western but left after his redshirt year to roof with his father, Mitch. He then restarted his career at Palomar College in San Marcos, California, where he thrived for two seasons at the junior college, earning Southern Conference Defensive Player of the Year as a sophomore. He then transferred to West Georgia, located in Carrollton, an NCAA Division-II program. He was named the Gulf South Conference Defensive Player of the Year as a senior when he broke the school record of sacks with 13.5. In two years he racked up the school's career sack record with 25.5. That performance earned him an invite to the NFL Combine back in February and March. Donahue signed a four-year contract on May 23 with New York. Donahue, who plays linebacker in the NFL, saw his season with the Jets ended on Oct. 1 when he injured his right elbow on a punt return against Jacksonville. Mitch Donahue also graduated from West and played four seasons in the NFL, two with San Francisco and two with Denver.