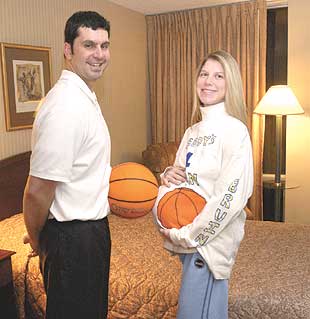 There will be no shortage of hoopla surrounding Pat and Tricia Hansen as the state Class C boys' basketball tournament gets under way this afternoon at MetraPark Arena.
Pat is the third-year coach of the undefeated Gardiner Bruins, and today is also the due date for his wife Tricia, who is pregnant with the couple's first child.
"It's perfect timing," Pat said with a laugh. "It's the state basketball tournament and her belly is shaped like a basketball."
For the moment, Pat is planning to be on the Bruins' bench and Tricia will be in the grandstands watching when No. 2-ranked Gardiner, 24-0, takes on Dutton-Brady, 20-3, at 2 p.m. today.
"This has been incredible," Tricia said. "You don't know what to expect. It has been nine months and now I just keep praying, 'Let's just get through the tournament.'
"But babies are unpredictable," she added. "She'll come when she's ready."
As part of today's game plan, Tricia and longtime Gardiner statistician Glenn Hinton are considering arming themselves with two-way radios. "Just in case I have to buzz (Pat) and say 'it's time,' " said Tricia.
Assistant coach Keith Young is ready to take over for Pat at a moment's notice.
Plenty of other helpers are also waiting in the wings.
"Bruce Robertson (former Laurel coach) is the godfather," Pat said. "He's going to be at the hospital and said he could play dad for a little while. It's going to be great."
Pat, who is also Gardiner's head football coach, and Tricia, who is the advertising and recruiting manager for Yellowstone National Park Lodges, both laugh at the irony of their situation.
"We are both really organized people and this is a huge life-changing thing for us and we do not have any control of when it's going to happen," Pat said. "It's a wonderful, helpless feeling."
The Hansens, who will mark their seventh wedding anniversary in May, are not even 100 percent certain whether they're awaiting the arrival of a girl or boy.
"Right now they think it's a little baby girl," Pat said.
The baby's positioning during several ultrasound sessions, however, didn't offer a definite answer.
"I hope it's a girl because everything we have is pink," said Pat.
Most of the ultrasound technicians have indicated their baby is indeed a girl, but Tricia said one told her to save all of her receipts (for the baby's clothes) just to be safe.
"I might have to go on another shopping spree," she said.
The Hansens have settled on a couple of girls' names - Mya Mackenzie and Gabrielle Lea. They've also set aside a couple of boys' names - Cy Xavier and Gabriel Lee - just in case.
Tricia, 32, has missed only one Gardiner game all season and is coming off road trips to Butte for the district tournament and Dillon for divisionals. The couple has always kept an extra bag packed on the road in case a trip to the hospital became necessary.
"I've been feeling great," said Tricia, who had a doctor's appointment on Wednesday. "I've had the best pregnancy. I haven't been sick. It's been amazing."
Pat, 29, said the couple is appreciative of the support they've received along the way from the community and the high school students in Gardiner.
"The community has been wonderful," Pat said. "They've been keeping an extra eye on her. It's a great family atmosphere."
He said he is also fortunate to be working with a group of players that are "tremendous on the court and in society.
"They don't bring any extra distractions," he said. "They let me focus on Tricia and the little baby, too … A few of my players have said they hope my little baby girl looks as beautiful as my wife."
Tricia's baby doctor, Heidi Duncan, is based in Billings so the site of this year's state tournament couldn't have worked out any better.
The Hansens are already used to traveling 57 miles to Livingston for Lamaze classes and making the nearly 160-mile trip - one way - for doctor's appointments in Billings.
Her doctor is even encouraging her to attend the state tournament games.
"She thinks it's great," said Tricia. "She thinks it's fine. She just told me to take it easy."
If the baby doesn't appear this weekend, Tricia said labor will likely be induced on Tuesday or Wednesday of next week.
Tricia, who grew up in Hysham and Bridger, and Pat, who is from Wisconsin, met at Rocky Mountain College.
Throughout this season the couple has never been too far apart. During home games, Tricia usually runs the score clock for the junior varsity and varsity contests.
"It helps me focus and keeps me calm," she said.
Tricia is definitely an active spectator - sitting, standing, booing and hollering.
"It's been a bonding time for both of us," she said of herself and the baby. "Especially when the baby moves so much. She's active during games. I think she hears Pat's voice from the floor."
While the uncertainties of the days ahead make for an "exciting, wild time," Pat said he is in a win-win situation. The arrival of their first child is imminent and Gardiner has made it to the state tournament for the first time since the 2000 season.
"I feel very blessed," Pat said. "It would be close to an American dream to head home with a healthy baby and a championship trophy."