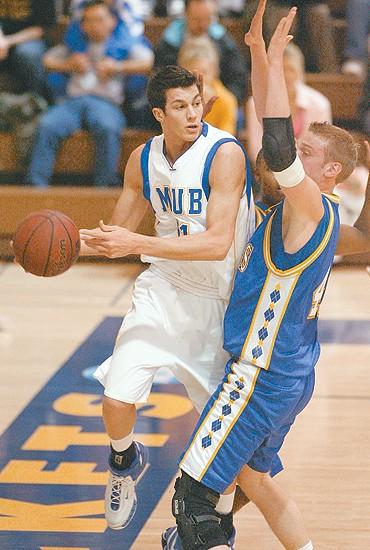 Challenges come at a person in many different ways.
Jonathan Wiley has long accepted the challenge in the classroom.
Wiley carries a 3.94 grade point average through his senior year at Montana State-Billings. He will graduate this May with a double major in finance and management.
Wiley has been a 4.0 student five of the last seven semesters and a two-time ESPN the Magazine Academic All-District VII selection.
"I always want to be the best in everything," Wiley freely admits. "I try to be the No. 1 student in the classroom.
"My parents (David and Barbara) never pushed me to get all A's. It's just one of those intrinsic things … I try to do well for me …. to go to school and actually learn something. This is a great opportunity."
Wiley has already done internships at Piper Jaffrey and Global Village for Future Business Leaders, the latter which included students from all over the world. He was one of five selected from the United States. He's also participated in Japan Business Exchange, Habitat for Humanity and is the president of the MSUB Investment Club.
"I like finance," explained Wiley. "The trading, it presents intriguing challenges. It's something relevant to the market place."
Wiley, of Westlake Village, Calif., is in the process of putting graduate school applications together for schools such as Yale, Harvard, Columbia, Carnegie-Mellon and Stanford to pursue his MBA.
But sometimes life throws at you more than just a demanding exam in the classroom.
Wiley has been tested - both physically and emotionally - this season, one of the most difficult in recent history for the Yellowjacket men's basketball team.
First hit by transfers, then discipline issues and now season-ending injuries, MSUB has staggered to a 5-19 record in Wiley's senior year. He is one of the co-captains with Cody Samuelson, the program's other senior.
"To be honest, it has been difficult," Wiley said. "This is not really expected considering the success they have had here. The expectation here is to win.
"But it's good to have challenges. When it's a challenge, you don't take anything for granted. You learn a lot about yourself, about your character."
The one consistent has been Wiley's play. A lean and long-armed 6-feet, 6-inches tall, he is averaging a career-best 13.6 points and 6.1 rebounds a game this season. He has played every position, including point guard and post, through a variety of injuries that have included a sprained wrist a couple of concussions and arms that have been shredded from setting up down near the basket.
"My arms are always scratched up," Wiley offered with a small smile.
But head coach Craig Carse has leaned more on Wiley for his leadership than for his play.
"He's a role model for others," said the MSUB head coach, who found Wiley during an open gym for college prospects in California. "He does things right. Jonathan is tough and never complains.
"He's played every position for us. I didn't ask him to, he wanted to do it. He's a great example for all students. People won't realize what Jonathan meant to this program until after he is gone."
Wiley was initially thinking signing with a Division I program in the Patriot League before Carse called in the spring of 2003.
"I had another player in mind," said Carse of watching Wiley play. "But the longer I watched Jonathan, the more I liked him. I thought he would be a good fit for our program."
"I was not thinking about coming to Montana before coach called," Wiley remembered. "But once I came here for a visit, I really liked the program and I liked the guys. And I knew it would be a good place for me, athletically and academically."
Wiley's freshman season would be a harbinger for things to come a few years later.
Because of injuries, the Yellowjackets' roster was just down to five players on its final trip to Hawaii - Wiley, David Carse, Buddy Windy Boy, Jerett Skrifvars and Bill Day. Wiley started the final eight games of the season.
"That's one of my favorite years here," said Wiley. "I've got great memories from that season. When you play with just five guys, you get pretty close. It was a cool experience."
Wiley started the first 21 games of his sophomore year before being sidelined with a season-ending shoulder dislocation. Last year, he started in 11 of 28 games.
Through the years, his role has continually morphed to fit the team's needs. He was initially used as a defensive stopper - "He's got the reach of a 6-10 player," Carse said - to rebounder and now to primary scorer. Wiley ranks seventh at MSUB for career blocked shots.
"My first couple of years here, we had some pretty good scorers," said Wiley, mentioning Cameron Munoz and Buddy Windy Boy. "I looked for something else to do … rebound, defend … anything to help the team.
"This year, it's been different. I've had to average in double digits."
His leadership has reached beyond the court. Knowing this year's roster would be dominated by underclassmen, Wiley began calling the new players as soon as school started. He and Samuelson organized team meetings and other outings, like going to the movies as an entire group.
"Being a senior, it's important for me to be an example to the other guys," Wiley said. "To show them it's important every day to try your best. That's important to me."
That leadership got tested when discipline problems led to five players being dismissed. Two have since been reinstated. But all of a sudden, MSUB went from having 13 at practice to just eight.
"It was a direct parallel to my freshman year of us being short-handed," said Wiley. "To go from 13 to eight, it's a totally different atmosphere at practice. You can't scrimmage. The good thing about these young players is they're pretty focused and mature for their age.
"Everybody knew how important it was we stay together. Everybody had to take a bigger responsibility to the team. We've done a lot this season. It's been difficult. But wins and losses can't gauge your success."
Be the first to know
Get local news delivered to your inbox!