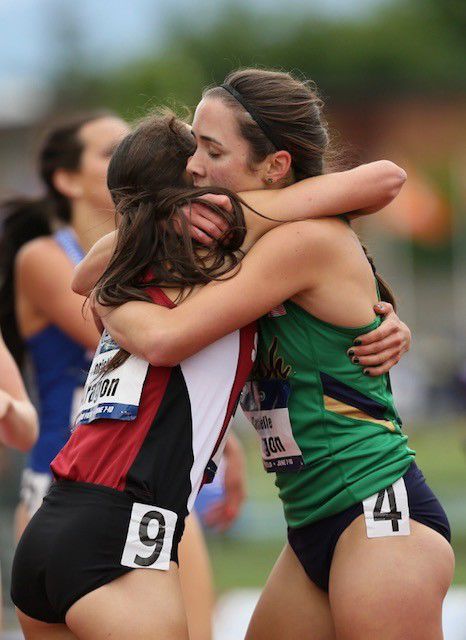 EUGENE, Ore. — Kathy Aragon, wearing a blue Notre Dame hat and red Stanford shirt, and her eldest daughter Alexa, who was wearing a red Stanford hat and blue Notre Dame shirt, sat near the starting line of the women's 1,500 meters Thursday at the NCAA outdoor track and field championships, awaiting the race that would determine if not one, but two members of the "Aragon clan" would make it to the final. 
Notre Dame senior Danielle and her younger sister Christina, a freshman at Stanford, competed against one another in the semifinals of the women's 1,500 meters at Hayward Field, in only their second official race against each other. 
Their father Chuck, an alumnus of Notre Dame, had said last summer that it would be his dream to see both his daughters on the line for the 1,500 at the NCAA championships. 
He'll get his wish. Both Danielle and Christina qualified for Saturday's final. 
Christina, crossing the line at 4 minutes, 19.08 seconds, finished second in their heat and secured a spot in the final Saturday afternoon. Danielle followed .05 seconds behind her sister at 4:19.13, finishing third in their heat. 
Said Danielle: "Getting out there and lining up together and then us both making it through has been what I've worked for my whole college career, so it's pretty special." 
The top qualifying time was 4:10.74 by Dani Jones of Colorado. 
As the sisters crossed the finish line, automatically qualifying for the final by place, Kathy and Alexa relaxed, tears in their eyes as they realized they both made it to the final. 
Danielle went out strong, taking the lead early and maintaining it until the final 200 meters, while Christina held back, slowly working her way through the pack to secure a second-place finish. 
"Dani likes to just kinda get out of the messiness of it, and she usually goes towards the front," Alexa said. "If it happens that she needs to lead, she'll do it." 
Alternatively, Christina has a strong kick and likes to hang out towards the back of the pack. 
"She'll be ready to go early, you know, as early as it takes," their mother Kathy said of Christina. "She just kinda gets out of the way in a different way." 
The sisters first faced one other another last fall in the 2016 NCAA cross country championships, where Christina placed 38th, securing All-American status, and Danielle finished 52nd. 
"We're five years apart, so we never got to race together in high school or anything," Christina said. "So it's a pretty cool opportunity having Dani do a fifth year." 
The sisters will line up together again at 4:41 p.m. Mountain time Saturday for the final of the 1,500 meters, Danielle's final collegiate race. 
"It's more nerve-wracking as you're trying to get here, and now it's like all icing this last race," Kathy said. "They made it to the last race; that was the goal."