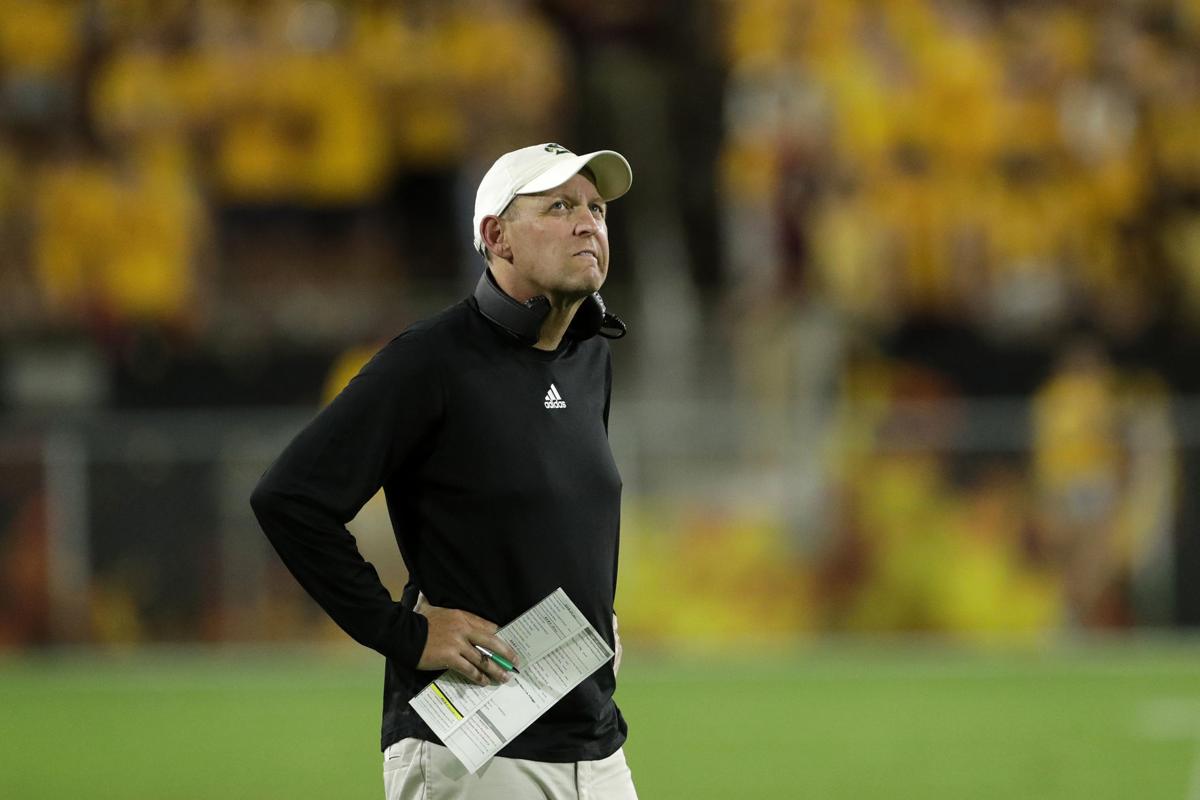 BILLINGS — Initially, Big Sky Conference commissioner Tom Wistrcill was thrown by an announcement made last month by the California State University system.
In that directive, CSU chancellor Timothy White said classes across the system's 23 campuses would continue to be administered online through the fall semester as concerns over the COVID-19 pandemic persist.
That came not long after NCAA president Mark Emmert posted to Twitter his opinion that if campuses weren't open, "then they're not going to be playing sports. It's really that simple."
With so much curiosity surrounding the 2020 football season, it led to some foreboding for Wistrcill, as two CSU schools — Sacramento State and Cal Poly — are members of the 13-team Big Sky conglomerate.
What would happen to the conference schedule if those teams weren't able to compete?
"When the initial report came out it was a little troubling," Wistrcill told 406mtsports.com.
But further discussions, Wistrcill said, led to the understanding that the California State University system won't go 100% virtual, that there will be at least some in-person instruction on those campuses.
That means Sacramento State and Cal Poly are eligible to play, according to both Wistrcill and Sac State athletic director Mark Orr.
UC Davis, the Big Sky's third football team located in the Golden State, is not part of the Cal State system.
As of now, the conference is clinging to the hope that the 2020 football schedule will be played in full with each team participating in all of its 11 games. Athletic directors — including Kent Haslam at Montana and Leon Costello at Montana State — have said as much.
But the situation remains indefinite.
"We're planning on playing football this fall and we're planning on playing sports this fall, with the understanding that it can change," Orr told 406mtsports.com during an interview Tuesday, adding to the chorus that a full football season is the goal. "It can change next week, it can change next month.
"We have so many scenarios that we're preparing for and plans can change at a moment's notice. And I don't think Sacramento State is unique that way, and I don't think California is unique that way."
Cal Poly athletic director Don Oberhelman said voluntary workouts began on Wednesday, and added that the directive that came out of the Cal State University system was misinterpreted.
"The stuff out of the CSU was a bit misleading in that it calls for all classes to be taught online, but it doesn't mean that classes will not also be in person," Oberhelman said. "We are having in-person classes, albeit limited, probably like most schools around the country."
"We are fully engaged, full-speed ahead just like everybody else in the Big Sky."
Both Sacramento State and Cal Poly are scheduled to play the Montana schools this season. Sac State is set to travel to Missoula to play the Grizzlies on Oct. 17, while Cal Poly has road games at UM (Sept. 26) and Montana State (Oct. 10) on the docket.
Though there is more clarity on the football status at Sacramento State and Cal Poly, coronavirus will have a say in whether or not the Big Sky season starts on time, is played throughout and if fans will be allowed into stadiums.
Those decisions will also be based on guidance from local and state health officials.
Athletic directors from around the league discuss these matters each week. Orr chairs the football committee.
The Big Sky is unique because its geographical footprint is so big, spanning eight states and two time zones. Each state has its own set of health protocols as businesses reopen and restrictions ease.
In Montana, the Bobcats and Grizzlies began welcoming athletes back to campus for training early in June. Sacramento State just recently allowed athletes to return, but facilities remain closed for the time being.
California has been hit hard by the virus, with more than 151,000 reported cases and over 5,000 deaths, according to the Centers for Disease Control and Prevention. Montana, though, has the fewest cases of any state.
Insofar as things are fluid, Wistrcill said he has a good feeling about the overall trends.
"I feel better than I did two months ago about us playing in the fall. To me that's positive," he said. "But we're also one big breakout away from that changing and not feeling so good. But to me we're trending in the right direction. Getting the student-athletes back on campus is a big step."
Orr said Sacramento State has yet to have an athlete test positive for COVID-19, but he also said the testing capacity for when the Hornets' 600-plus athletes return to campus is still being worked out.
"All of that is being developed in terms of plans not just for testing but protocols that need to be in place with the goal of mitigating the risk and keeping our student-athletes safe," Orr said. "All that is being developed, not just with (Sacramento) County but internally with our campus and our chancellor's office."
The virus aside, Sacramento State, in its first season under coach Troy Taylor, won a share of the Big Sky championship last fall and made its first appearance in the Football Championship Subdivision playoffs. Expectations seem as high as they've ever been for the Hornets.
But All-America quarterback Kevin Thomson, the league's offensive MVP in 2019, entered the NCAA transfer portal last week, an untimely loss for a program on the rise.
"We want what's best for Kevin. We support him," Orr said. "He's been a tremendous student-athlete for us. We're very, very proud of him. If he's made the decision to pursue an FBS opportunity, we support him 100%."
The Hornets will have a new quarterback this season, but there's no word yet on how many opportunities the team, or anyone else in the Big Sky Conference, will have to compete.
"I would say it's going to be different. We don't know even what the season's going to look like," Orr said. "Hopefully we can get the full 11 games in. Hopefully the pandemic doesn't come into play again in the fall. In terms of competitiveness we had a really good year. But last year is done and this is a new year and a new team."
"In April we were like, 'We've got a bunch of time.' And then May came and now it's June 16," Wistrcill said. "Two months from now we're going to have to have a really good idea of what kickoff is going to look like at every one of our schools. Different places need different things to happen between now and then."
Be the first to know
Get local news delivered to your inbox!