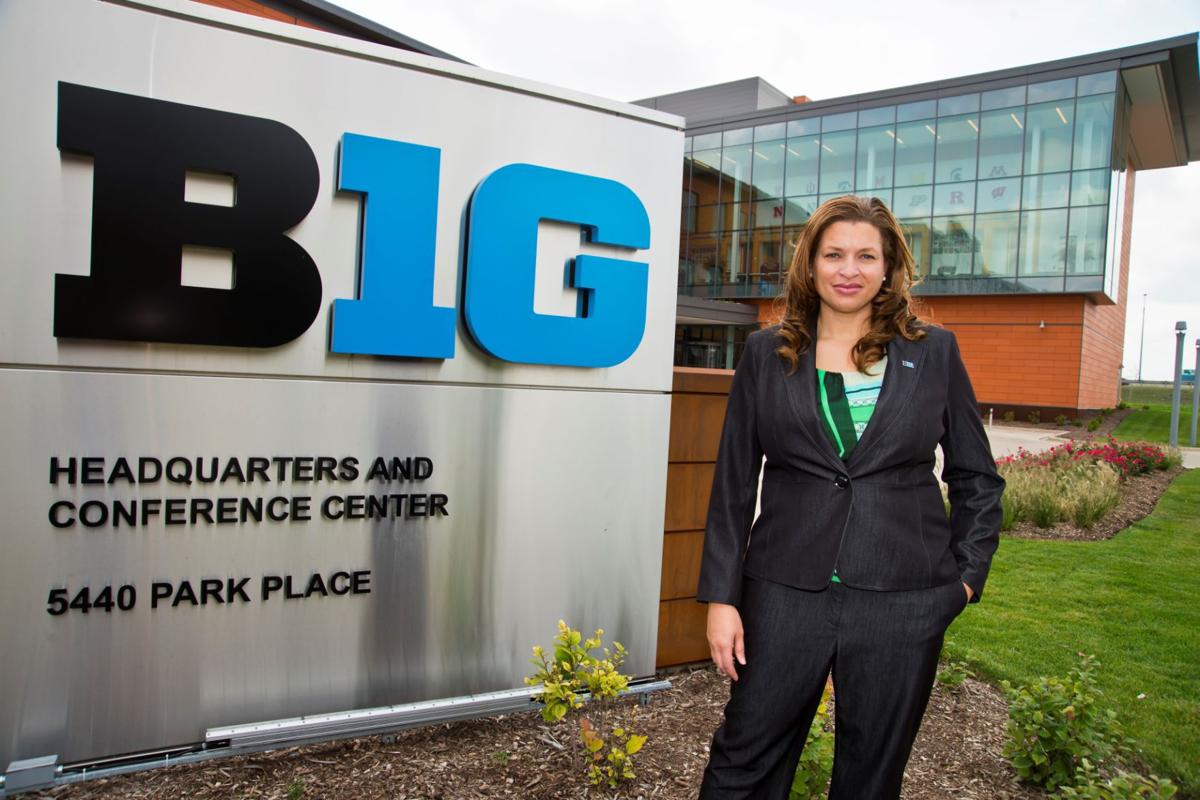 Before she sinks her teeth into her new job as commissioner of the Big Sky Conference, Andrea Williams must find a place to settle in Ogden, Utah, with her two chocolate labs, Magic and Blu, and her sister's Great Dane, Diego.
"It's been challenging," the 41-year-old Williams acknowledged with a cheery laugh.
But it pales in comparison to the challenges that await her at the Big Sky when she takes over for longtime conference head Doug Fullerton on July 1.
Williams, who comes to the Big Sky from the Big Ten Conference, spoke one-on-one with Gazette reporter Greg Rachac on Wednesday about her vision and plans for the Big Sky going forward. Following is a look at their conversation:
BG: What attracted you to this job? Why did you want to become Big Sky Conference commissioner?
"One of the unique pieces with Division I conferences is that there are only 32 that are out there, so these opportunities are few and far between. That's something that was of interest to me. The institutions, I'm really excited about all of them and where they compete, whether it's athletically or academically. So that was the initial draw.
"But once I got started in the actual search process, it was the people. I had an opportunity to visit with the presidents, athletic directors, deputy ADs and senior women's administrators, and you got the sense that they wanted to work together to continue to build the Big Sky brand and elevate the conference, and that was the defining moment for me in terms of wanting this position."
BG: You are the first female commissioner in Big Sky history. What does that mean to you?
"It's 2016, and you hope that as a country and as a society we get away from talking about race and gender in terms of opportunities. We have an African American president, we have a female as a presidential hopeful, so you hope those are conversations that you don't have. But we're not color-blind or gender-blind, so I do recognize the significance and how important it is.
"I'm grateful that the leadership of the Big Sky made a decision to find someone with the right experience and background and education that was going to be the right fit. I believe that they made the decision based on merit. I'm one of 10 female Division I commissioners, and I think that's a great class to be in. It's an exciting time to be in any position like this is college athletics, to work and be a part of something we all have passion for."
BG: You officially take over on July 1. What will be your first order of business?
"A couple of things are already teed up based on the work of the conference staff, but No. 1 will be to build a vision and a strategic plan. The wheels are already in motion, but it was important for the league that the new commissioner be a part of that process. Another is to evaluate and do an internal audit of the conference office, making sure we're being responsive to our member institutions and that we have the appropriate resources to match expectations and operate with full efficiency.
"And for me personally, it's my goal to get out to all of our campuses and meet with our presidents, our administrators and our student-athletes, and to find out more about each institution. Even though they make up one conference, each has a different set of priorities and a different set of challenges."
BG: After 20 years in the FBS, Idaho announced it is dropping back into the Big Sky for football, giving the league 14 football-playing members. What will be the overall impact?
"Selfishly, I think it's great. I know they had difficult conversations and had to evaluate what was best for their football program, and it wasn't an easy decision. But from a Big Sky perspective, we welcome them back. What's unique is that their others sports compete in the Big Sky, so I hope it will be a natural transition. One of the things the Big Sky can take away is, what were their best practices? What was their experience at the FBS level? Are there any key learnings or takeaways we can apply to the Big Sky? Although the Big Sky has great success and great tradition in football, I think that they're going to come in and make an immediate impact and be an immediate competitor."
BG: Commissioner Fullerton has said that he wants the Big Sky to also add New Mexico State for football. Is that a viable option?
"It depends on what our priorities are. You don't want to be too big and you don't want to be too small. Years ago, when there was a lot of realignment going on, people were throwing out the term 'superconferences.' It really is going to be based on our membership and what our presidents and administrators believe will be best.
"You don't want to be so large that you don't have a connection to the conference or so large that you dilute the other sports and your championships and postseason tournaments. We obviously want to make sure we stay relevant. I'm from Texas, so I would say bigger is better, but we have to be respectful to our founding members and our current institutions, and as a group collectively decide what will be best for the league as we move forward."
BG: The league's football TV contract with ROOT Sports will expire next year. What importance does a TV deal have on the Big Sky and how much of a priority is it to secure another contract?
"It's going to be important that we at least match what we've had in terms of programming content and exposure as it relates to television. My hope and goal is that we can come to the table with (ROOT) executives and find out if there are ways to grow our existing contract.
"I want to keep an eye on the changes in technology and how people are acquiring their sports. Folks just aren't at home watching television anymore. They're on their phones and tablets also. I hope we'll be open to how technology is changing our viewing habits and hopefully capitalize on that."
BG: Do you foresee the Big Sky pursuing a similar TV contract — or at least more television exposure — for men's and women's basketball?
"Ultimately I would hope so, but it's really going to depend on the conversations we're having, the agreements that are currently in place and the priorities of our institutions. Is basketball a priority? Are our Olympic sports a priority? Is it (online) streaming? I really need to hear from our schools and find out what the most important areas are to them."
BG: The Big Sky for the first time played a neutral-court basketball tournament in Reno, Nev. Are you a proponent of this approach, and how might it give the league a better overall product?
"We want to compete and we want to be successful. We all want to see our automatic qualifiers win games in the NCAA tournament. That's a high priority. As it relates to a neutral-site tournament, I certainly support that. You're creating an experience for student-athletes to be at a championship site, and there's value in that. And fans, alumni and followers know where the championship is going to be and can plan ahead.
"I think Reno is a great location for the footprint of the Big Sky. We want to get to a point where it's a hot ticket and high demand, so that's a priority as well. Attendance is a challenge, but to be able to build a fan base is the No. 1 thing we have to do and to create a following and increase attendance."
BG: The landscape of intercollegiate athletics has changed dramatically in the past decade in terms of conference realignment. What is the biggest challenge in keeping the Big Sky healthy?
"No. 1, to be successful you have to have integrity. We've got a group of presidents and administrators that are committed to the student-athlete experience. So you have to be committed to your core values within our conference. Certainly, you have to compete. Whether it's through FCS football or winning in the NCAA postseason with men's basketball, we have to be competitive. Those things are important for relevance. And I think setting the stage to create opportunities for the broad-based programming for student-athletes.
"We know the NCAA motto is that '99 percent of student-athletes are going pro in something other than sports.' So it's important to ensure that you're creating experiences to be able to compete and create a meaningful experience within the conference. Whether you're in the Power Five or you're a small mid-major, those are the areas in which we all want to succeed."
BG: What role will the existing fiscal concerns of the Big Sky's institutions play in the decisions you and your staff will make?
"Across the country, whether you're a Power Five conference or not, everybody is watching their wallets. Everyone is trying to be more strategic in how they're spending money. The Big Sky's institutions are more financially similar than not, and I think that's important.
"Understanding who your institutions are and what their priorities are helps define your resources and where you want to apply them. Being realistic with what your resources are will dictate how we do business. The Big Sky has been around for over 50 years, so they're doing it the right way in being strategic and smart, and that's where we have to continue to go."