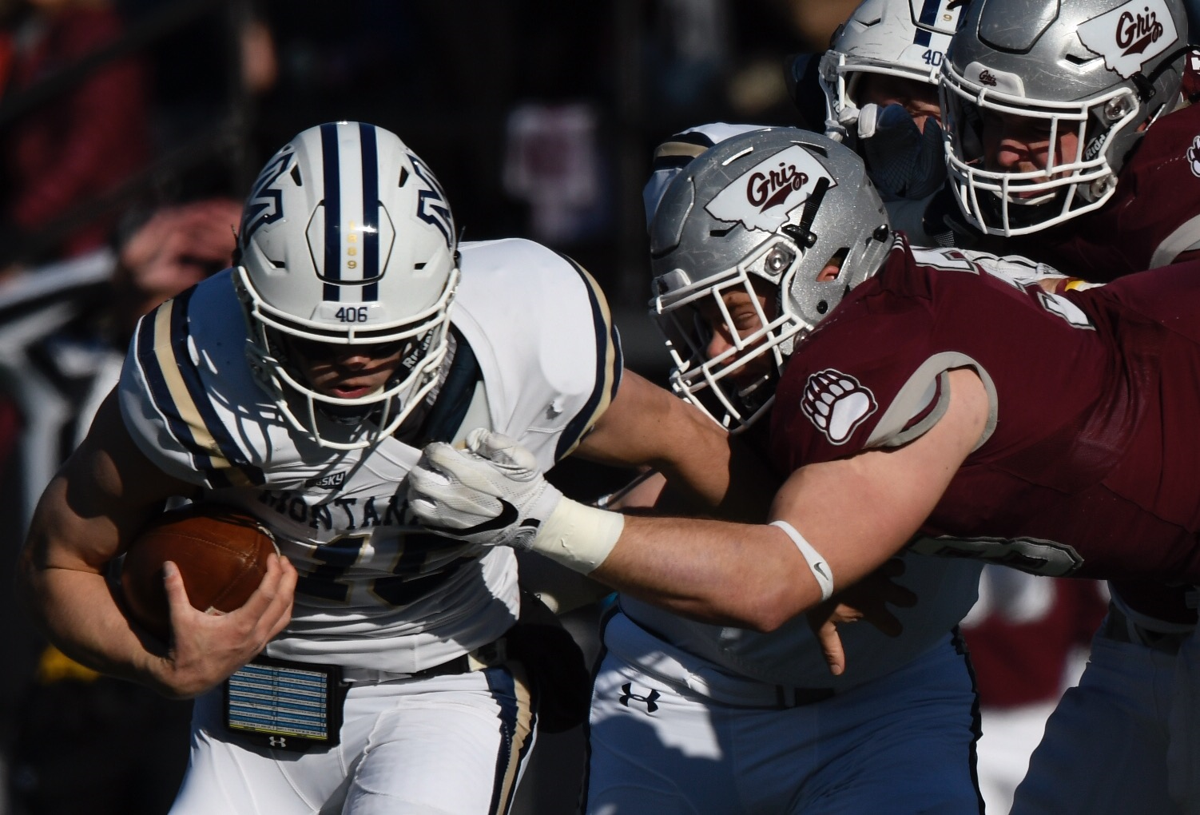 MISSOULA — The 120th Brawl of the Wild football game between Montana and Montana State will be played in Missoula on Nov. 20, 2021, as the Big Sky Conference is moving the 2020 league schedule, which didn't get played, to the fall of 2021.
The Big Sky Conference President's Council approved the move on Wednesday, although it was not a unanimous decision in the vote, the league noted in an email. It's a one-time move because Southern Utah is leaving the Big Sky after the 2021 season, so the schedules for 2022 and onward will need to be redrawn.
If the move wasn't approved, then Montana would have gone four years between hosting the in-state rivalry game. The Griz last hosted in 2018 and would've been next scheduled to host in 2022 after the 2020 game was canceled. The games have been played in Missoula in even years and in Bozeman in odd years.
The game in Missoula may also give Montana the opportunity to literally cash in on its highest-profile home game each season. However, attendance limits allowed by the Missoula City-County Health Department may play a factor given the state of the pandemic at the time.
"We'd certainly like to take 2020 and move it right to fall of 2021 is what our preference would be," Montana athletic director Kent Haslam said when asked about the UM-MSU home game rotation on Jan. 15, the day UM and MSU announced they were opting out of the 2021 spring conference season.
Under coach Bobby Hauck, the Griz will open their 2021 league slate against Cal Poly and former Eastern Washington coach Beau Baldwin on Sept. 25 for homecoming. The Griz will also host Sacramento State on Oct. 16 and Southern Utah on Oct. 30.
Montana will play at Eastern Washington on Oct. 2, Idaho on Oct. 23, Northern Colorado and first-year coach Ed McCaffrey on Nov. 6 and Northern Arizona on Nov. 13.
In non-conference play, Montana is scheduled to open at Pac-12 Washington on Sept. 4, will host Missouri Valley Football Conference team Western Illinois on Sept. 11 and will welcome first-year FCS team Dixie State to Missoula on Oct. 10.
Montana's bye week is set for Sept. 18, coming after just two games.
Before the 2021 season, Montana is planning to play Division II Central Washington on April 10 in Missoula following its spring camp. UM is one of five teams that opted out of the 2021 Big Sky spring season. The Big Sky decided to try to play in the spring after forgoing the 2020 fall season because of the pandemic.
Montana State will open its first season under new head coach Brent Vigen at Wyoming, where he was the offensive coordinator, on Sept. 4. The Cats will then host Drake on Sept. 11 and San Diego on Sept. 18 in non-conference play.
MSU's league slate includes home games against Northern Colorado on Oct. 2, Cal Poly on Oct. 9, Idaho State on Oct. 23 and Idaho on Nov. 13.
The road schedule sees the Cats going to Portland State on Sept. 25, Weber State on Oct. 16 and Eastern Washington on Nov. 6.
MSU's bye week is Oct. 30.
Game attendance, ticketing details, broadcast details and kickoff time are still to be determined for both the spring and the fall.
Retrospective: The best (and worst) Montana Grizzly football uniforms
Frank Gogola covers Griz football and prep sports for the Missoulian. Follow him on Twitter @FrankGogola or email him at frank.gogola@missoulian.com.