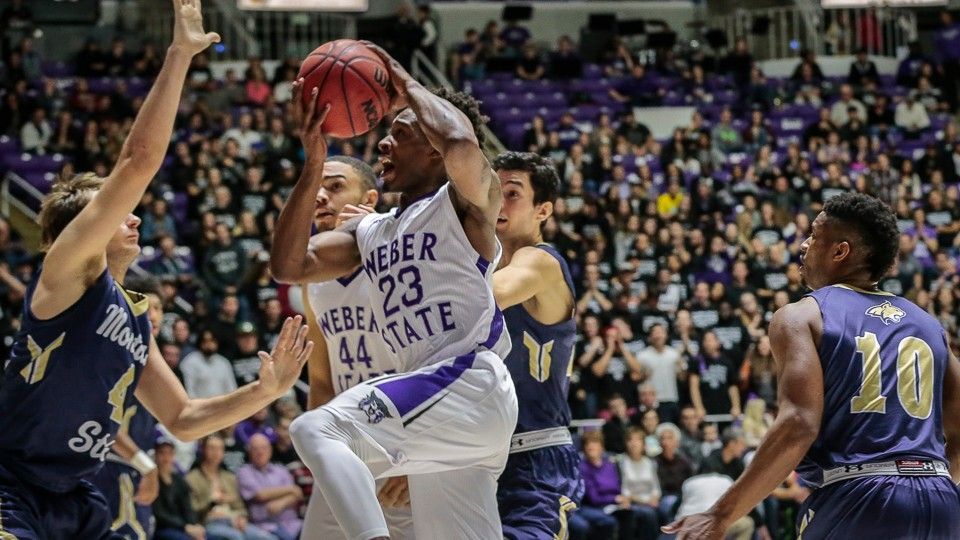 OGDEN, Utah — Weber State rebounding menace Joel Bolomboy is a Big Sky Conference MVP candidate and the league's best pro prospect.
But with Bolomboy sitting out Thursday night with a bruised left knee, the message Montana State coach Brian Fish conveyed to his team — in no uncertain terms — was that the Wildcats are not a one-man show.
Though the Bobcats led by as many as 11 points in the first half, the retooled Wildcats proved Fish's mantra correct in a 68-60 victory over MSU at the Dee Events Center.
Bolomboy's 17.6 points and 13.0 rebounds per game (the latter ranks No. 2 in Division I) were lost when he was injured early in a win last Saturday over Northern Arizona. But big men Kyndahl Hill and Zach Braxton battered the Bobcats down low for a combined 30 points on 12-of-16 shooting and 14 rebounds.
Weber State (21-7, 13-2) scored 28 of its 42 points in the paint after halftime, taking full advantage of MSU's distinct size disparity.
"They're the first team to really expose us and pound us inside like that," Fish said afterward. "They had a purpose, and they executed their purpose. We didn't get it stopped, and that's something we'd done this year, and that really killed us.
"And we've got an Achilles heel where we can't get easy baskets. When we do that, it's hard to overcome."
The Bobcats (12-15, 7-8) took a 20-9 lead in the first half when Quinton Everett hit a 15-foot runner. But Weber State opened the second half with an 11-2 scoring run, highlighted by back-to-back dunks from Hill and Braxton.
MSU freshman Tyler Hall started slow, missing his first five shots. But he got hot, hitting three consecutive 3-pointers near the end of the first half to keep MSU in front. In the second half, Hall's 3 at the 8:40 mark kept it a one-possession game.
Hall scored 22 points and kept MSU alive, but Weber State was just too strong against Tyson Kanseyo, Sam Neumann, Sarp Gobeloglu and an injured Danny Robison in the paint.
With the win, the Wildcats clinched a first-round bye for the Big Sky Conference tournament, which begins March 8 in Reno, Nev.
"They did a good job on feeding the post, we didn't do enough on stopping it," MSU's Quinton Everett said. "We didn't pay attention to the details and they got a lot of easy baskets down low."
Hill, a 6-foot-7, 235-pound forward making just his second start of the season, is a player Fish said would undoubtedly start for the Bobcats. Hill scored 14 of his 16 points in the second half, and grabbed 10 rebounds.
Wildcats guard Jeremy Senglin, like Hall, was sluggish early and shot 1 for 7 from the free throw line. But he finished with 17 points and had four of the Wildcats' 14 assists.
With Bolomboy out, the Bobcats won the rebounding battle 41-35, but in the end it didn't add up to much.
Senglin did his best to slow MSU's Marcus Colbert in the second half. Colbert shot 1 for 9 in the final 20 minutes, though he matched Senglin's 17 points.
"Colbert, we had to slow him down. He had a really good first half," Senglin said. "I just tried to change his shot. We just had to get over screens, chase him and make it hard for him."
Fish has called Everett MSU's best defensive player, and he's certainly their best rebounder. But Everett missed a big chunk of the first half in foul trouble and finished with only 22 minutes (though he still had a team-high 10 boards).
"That changes the game," Fish said. "We can't have him on the floor for (only) 22 minutes. He's our best defender, he goes and gets rebounds for us and he's our heart-and-soul guy."
The Wildcats stretched their winning streak over MSU to six in a row and nine of the past 10. The Bobcats have lost seven straight at the Dee Events Center, and 11 of the past 12.
Weber's win sets the stage for Saturday's showdown with Montana. After UM's win at Idaho State on Thursday, the teams are still locked in a tie for first place in the Big Sky standings.
NOTES: With a basket in the second half, Hall became the fastest player in MSU history to reach 500 career points. … MSU announced Thursday that junior G Stephan Holm has left the team for personal reasons. "We wish Steph the best," Fish said. "We're here to support him in any way possible." Holm played in 25 games this season, averaging 6.5 points and 2.3 rebounds per game.