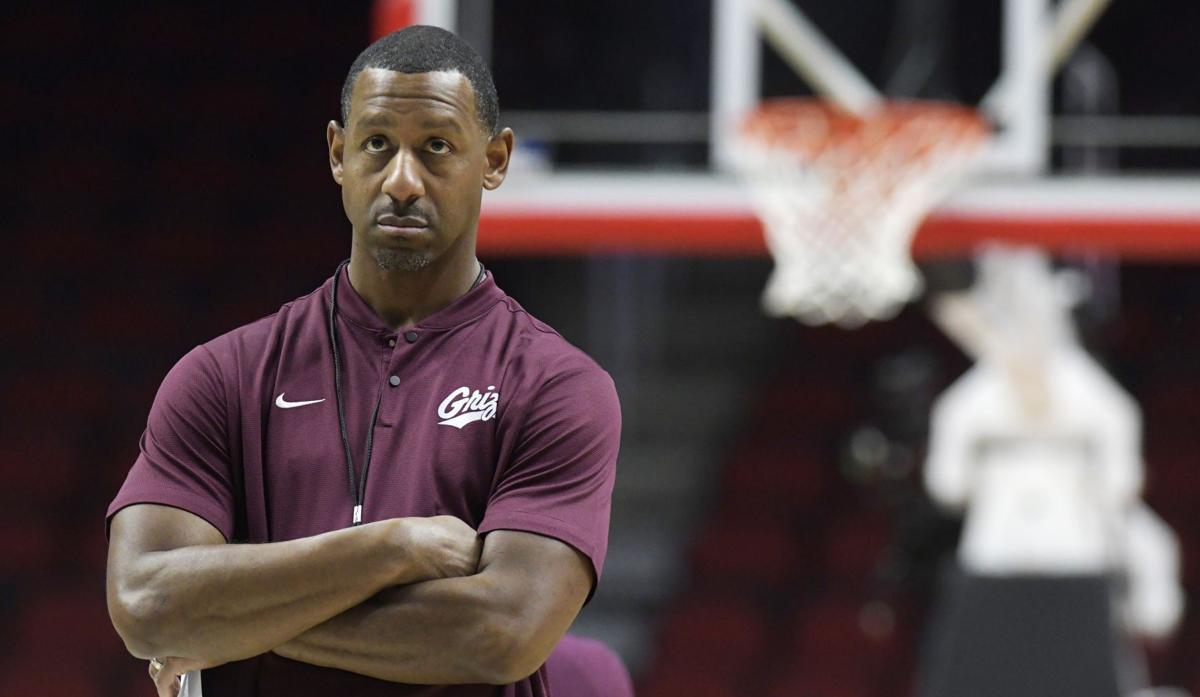 FARMINGTON, Utah – The Big Sky Conference will have 20-game schedules for men's and women's basketball that features back-to-back contests in the same venue, the league announced Thursday morning.
The Big Sky had moved to a 20-game league schedule prior to the 2018-19 season, pivoted to a 16-game slate in May due to COVID-19, and shifted again in a recent vote. 
Another twist to the schedule is a weekend of games in early December for 10 of the 11 member programs, including Montana.
Teams will play consecutive games against the same opponent, with the men's and women's programs of two competing schools playing each other on the same dates at opposite locations.
Both men's and women's basketball are scheduled to play conference games on Thursdays and Saturdays, with the first contests slated for Dec. 3 and 5, then resuming on Dec. 31 and continuing through March 6. Each school will face four opponents twice at home and four opponents twice on the road, as well as two opponents against whom it will compete in one home and one away game.
The 2020-21 Big Sky basketball regular season will feature 11 weeks, which includes one open weekend per school.
"This schedule accomplishes many of the objectives that we prioritized, most notably providing a full lineup of competitive opportunities for our men's and women's basketball student-athletes while reducing the number of road trips our programs will make," Big Sky Commissioner Tom Wistrcill said in a press release. "Our administrators — especially those on our Basketball Committee — worked tirelessly to vet multiple schedule models, and the feedback that we received from our head coaches, two student-athletes from every team, our Health and Safety Committee, and our certified athletic trainers proved invaluable throughout the process."
Montana will open Big Sky play at Southern Utah on Dec. 3 and 5, before resuming conference play again on Dec. 31. In between, and potentially before the Southern Utah trip, Montana will try to schedule an assortment of nonconference contests.
Games can begin as soon as Nov. 25.
While the conference schedule begins at the start of December for 10 Big Sky teams, Montana State will make its league debut in Bozeman on Thursday, Dec. 31, when Southern Utah visits. The Bobcats host their second contest against the Thunderbirds two days later to open the New Year on Saturday, Jan. 2. 
MSU's first road trip brings the Bobcats to Greeley to face the Northern Colorado Bears for consecutive matchups on Jan. 7 and Jan. 9. 
Montana coach Travis DeCuire's said he approves of the schedule change because it guarantees more games for each school. He also said the back-to-back format instead of traditional home-and-homes makes sense given the current COVID-19 climate.
"I like that we're playing a 20-game schedule, because it makes it easier to fill a full slate, given the challenges we've had with nonconference scheduling," DeCuire said. "Games in conference are generally a little cheaper, too, so it helps with minimizing flights and how much we're spending."
After the holidays, Northern Colorado comes to Dahlberg Arena in Missoula on Dec. 31 and Jan. 2. The Bears have finished runner-up each of the past two seasons, with several games coming between the Griz and Bears.
Montana will then have an early bye week, before eight consecutive weeks of conference action.
While the Grizzlies will play most teams twice, either at home or on the road, they will play Eastern Washington and Montana State home-and-home. MSU's home-and-homes will be against UM and Idaho State.
The Big Sky Championship will once again be in Boise, Idaho, set for March 7-10 for the women and March 10-13 for the men.
"I would like to thank all those involved in putting the Big Sky 20-game schedule together," said MSU women's coach Tricia Binford, whose team won the league with a 19-1 record a year ago. "A lot of time went into developing this plan with a lot of thought considering student-athlete health and safety and budget, especially with travel." 
The Big Sky's basketball committee is comprised of Montana State athletic director Leon Costello (chair), Idaho athletic director Terry Gawlik, Northern Arizona athletic director Mike Marlow, Sacramento State senior woman administrator Lois Mattice, and Weber State senior woman administrator Meagan Thunell.  
Nonconference schedules have not been completed, but can include as many as seven games, per NCAA guidelines.
Montana State opens its nonconference season hosting South Dakota School of Mines on Wednesday, Nov. 25,. On Dec. 6, while the Big Sky opens it conference slate, the Bobcats will host former league rival North Dakota. MSU makes its only road trip when it faces BYU on Dec. 10, followed by Utah Valley on Dec. 12. The Cats will close out their nonconference slate when MSU hosts South Dakota State on Dec. 21.  
BYU is ranked among the top 50 programs heading into the 2020-21 season. The Cougars went 18-11 overall and 13-5 in West Coast Conference action last season. SDSU has been a perennial Summit League power earning numerous NCAA appearances. The Jackrabbits went 23-10 overall and 13-3 in conference action last winter. SDSU defeated the Bobcats 60-50 last winter in Brookings. 
"(Associate Head Coach) Sunny (Smallwood) did an outstanding job working on getting a very solid nonconference schedule," Binford said. "As you can imagine, putting a nonconference schedule together under the current COVID guidelines wasn't an easy accomplishment, so kudos to her for a job well done." 
The Montana athletic department is planning to submit a model to the Missoula-City Health Department that would allow limited fans inside Dahlberg Arena. More information will be available later.
MSU will not be offering season-ticket packages during the 2020-21 season.
If public attendance is allowed at basketball games this winter, single game tickets will be made available and sold on a weekly basis — depending on permissible capacity — through the mobile ticketing process previously released. More detailed information on the single-game ticket process will be provided as the basketball season draws closer. 
Be the first to know
Get local news delivered to your inbox!