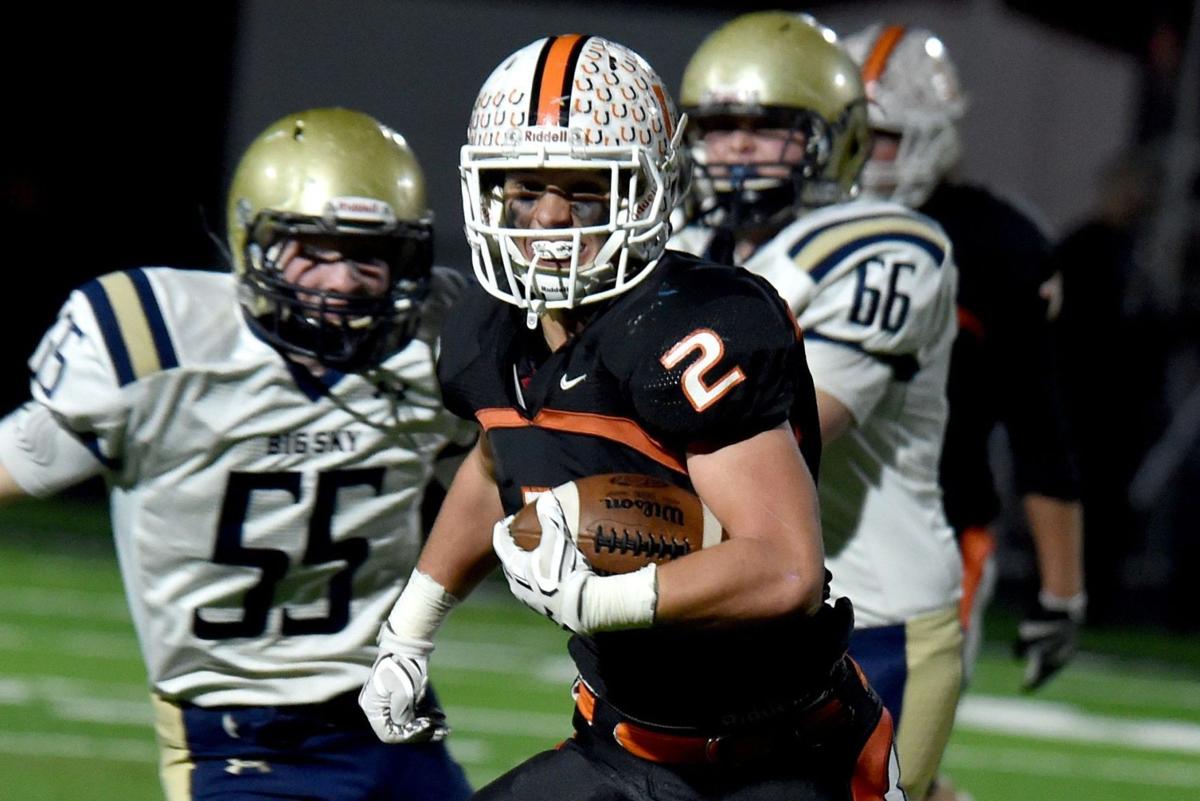 BOZEMAN — The Askelson name has been at the forefront of the Montana sports consciousness before.
It was Ben Askelson who hit the famous walk-off home run that propelled Billings' Big Sky All-Stars into the U.S. championship game at the Little League World Series in 2011, a moment that galvanized the community and captured the hearts and minds of the state.
Next year, Ben's younger brother, Nolan Askelson, will begin carving out his own niche as a member of the Montana State football team. Askelson, a standout linebacker and running back at Billings Senior, recently gave a verbal commitment to play for the Bobcats beginning in the fall of 2018.
Askelson, who wants to study engineering in college, watched the MSU team practice during spring drills, and when he was offered a near-half-ride athletic scholarship, he couldn't turn it down.
"They showed interest in me, and I think I really understood the people and the coaches," Askelson said. "I was already thinking that was where I wanted to go, but when I visited it just sealed the deal.
"Coach (Jeff) Choate is awesome. He's a really upbeat, up-tempo guy. I think he's building something special over there. He's an honest, straight-forward guy. He's going to tell you how it is."
Askelson, who is 6-foot-2 and 210 pounds, said he thinks he'll begin his MSU career as an inside linebacker.
As a junior last fall, Askelson was a key cog in Senior's 13-0 run to the Class AA championship under coach Chris Murdock, a team also headed up by the likes of quarterback Nate Dick (a University of Montana signee), receiver Gabe Sulser and defensive back Keaton Anderson (an MSU signee).
It was the Broncs' first title since 1979.
You have free articles remaining.
Askelson rushed for 668 yards and five touchdowns. He also had an interception and a fumble recovery on defense.
"I was lucky to be a part of it and to be around all those great athletes like Nate, Gabe, Keaton, Jake (Orvis) ... (the) list goes on. Every player on that team was probably one of the best in the state at their position," Askelson said. "It was fun to be a part of.
"Watching Gabe and Nate was pretty amazing, and Keaton and Jake on defense. We were all really close, and it was like a brotherhood, and it was great to be a part of."
Askelson said he received an offer from the University of Mary, an NAIA school in Bismarck, North Dakota. But the Bobcats showed the most local interest.
Askelson is Montana State's second verbal commitment so far in this recruiting cycle, along with Missoula Loyola lineman Joe McElroy.
For his final year at Senior this coming fall, Askelson said he has big goals to accomplish.
"I just want to help keep the team together," he said. "We lose (Dick), but I think if we work for it I think we can really make a run at going back to back. Me and (Sulser), as returners, we want to be leaders and keep people focused.
"If we keep playing at the level we've been on I think repeating can be a goal."
When he arrives in Bozeman in 2018, Askelson will begin the work of making his mark with the Bobcats.
"It's a personal goal to get at least one or two years in of starting, hopefully," he said. "At least get to play some and help the team win and be a part of the program to keep things going."