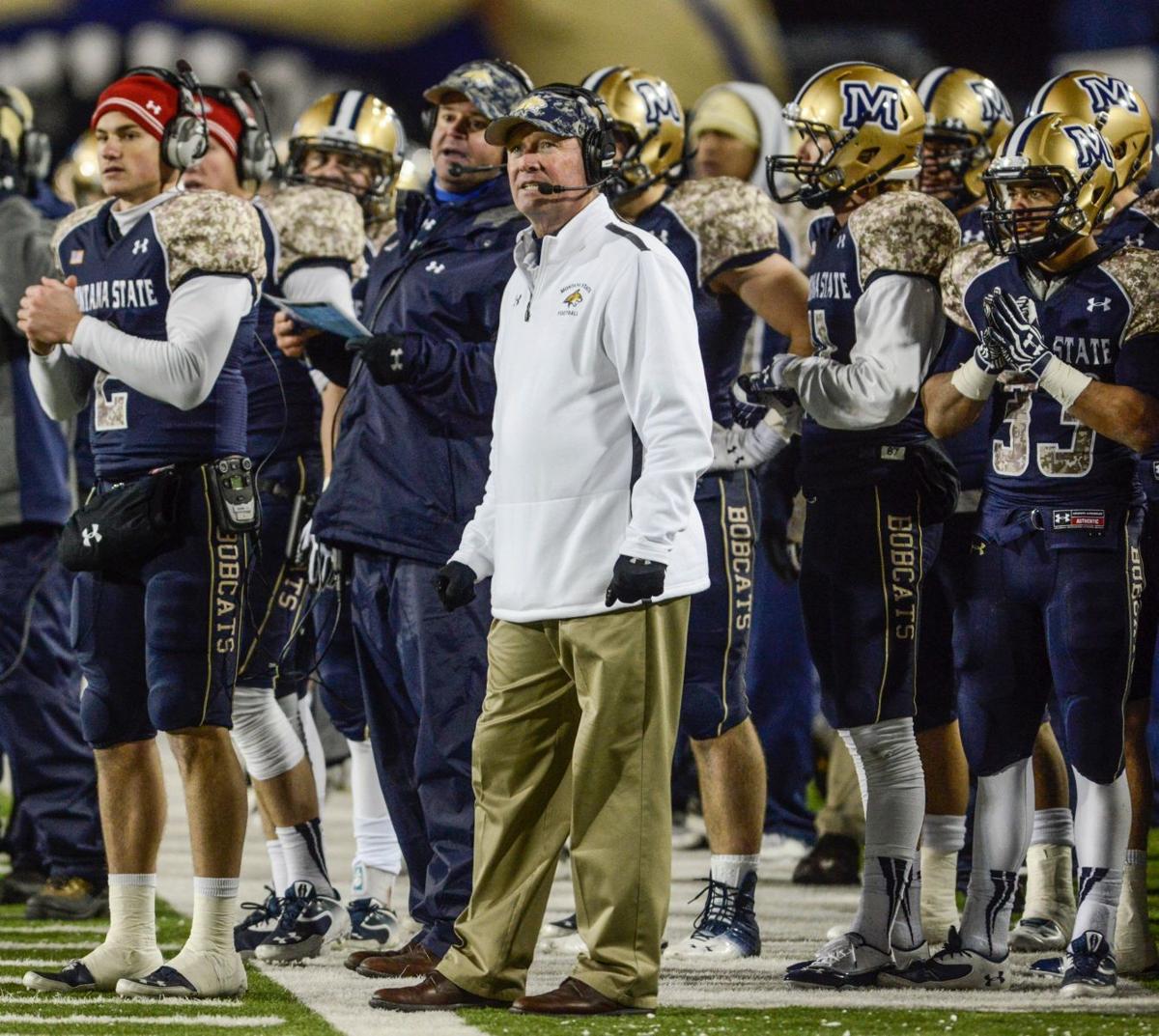 BOZEMAN — When pressed to explain the difficult season his football team has endured, Montana State coach Rob Ash raised his right hand and held his index finger and his thumb a centimeter apart.
"The margin between winning and losing is about this big," Ash said during a news conference Tuesday. "And we're just on the wrong side of that little, tiny fraction right now. A couple plays go differently (and) we're 6-2, 7-1 without any trouble at all.
"We just needed to win a couple close games. Get a couple stops, make a play, and we're talking a whole different language right now. I don't think we're that far off."
After last week's 44-38 loss on the road to Big Sky Conference rival North Dakota, the Bobcats' record fell to 4-4 overall and 2-3 in the league. They also dropped out of the media's Top 25 poll for the first time in six seasons and saw their playoff hopes go virtually by the wayside.
The Cats need to win their final three games to reach the NCAA requirement of six Division I victories just to become eligible for playoff consideration. And even then their resume probably won't be strong enough. MSU is on the verge of missing the postseason for the second time in the past three seasons.
MSU has fallen below expectations — insofar as expectations matter. The Bobcats were picked by the league's coaches to win the Big Sky this year; the media tabbed them second behind Eastern Washington.
Ash has a 12-12 record in his past 24 games, so does he feel any pressure in terms of job security?
"No," he insisted. "The only pressure I'm feeling is I want these guys to enjoy the game again. We'll enjoy the game when we play better and when we win.
"I want to see those guys smile again. I want to see my team, after a game in that locker room, smiling. That's my definition of fun, and that's the only pressure I feel, to try to somehow make this happen for these guys."
Aside from a 17-point loss to Portland State on Oct. 17, the Bobcats' defeats to Eastern Washington, Northern Arizona and North Dakota were by a combined 19 points.
As Ash said, a play here or a play there …
MSU returns home Saturday for another tough task, a matchup against 20th-ranked Southern Utah (6-2, 5-0). The Thunderbirds, along with Eastern Washington, are one of two unbeaten teams in the Big Sky
Led by defensive end James Cowser and safety Miles Killebrew, SUU is propped up by a defense that has scored six touchdowns and sits atop a staggering plus-18 turnover differential. The Thunderbirds have won six games in a row.
"My job is to keep this team together," MSU wide receiver and team captain Mitch Griebel said. "That's all the captains' jobs, and we're going to keep doing that. I think we've done that this whole year. Nothing's going to change for us. We're still a family.
"Yeah, this season might not have gone like the way we wanted it to, but that's not going to separate us. We've been through thick and thin together from Day 1. We still love each other, and nothing is going to change that."
There's no question Ash is under fire in some Montana State circles. But not everybody is a detractor. The ninth-year coach made mention of the support he's received from others.
"The feedback I've been getting from the emails and texts that I've been getting the last two days, everybody's excited about the (Southern Utah) game," he said.
"'Hang in there, we'll be there Saturday, let's go get 'em,' that type of thing. (It's) a very enthusiastic kind of response I've been getting from our fan base. I know we'll have a great crowd and our guys will play well."