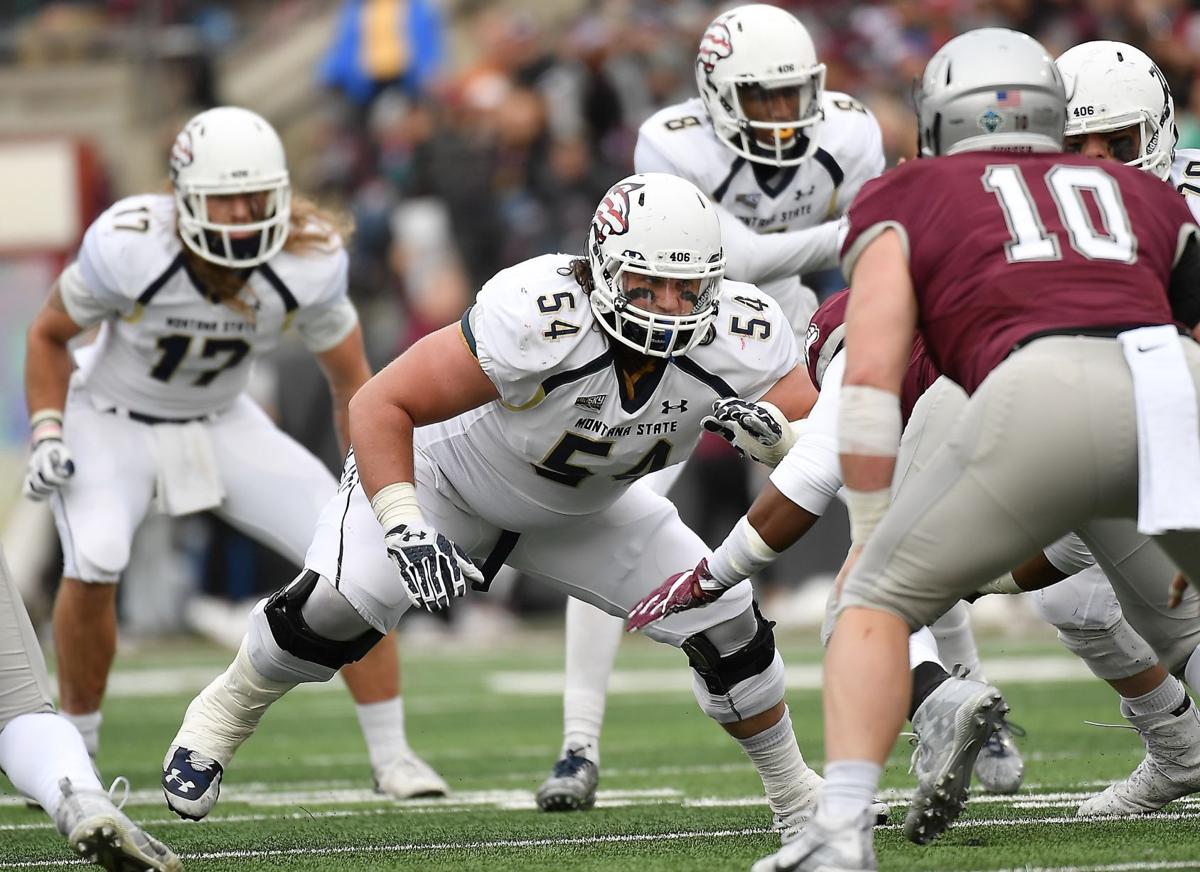 BOZEMAN — Montana State football coach Jeff Choate has an oft-referenced motto: "Football is what we do, it's not who we are."
Two months after retiring outright due to a back injury that wouldn't subside, former MSU offensive lineman Monte Folsom is living by those words.
Folsom, a former Dillon standout and a would-be returning starter at right guard, will spend the summer in the Bay Area working as a salesman for Aptive Environmental, a pest-control company. He'll return to MSU in the fall to finish his diploma in business management, one of two degrees he will have received.
But in some ways, Folsom is dreading it. The 2017 season will be his first away from the game since he served a two-year LDS mission in Honduras from 2011-13.
Until now, Folsom's life was surrounded by football.
"I've already had some sleepless nights thinking about it," Folsom said. "It's going to be difficult. But I'll just have to become the Bobcats' biggest fan."
Early retirement was never the plan, but such is the life for Folsom, who was diagnosed with what is known as Pars defect on his L5 vertebrae during his redshirt freshman season and couldn't mitigate the damage long enough to finish his career.
Folsom would receive a cortisone shot prior to each season, which helped manage the pain. But during a game last season at Weber State, Folsom said he tweaked the injury and it never improved.
Multiple doctor visits left him with a harrowing predicament: He could return for his senior season but he'd increase the risk of irreparable damage.
"It was a decision between playing one more year, or being able to play with my kids when I'm 45," Folsom said. "That's what was weighing on my mind. I chose my future over continuing to hurt it."
Coming to terms with the end of his career was most difficult for Folsom. After two positions changes — he went from linebacker to defensive line to offensive line during his time at MSU — Folsom had finally found his niche at right guard.
Folsom started 10 games last season, helping the Bobcats become one of the top rushing teams in the Big Sky Conference. He'd forged a bond with his teammates on the offensive line and was eager to find out what strides the team could make in 2017, which will be Choate's second year as coach.
You have free articles remaining.
His final game, it turns out, was a 24-17 win over rival Montana in Missoula, a victory Folsom said ranks as his most memorable.
In the weeks following that game, Folsom's back pain wouldn't ease. By the time March rolled around, he knew he wouldn't be able to continue. That prompted a meeting with Choate.
"I pretty much just told him that I might not be able to walk if I were to play one more year," Folsom said. "It was a decision that I prayed about and talked to my family about. That was the nature of the talk. He said he completely understood.
"He wanted me to get it looked at one more time, but he said he thought it sounded like we already knew what was going to happen. I went to the doctor and got everything confirmed, and I went back to him and told him. It was a really hard discussion to have."
A conversation with his fellow linemen was equally difficult.
"There were some tears, for sure," Folsom said. "The consensus among us was, give me any other body part and it'd be fine, but your head and your back are what you don't want to mess with. We just talked and we hugged it out."
Folsom, who counts Bobcat linemen Dylan Mahoney and fellow Dillon product Caleb Gillis among his best friends, would have been an integral piece of MSU's line this year. Instead, he'll be relegated to watching as Mahoney, Gillis and the rest of the line try to help the offense be more versatile and balanced under the direction of quarterback Chris Murray.
Folsom will also have his eyes fixed on his younger brother Ben, a safety for the Bobcats.
Folsom said he'll never know how he originally suffered his back injury. All he knows is what it took from him.
Still, Folsom harbors no ill will.
He is now on to the business of preparing for the rest of his life, which will include all the memories — good and bad — of a football career well-served.
"Every year my back would always start to feel better, but after this past season I must have done a lot of damage to it because it didn't bounce back," Folsom said. "I waited about three months after the Cat-Griz game and it was still bugging me really bad, to the point where it was hard to bend down and just tie my shoe.
"I knew the risk when I was diagnosed, and I always told myself that I'd play as long as my body would allow me to. Unfortunately the time came before my senior year. But I'm forever grateful for the opportunities this game gave me, and I'm forever grateful for the family it gave me.
"There are memories that I would never have been able to make in college without having those experiences. It's the nature of the game, but the game has given me more than it's ever taken away."