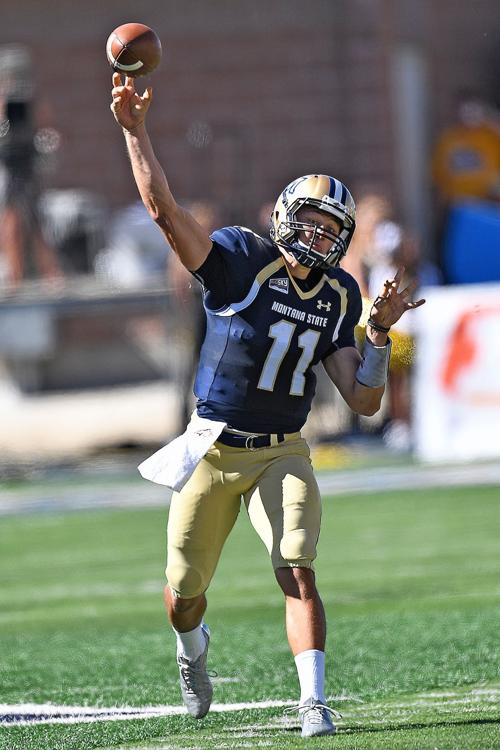 BOZEMAN — The ability to steal the ball from opponents is a hallmark of Ty Gregorak's defenses. In his four years as the coordinator at Montana, the Grizzlies posted a combined turnover margin of plus-30.
Now that Gregorak is running the defense at Montana State, the Bobcats have shown a similar trait: Through two games they're sitting pretty at plus-6 in turnovers, and their five defensive takeaways against Bryant on Saturday was the reason MSU snuck out with a 27-24 win.
But what to make of the offense?
Quarterback Tyler Bruggman and MSU struggled to sustain drives against Bryant and scored most of its points thanks to those turnovers. The Cats put up only 265 yards and averaged just 4.1 yards per play.
"We've got to be better, we really do," running back Gunnar Brekke acknowledged. "We've got to create more plays down field."
When it counted most — after cornerback John Walker snuffed out a late Bryant drive with an interception in the end zone — the Bobcats converted, turning to Brekke on a critical fourth-and-1 play near midfield.
Brekke ran left behind guard J.P. Flynn and tackle Dylan Mahoney and picked up the necessary yards, and MSU was able to run out the final 1 minute, 12 seconds to secure the first win of the Jeff Choate era.
"That's winning time, man," Brekke said. "If you don't want the ball in that situation as an offense and as a player, there's something wrong with you."
In the previous two years it was the Bobcats' defense that faced the most scrutiny. Now the microscope is over the offense, which is averaging a mere 282.5 yards per game — though you can attribute much of that to the many short fields it benefitted from against Bryant.
You have free articles remaining.
Either way, it's a removal from when former QB Dakota Prukop was running the show and leading MSU to 500-plus yard performances week in and week out. These days, under new coordinator Courtney Messingham, the offense seems more conservative, utilizing a steady run/pass balance while mixing tempos to keep defenses honest.
The numbers aren't impressive. Still, Choate — who during fall camp declared his belief that "stats are for losers" — understands the need for growth.
"I just think that we're going to mature game by game," said Choate, the Bobcats' first-year coach. "You can see now our offense says, 'Hey, we don't have to go out and score every possession.' Do we have to improve? Heck yeah we have to improve."
It was tough sledding versus Bryant, as Bruggman completed half of his passes (14 for 28) for 126 yards. But he threw strikes to John D'Agostino and Mitch Herbert for second-quarter touchdowns. The throw to Herbert was Bruggman's best of the day, a bullet up the seam for a 27-yard score.
Last season at Scottsdale Community College in Arizona, Bruggman completed 48.8 percent of his passes. So far this year he's at 52.4 percent.
"We've got to do a better job of dialing up our shots," Choate added. "That's the one thing Courtney and I talked about directly after the game. Tyler has really good command of the offense, but I think we're better when we can go a little bit faster. But we can't do that unless we have field position, unless we have momentum from first down."
MSU was without running back Chad Newell, who sat out with a left-hand injury. So Brekke, after missing a Week 1 loss at Idaho because of pneumonia, led the Bobcats with 80 yards on 17 carries, including a short-yardage touchdown early in the third quarter.
In the past two seasons, as the defense struggled, it was largely up to Montana State's offense to win games. Those roles have been reversed early this season. But there will be no division or dissention, Choate said.
The Bobcats' next chance to improve comes Saturday at home against Division II Western Oregon.
"We need to take some pressure off our defense at times, but we're going to be a team regardless," he said. "We'll rise as a team and we'll fall as a team. That's just the way it's going to be around here, and I think these kids understand that. It's a lot more fun to ride like that."