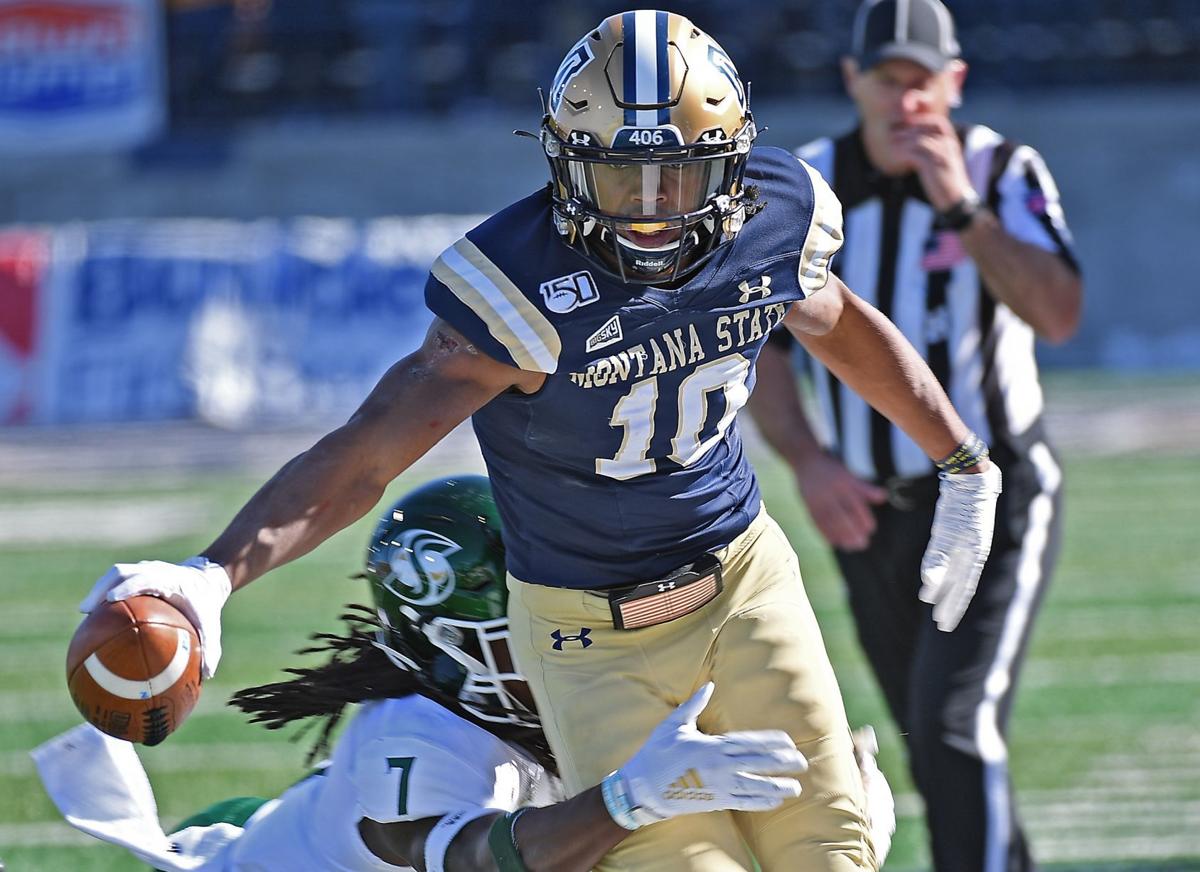 BOZEMAN — Jeff Choate said early in the week that Sacramento State is the best FCS opponent his team will have faced to this point of the 2019 season.
The Hornets made good on that promise by thoroughly outplaying No. 6-ranked Montana State throughout Saturday's matchup at sun-splashed Bobcat Stadium.
Veteran quarterback Kevin Thomson threw for 260 yards and accounted for five touchdowns as the Hornets knocked off MSU 34-21 in front of a homecoming crowd of 19,437 that thinned out before the final gun went off.
The Bobcats have climbed to their highest ranking in the national poll in six seasons, but this loss rather emphatically snapped a five-game winning streak.
When asked afterward if he agreed with Choate's proclamation regarding Sacramento State being as good as advertised, Bobcats safety JoJo Henderson had a simple answer.
"A hundred percent," he said.
Thomson was a picture of consistency. He completed 23 of 30 passes and threw three touchdowns, including two in the third quarter as Sacramento State built a three-possession lead.
Thomson also hurt the Bobcats on the ground by rushing for a team-high 74 yards and two other scores.
Thomson's ability to complete quick passes while mixing designed runs with throws down the field rendered Montana State's typically strong pass rush non-existent. Thomson helmed an offense that moved the chains on nine of 13 third-down plays and held possession for more than 32 minutes.
"He's a really good player. He's played a lot of football, he's a mature guy, a veteran guy," Choate said of Thomson, who has now accounted for 24 total touchdowns through six games. "I think the scheme fits him very well because he's a capable runner and an accurate passer. And they have a lot of weapons.
"As I told you guys all week, this is a really good football team. I think that they outplayed us in all three phases today, and that would include quarterback play. We've got some work to do."
Troy Andersen scored on a 6-yard run on fourth down to pull Montana State to within 21-14 at halftime, but Thomson and the Hornets took the opening drive of the second half down the field, capping it with a 6-yard touchdown pass from Thomson to B.J. Perkinson. The point-after attempt was missed, but Sac State at that point led 27-14.
After an MSU punt, Thomson drove Sacramento State 94 yards, and threw a 26-yard touchdown pass to a Marshel Martin to make it 34-14.
The Bobcats didn't score again until 1:41 remained in the game, a 2-yard pass at the back pylon from Tucker Rovig to receiver Kevin Kassis.
Montana State's offense, the No. 1-ranked rushing unit in the Big Sky Conference, had nearly 120 fewer yards rushing than its per-game average.
Thomson, meanwhile, scored two rushing touchdowns in the first half as the Hornets kept MSU's defense off balance.
"They just outplayed us," Kassis said. "That's a good Sacramento State team, especially up front. They gave it to us today."
The Hornets' defense had eight tackles for loss, including four quarterback sacks. Defensive end George Obinna, one of the top pass rushers in the league, sacked Rovig twice.
MSU received the opening kickoff and moved the ball into Sacramento State territory, but the drive ended when Rovig was hit, which caused the ball to flutter down the field where defensive back Miguel Garcia intercepted it.
Thomson then scored on a 7-yard run, and added a 1-yard run early in the second quarter, after which the Hornets never trailed.
Montana State's Travis Jonsen had a 17-yard touchdown run — his fifth in the past three weeks — that tied the game in the first quarter. But the Bobcats' ground game was otherwise bottled up. They stalled in the red zone twice in the second half, including from the 3-yard line early in the fourth quarter.
"Compliments to Sac State. I feel like they beat us on both sides of the line of scrimmage, (which is) something that we've clearly hung our hat on around here," Choate said.
The Bobcats (5-2, 2-1 Big Sky) have a bye this coming week. Sacramento State (4-2, 2-0), one of the pleasant surprises in the Big Sky under first-year coach Troy Taylor, hosts Montana.
"It's got to be a state of constant improvement. We worked out a way to win the last couple weeks and we got behind in this game and got exposed a little bit," Choate said. "I think we've known that we can't spot teams points and win games, and maybe this is the wake-up call we needed."
"We did not play well today, and that's my responsibility as a head coach and we'll definitely improve that," Choate added. "Unfortunately we've got to live with it for two weeks now. We've got an opportunity to go back to the drawing board and figure out what works for us and execute at a higher level the next time we get the opportunity to compete."
NOTES: Andersen's rushing touchdown was the 30th of his career, which places him second in MSU history behind Cody Kirk (47). … Bobcats CB Tyrel Thomas intercepted Thomson in the end zone fourth quarter. … Hornets RB Elijah Dotson finished with 104 all-purpose yards, including 76 yards receiving.
Be the first to know
Get local news delivered to your inbox!