BOZEMAN — It stands to reason that Jubrile Belo will end his Montana State career at the NCAA Tournament.
He was there last year after the Bobcats won the Big Sky men's basketball title, but a right knee injury suffered at the end of the regular season prevented him from playing at his best.
Getting back there this season — after overcoming knee surgery and a schedule filled with teams looking to dethrone the Bobcats — was not easy. But he ultimately helped MSU to its first consecutive trips to March Madness in school history.
"It took everything," Belo said following MSU's Big Sky Championship game win over Northern Arizona last week in Boise, Idaho. "We've been slaving since June. Doing something that's never been done before is a feeling you can't explain. Doing it with your best guys, best friends, and this amazing coach (Danny Sprinkle) telling me this is going to come, and now seeing it come to life, it's mesmerizing."
His reward is another trip to college basketball's biggest stage. The Bobcats are the No. 14 seed in the East Region and will face No. 3 seed Kansas State in the first round at 7:40 p.m. Mountain time Friday in Greensboro, North Carolina.
"I get to leave here knowing I did what I did, man," Belo said as confetti rained down on him. "I'm a two-time champ. You can't take these memories away from me. I've got a family back here forever now. I'm so happy."
In four years, Belo has become one of the program's best and most-decorated players, and he has led the Bobcats to the Big Sky Conference Championship game in three straight seasons, winning the last two.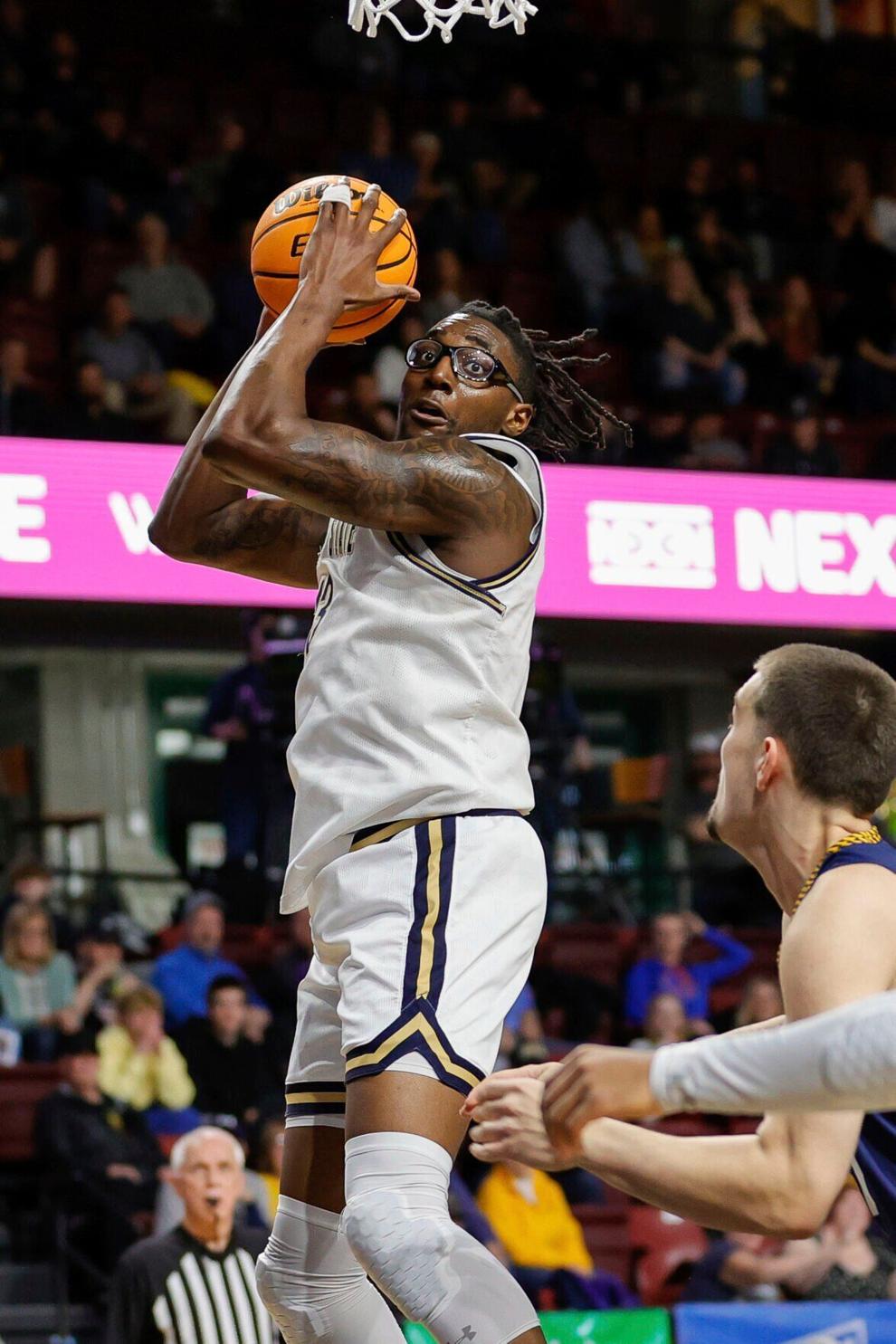 Belo is the program's leader in career blocks (160), he ranks fourth in career rebounds (768) and he's one of just five players to eclipse 1,600 career points (ranking him sixth all-time). He was named second team All-Big Sky this season, making him the only player in league history to receive all-conference honors four times.
He is also the only Big Sky player ever to win the league's Newcomer of the Year (2019-20), MVP (2021-22) and Defensive Player of the Year (2021-22) awards in his career.
"The four years he's put in, it's been hard," Sprinkle said after beating NAU. "He came in and he believed when there wasn't much in our program."
Sprinkle also said the team has shirts that say "Mindset" across the front, with the first letter in the same lettering as MSU's primary logo.
"It came from a team meeting where Jubrile, that's all he talked about," Sprinkle said. "'Our mindset has to be this on the court, our mindset has to be this off the court, in the classroom.' I've put it in big letters in our locker room. That's who he is. He has that mindset to dominate every aspect of his life."
That way of thinking has guided Belo to a storied college basketball career — one that, his teammates said, will fittingly end at the NCAA Tournament.
"It's really cool, especially knowing that he always talks about 'We weren't always winning here at Montana State,'" sophomore forward Great Osobor said. "Seeing the transition and now him leaving on a high note like that, it's amazing."
Belo has high hopes that MSU will continue its winning ways in the years to come. He helped lay the foundation to make that possible.
"I think this culture should carry on. That's the whole reason it was created in the first place," he said at practice this week. "Some of the guys that've been here for three years, they should be carrying on the culture to the young guys and whoever they bring in. I expect us to have the same high level of basketball, and hopefully they can do it again."