BOZEMAN — Montana State took what looked to be a commanding early lead on Wednesday against South Dakota State, one of the top mid-major women's basketball teams in the country.
The Jackrabbits, though, showed why they are receiving votes for the Associated Press Top 25 with a swift comeback. The Bobcats leaned on their home court advantage, and perhaps took advantage of a travel-weary SDSU team that hasn't played at home in two weeks, and secured a 71-66 win at Worthington Arena.
The Bobcats led by as many as 18 in the game and as many as 13 early in the second half but allowed the Jackrabbits to take four leads in the final 20 minutes. Each time, MSU (5-3) answered and prevented SDSU (4-4) from extending its advantage.
"This team has been due in terms of having a better start and having some shots just drop," head coach Tricia Binford said. "I thought they came out with a little more of a relaxed, fearless mentality of really executing our game plan. Obviously being back on your home floor after being on the road for a week is huge too."
The win marked MSU's first against SDSU after previously being 0-4 all-time in the series. 
The Jackrabbits made six of their first nine shots in the third quarter to whittle MSU's lead down to single digits and eventually took their first lead with four minutes left in that period. A 7-0 Bobcats run ended the quarter and put them ahead by six going to the fourth.
An 8-0 SDSU run — which included 3-pointers from Haleigh Timmer and Ellie Colebeck — earned the team a one-point lead with 6 minutes, 12 seconds to play. MSU's Darian White hit two free throws to retake the lead before a layup from Myah Selland on the other end took it back. Taylor Janssen hit a 3-pointer for the Bobcats with 5:15 to play, but four free throws from SDSU's Paiton Burckhard made up the only scoring for either team over the next three minutes.
A three-point play from MSU's Lexi Deden gave the Bobcats the lead back for good at 66-65 with 1:47 left. White added five foul shots down the stretch and also stripped the ball away from Selland on her way to the hoop with 20 seconds remaining.
"I saw her put the ball right in front of me," White said, "and I just grabbed it. I didn't want to risk getting a foul, but once I saw it right in front of me I was like, 'I have to take this chance.' I was pumped. I felt like that was the moment where I knew the game was over."
Ten of White's 16 points came at the foul line. She also contributed eight assists, seven rebounds and two steals.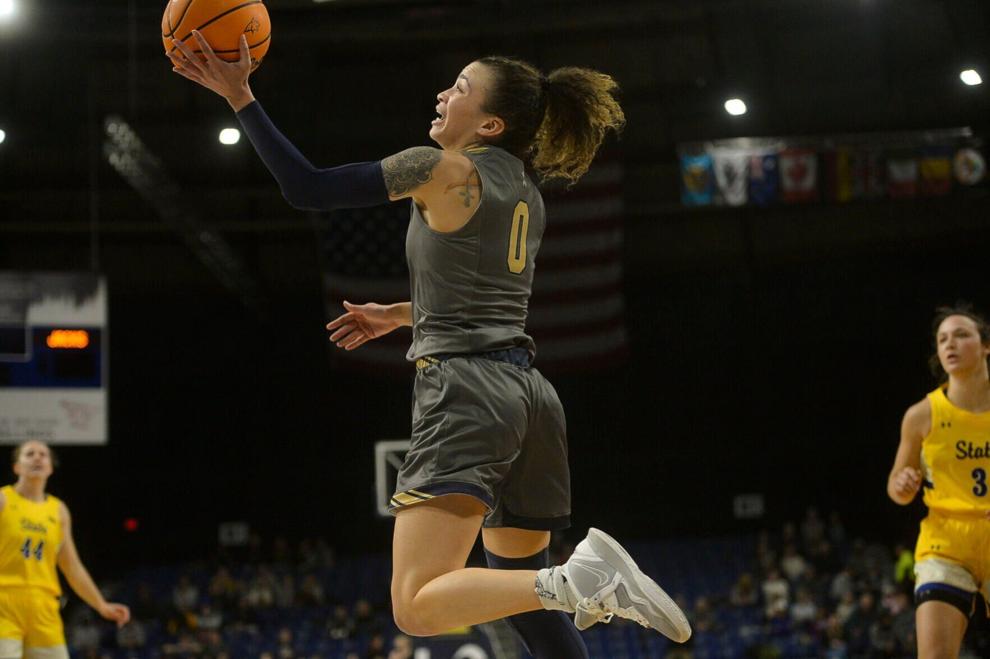 Deden notched a team-high 17 points on 7-of-16 shooting with three rebounds, two steals and one block.
"We've been waiting for her to have a breakout game, and I feel like today was her day," White said. "I'm hoping this will give her the confidence that she needs because we all know she's a monster and she's going to step up in many ways."
In the absence of Kola Bad Bear, who missed her third straight game with an injury, Deden provided a much-needed inside presence.
"My confidence has skyrocketed," Deden said. "It's been (some) very important games for me, I've been starting these last few games, but I feel bad for Kola, because I love her and we need her out there. We need her to win the Big Sky and move on to the NCAAs. She needs to get back here."
Deden's scoring early in the game helped ensure that the Bobcats established scoring threats both in the paint and on the perimeter. The Missoula Sentinel graduate had two consecutive spin moves in the lane lead to points in between early 3-pointers from Katelynn Limardo and Leia Beattie to help create a 10-0 advantage right at the start. She also added a third bucket to make it 12-0.
"Obviously, Lexi set the tone for us, going through the post play," Binford said.
That early advantage swelled to 18 points, at 20-2, with 3:22 left in the first quarter. The Jackrabbits found some flow with an 8-0 run over the next two minutes — with 3-pointers from Madysen Vlastuin and Madison Mathiowetz — but White's jumper from the left baseline beat the buzzer and put MSU ahead 22-10 after the first 10 minutes.
The second quarter featured Limardo's second 3-pointer, Beattie's third 3-pointer and a Deden layup as part of an 8-2 run to go ahead 30-12. The teams traded baskets for much of the quarter, with MSU's lead hovering around 15 points. A 5-0 run by the Jackrabbits to end the half put MSU's lead at 41-29.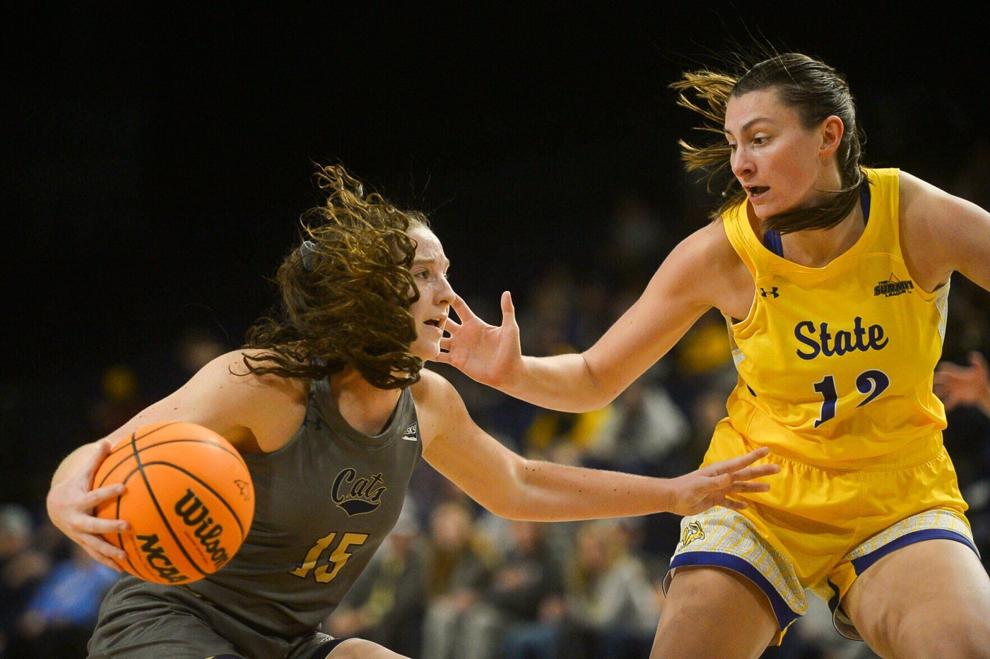 White admitted that the defensive intensity was not the same in the third quarter, which gave SDSU some life. But the Bobcats managed to steady themselves. That's no small feat against a team that just over a week ago beat then-No. 10 Louisville and also has wins over Mississippi State and Rutgers so far this season.
"Knocking out a top-50 team gives us confidence into the next game," Deden said. "With 17 assists, that's how we win these big games — team basketball."
Joining Deden and White in double-figure scoring was Beattie, who hit four 3-pointers on her way to 14 points. Limardo and Janssen each had eight points, and Limardo added three steals. Madison Jackson contributed six points, two rebounds, one assist and one steal off the bench.
"Obviously Darian was super strong for us down the stretch, but this was a total team effort," Binford said.
Burckhard had 18 points and nine rebounds for SDSU. Timmer tallied 12 points, and Selland finished with 11.
Montana State heads out on the road again to face Wyoming at 6:30 p.m. Friday before hosting Saint Mary's on Dec. 12.
"Now our expectations and the bar is risen a little bit higher," White said. "Now we know what we can do, what we're capable of, and we need to carry that on to our future games."