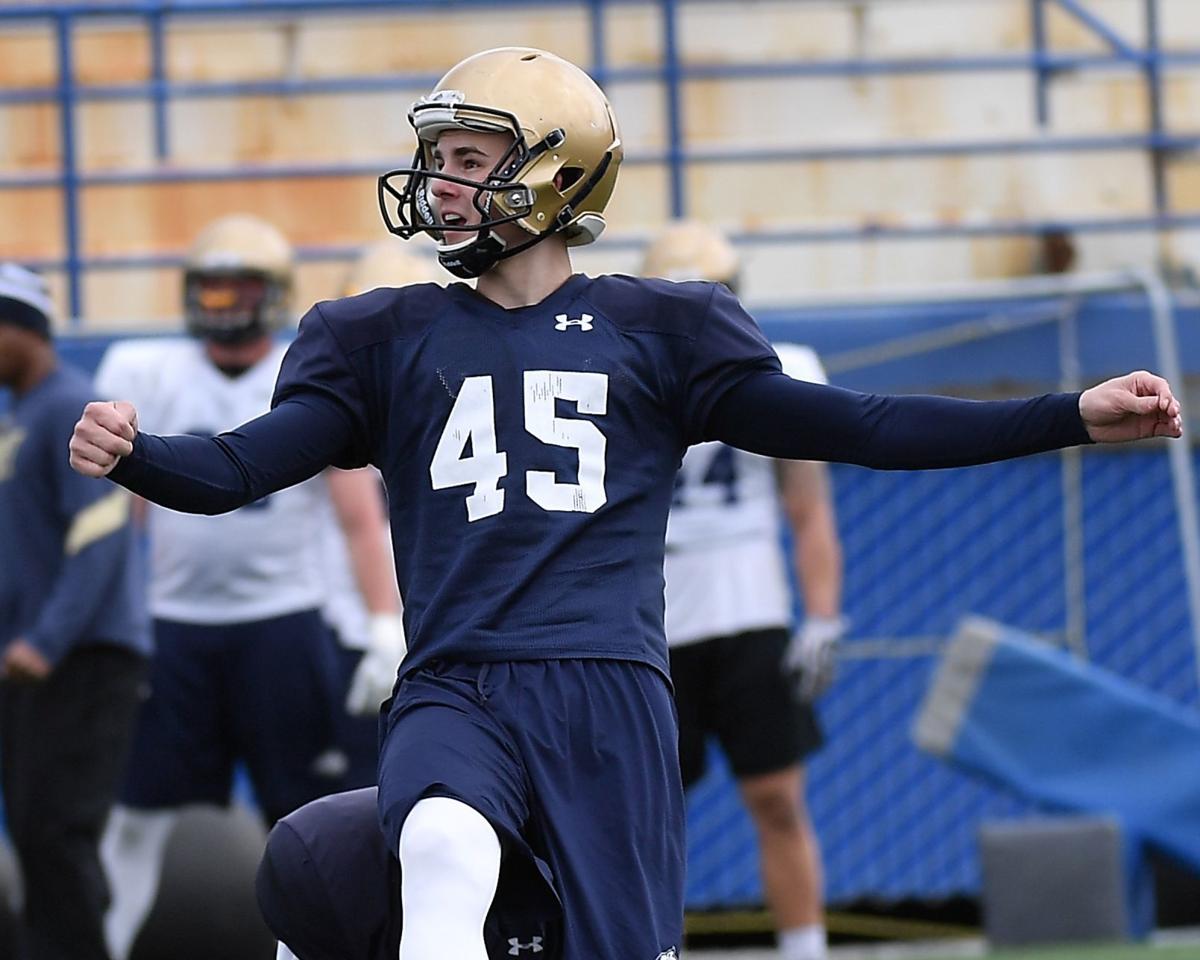 BOZEMAN — Luke Daly's return to the Montana State football lineup has elevated the kicking competition during spring drills, a reality coach Jeff Choate has observed — and celebrated — over the course of the past month.
Looking back, the Bobcats attempted 16 field goals last season (making 11) which ranked in the middle of the pack in the Big Sky Conference. They ranked 12th in the league in third-down conversion percentage and 11th in scoring offense, and that facilitated the need for field goal accuracy.
Choate doesn't have overly brash tendencies when it comes to red-zone football, which makes the kicking battle between four guys — Daly, Gabe Peppenger, Jered Padmos and Devon Tandberg — that much more meaningful.
Considering his team's characteristics, Choate has learned that it's best to take the points whenever necessary.
"It's awesome to have depth there," Choate said. "I think with our style we're going to need to kick 80-percent-plus inside 35 yards. When that ball is spotted on the 25-yard-line and in we've got to be able to count on getting three (points). That's going to be a big part of our success this fall, how efficient those guys are."
Daly sat out last season while serving a suspension for an off-field incident. He was accused of partner or family member assault in Billings last summer, but those charges were deferred and he was eventually reinstated to the team.
Daly had a solid sophomore season in 2015, making 8 of 9 field goal tries, including a pair of 50 yarders. Peppenger was the primary placekicker in Daly's absence last year. He hit 9 of 13 field goals and all 25 of his point-after attempts as a true freshman. He also averaged 61.8 yards and had 11 touchbacks on 33 kickoffs.
Peppenger's best game was against North Dakota, when he made all three of his field goal tries, including a season-long 44-yarder.
"I think he's a talented young man. He's got a lot of pop on his leg," Choate said of Peppenger. "He gets really good elevation on the ball, which is something that's not natural, especially when you're coming out of high school when a lot of times guys are kicking off of tees. And so to go to the ground and kick off the surface, that can be a challenge.
"But he did an awesome job for us filling in last year. He matured and improved as the year went on and he's picked up where he left off."
Choate said Daly, who ostensibly has the strongest leg on the team, has re-acclimated to the kicking competition — discounting a few adjustments.
"It's interesting, because you almost forget that he was gone," said Choate, MSU's second-year coach. "I'm like, 'No, that's not how we do things. We do it like this.' So you're kind of explaining some of that. But he's been open to it, and he takes to coaching well.
"We've had a couple of those deals where it's like, 'No, this is how we practice now. This is how we do things.' And I think it's taken him a minute, which is funny because you forget he wasn't here last year. But it's been good. And I think he's been pleasantly surprised with the level of competition that he has around him, and that's just going to elevate his game."
Padmos was the Bobcats' primary punter as a freshman last year. He averaged 39.7 yards on 58 punts, had five punts 50-plus yards and pinned the ball inside the 20 yard line 10 times.
Padmos did not attempt a field goal last season but has been working out at kicker this spring (in addition to playing some wide receiver). Padmos' performance has been praiseworthy.
"As far as the placekicking goes, I think (Daly) has probably been really impressed by Padmos," Choate said. "That guy's pretty good: 'I better up my game here a little bit.' Those guys are really going to push each other, and I think it will be very interesting to see how that competition plays out.
"If Luke ends up being the guy then you maybe have the luxury to redshirt a guy like Jered, who probably would have been better to redshirt a year ago. But he came through and did a great job for us."
Daly has shown off a booming punting leg this spring. Choate indicated Daly will continue to get punting opportunities when fall camp opens in August, particularly in traditional scenarios. Padmos proved effective with the roll-out punt last season.
The Bobcats were the third-best punting team in the Big Sky last year.
"We're going to work (Daly) on the punting stuff," Choate said. "Some of the roll-out stuff Jered's probably a little bit better at, just because he's had more turns at it. But as a traditional punter it's all about consistency, and so those guys will have a tight competition in the fall, so we'll see what happens."
MSU will wrap up spring drills at noon Saturday at Bobcat Stadium with the annual Sonny Holland scrimmage.
Be the first to know
Get local news delivered to your inbox!