BOZEMAN — For the Montana State football team, necessity has been the mother of innovation.
An offense that often looked like a loop of read option plays last regular season now looks as creative as any in the Big Sky Conference. This was true in the first game, but the clever play calls from offensive coordinator Taylor Housewright have increased since Lane Sumner and Jared White joined Isaiah Ifanse and Kaegun Williams on the injured running back list.
The Bobcats, who are tied for fourth in the Stats Perform FCS Top 25, ran the ball effectively against a strong Oregon State defense last week despite missing those four key players. The question now is if MSU (2-1) can sustain that success. Saturday's Big Sky opener at No. 15 Eastern Washington (1-1) will provide some clarity.
Quarterbacks have accounted for 67 of MSU's 122 rushing attempts this season — starter Tommy Mellott leads the team with 205 yards on 39 carries (5.3 yards per carry), backup Sean Chambers has 185 yards on 23 carries (8.0 ypc) and third stringer Sean Austin has 32 yards on five carries (6.4 ypc). Chambers is tied for the Football Championship Subdivision lead with seven rushing touchdowns.
Chambers has mostly appeared as a Wildcat QB in the red zone. Against Oregon State, the Wyoming transfer started the game behind center in a shotgun formation, while Mellott lined up out wide and motioned into the backfield. Chambers both kept the ball and handed it off to Mellott, who ran read and run-pass option plays with Clevan Thomas Jr. during the drive.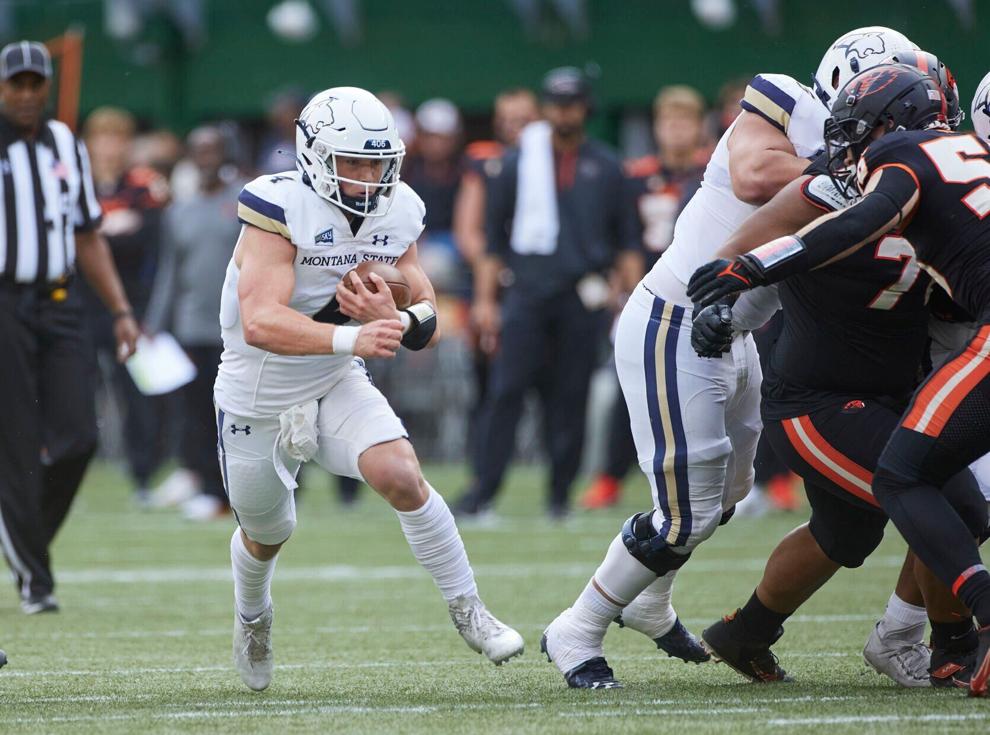 Fellow receiver Marqui Johnson has been a running threat both from the slot and the backfield. Taco Dowler ran well on sweep plays in the season opener against McNeese State, and Thomas and Willie Patterson scored on pop passes (basically handoffs) from Chambers in the second game against Morehead State.
"Coach Housewright is doing a great job," MSU running backs coach Jimmy Beal told 406mtsports.com on Monday. "He's like, 'I've got all these tools, all these weapons to be able to use, and how can I use them? How can I get two quarterbacks on the field and then be able to throw a bubble off of it? And then getting this guy the ball, getting Marqui the ball.' It's been really cool and creative."
The Cats struggled in all three phases of last week's 68-28 loss to OSU, but the offense was only poor through the air (Mellott completed 50% of his passes for 101 yards, no TDs and three interceptions). MSU rushed for 168 yards on 32 carries (5.3 ypc).
Chambers scored his third rushing TD of the game on another creative call. The redshirt junior lined up on the left wing while Mellott stood behind center in the shotgun. As Mellott gestured to the sideline seemingly looking for a signal, Chambers motioned behind center, took the snap and powered forward for a 1-yard score.
"We're trying to use our 11 best athletes, in some aspect, and we can do some things obviously with two QBs because they're both athletic," Housewright told 406mtsports.com on Monday. "It's just a matter of how much you want to do. I wanted to do more of it in the second half, but the score kind of dictated a little bit of that as far as putting those guys in positions of risk in some aspects."
Risk is tough to measure. A player can get seriously hurt diving into the end zone on a long touchdown run, as was the case with Ifanse. A player can battle neck issues that end his season before it begins, as happened to Williams. A player can hurt his elbow in a non-tackling practice rep, as Sumner did. A true freshman can suffer a season-ending injury on his eighth college carry, as White painfully discovered.
Most, if not all, of those injuries can be attributed to fluky misfortune, but risk is sewn into the fabric of football. Both Chambers and Mellott have gotten seriously hurt in their careers. Every hit they take increases their odds of missing more games.
"I would say those two are our best runners right now. That's the truth," MSU head coach Brent Vigen said Monday. "How much can we tax them? The fact that we have two of them, does that help? Yes."
Chambers and Mellott combined for 27 carries against OSU. Mellott rushed as many times as he passed (18), and only one of MSU's two active running backs touched the ball. Elijah Elliott carried the ball twice and caught one pass (for 5 total yards), while Garrett Coon stood on the sideline in his first game back from injury. Vigen said "there probably wasn't a lot of time" to establish "much of anything from a traditional running back oriented game plan."
"You don't want to have an offense where the running back's out there the whole (game)," Housewright said. "Garrett practiced a little bit last week and hopefully moving forward he can practice more. But you don't want to have all these things that you're asking the running backs to do. You've got receivers in there doing things from a protection standpoint or whatever. If you do a bunch of those things, eventually Elijah Elliott's going to get tired."
Elliott was banged up last season, and protecting his health contributed "a little bit" to his limited role on Saturday, Housewright said.
"To ask one running back in the room right now — or maybe, hopefully two — to run the ball every play is not realistic," Housewright added.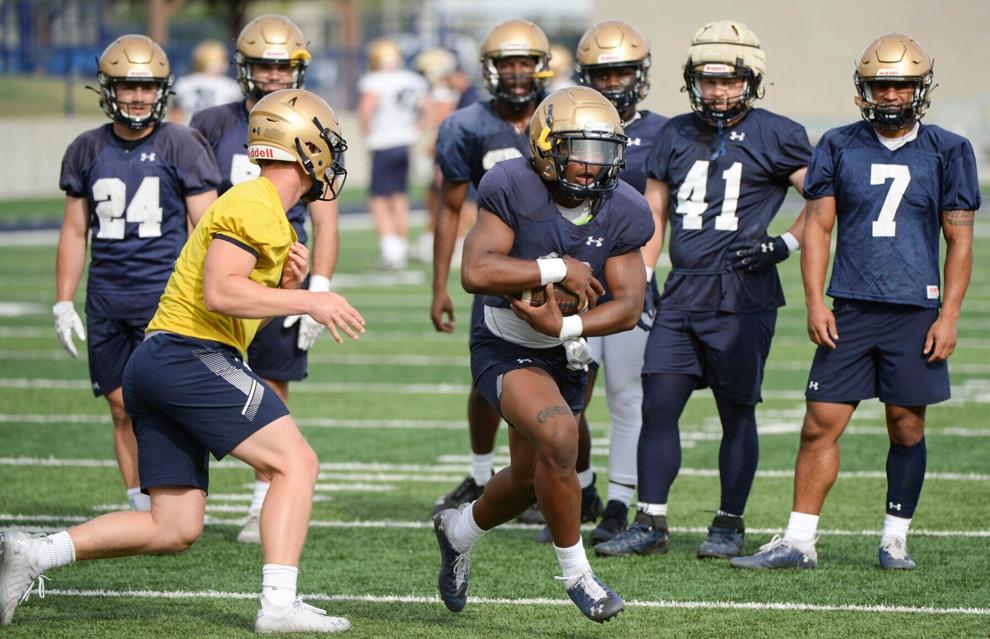 MSU's coaches haven't mentioned any behind-the-scenes struggles from Elliott. The sophomore is fully healthy, Beal said. Last season, Elliott rushed for 319 yards on 5.1 ypc and caught 16 passes for 163 yards.
"Playing a lot, like he did last year before the injury, I think he's really handling that (smaller role) and figuring out how to be a more mature guy," Beal said, adding, "The biggest thing for him is trust in himself. I think we've had a great talk about confidence and everything like that. His confidence, once he sees it and believes it, he's going to be able to do it."
The Cats haven't needed a true running back to succeed on the ground the last two weeks. Their young offensive line looked like their best unit on the field against OSU. Mellott and his talented group of receiving threats will likely look better against Big Sky defenses than they did against the speedy Beavers.
Plus, MSU has a playbook that has looked increasingly innovative during the second season of the Vigen/Housewright era.
"We will get Lane back sooner than later. We will get Isaiah back eventually," Vigen said. "Until that time, we've got to figure out how to get it done."