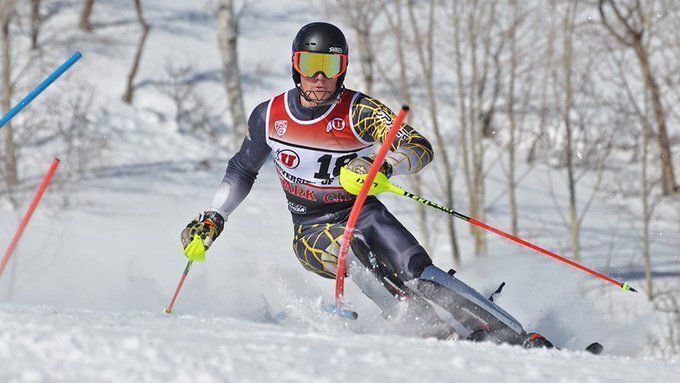 PARK CITY, Utah – Paced by Louis Mühlen-Schulte's runner-up finish in giant slalom, the Montana State men's alpine squad placed three in the top 10, racking up 91 points — the highest men's total of the event — at the Rocky Mountain Intercollegiate Ski Association Championships on Thursday afternoon at Park City Mountain Resort.
Mühlen-Schulte posted a two-run time of 1:54.11, just .18-second behind winner Tobias Kogler of Denver. The junior from South Yarra, Australia, recorded the second fastest times in both runs to reach his seventh career podium — a top-three finish. Last year, Mühlen-Schulte finished seventh in giant slalom at the RMISA Championships.
MSU sophomore Riley Seger finished fifth in 1:54.72, and Åge Solheim placed seventh in 1:55.05. Seger, a product of Vancouver, B.C., posted the fifth fastest second run in 57.95.
"It was a great day for racing," MSU alpine coach Kevin Francis said. "Cold and clear with excellent snow, especially considering how much snow they received last week.
"The guys started a little slow in the morning, but by the second race everyone was going for it. Our team put in a great effort and learned each run to find more speed."
Also competing for Montana State were Dawson Yates, 14th, 1:56.33, Jamie Casselman, 17th, 1:56.56, and Zak Vinter, 29th, 1:58.41.
The Bobcat women were led by newcomer Kristiane Bekkestad, who finished sixth with a two-run total of 1:58.61. Also scoring for MSU were Nellie Talbot, 14th, 1:59.89, and Tegan Wold, 18th, 2:00.32.
Rounding out Montana State's racers were Brynne Hitchcock, 20th, 2:00.66, and Antonia Wearmouth, 30th, 2:10.79. Hanna Nyquist did not finish her opening run.
"The ladies skied well, but know they can do better," Francis said. "They are all looking forward to slalom (Friday)."
Westminster's Hannah Saethereng won the giant slalom in 1:57.01.
After the first event at the RMISA Championships, Westminster sits atop the team standings with 165 points, followed closely by Colorado 163, MSU 154, Utah 146, Denver 121, Alaska Anchorage 88 and Colorado Mountain 71.