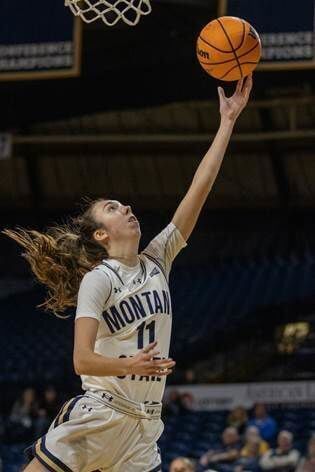 BOZEMAN — The Montana State women's basketball team's high-quality shooting at the Holiday Beach Classic lasted one game — Friday in a loss against North Texas.
Scoring was harder to come by Saturday against tournament host Cal Poly, but the Bobcats mustered just enough to earn their second win of the season. One day after shooting 47.5% against the Mean Green, which included 14-of-28 shooting on 3-pointers, Montana State shot 33.9% in a 67-55 win over the Mustangs in San Luis Obispo.
In their previous two games, the Bobcats had trouble holding on to large early leads. On Saturday, MSU closed out a hard-fought contest to complete a six-game road trip and snap a five-game losing streak.
"Our team is learning how to respond when things aren't going a certain (way)," MSU coach Tricia Binford said. "This is a very, very special game for us because they figured out and found a way down the stretch."
Darian White led MSU's balanced scoring with 19 points. She added six assists, five rebounds and three steals. Katelynn Limardo tallied 14 points, Kola Bad Bear had nine, Lexi Deden scored eight and Leia Beattie supplied seven.
Montana State led by four points entering the final quarter and managed to stay ahead by at least that many for the rest of the game. Limardo went 3 for 3 on 3-pointers in the fourth quarter, keeping MSU ahead by seven, eight and 10 points. The latter possession was kept alive by a pair of Bad Bear offensive rebounds.
One day after having a career-high 18 points against North Texas, Bad Bear had a career-high 10 boards, including four on the offensive end, to go with three assists.
The Bobcats (2-5) finished the game 8 of 27 on 3-pointers and 17 of 24 from the foul line, including 10 of 11 in the fourth quarter.
"That can be the difference in the game," Binford said. "You get the free throws down the stretch, you get the stops down the stretch, you get the rebounds down the stretch.
"Kola gave us great presence on both ends (this weekend). She's doing a really consistent job on the glass. (Limardo) and Leia, the last two games have been shot-ready, and that's been a key for us."
Cal Poly (1-3) was led offensively by Maddie Vick with 19 points and Kirsty Brown with 13 points. The Mustangs shot just 1 of 16 on 3-pointers, with Vick making the team's only shot from distance in the fourth quarter to pull Cal Poly within five points.
White followed with two free throws with 2:36 remaining, and the Mustangs never got closer.
The Bobcats and Mustangs battled through a tight first half — close primarily because both teams struggled to score. Cal Poly led 16-15 after the opening quarter, and MSU led 26-25 at halftime. Neither team shot higher than 31% from the field.
"We were super cold to start the game, and second quarter we were able to hold them to nine points, so that helped us stay right there," Binford said.
MSU finally earned some meaningful separation in the third quarter. Ashley Van Sickle and Taylor Janssen hit 3-pointers one minute apart to put the Bobcats ahead by four and five points, respectively. Janssen and Deden each added one free throw in the waning moments to put MSU ahead 44-40 going to the fourth.
Montana State begins conference play this upcoming week with games against Northern Colorado and Sacramento State on Thursday and Saturday, respectively. Both games are at 7 p.m. at Worthington Arena. The two games also start a six-game stretch at home, a respite after so long of playing on the road. The Bobcats don't play on the road again until Dec. 30 at Weber State.