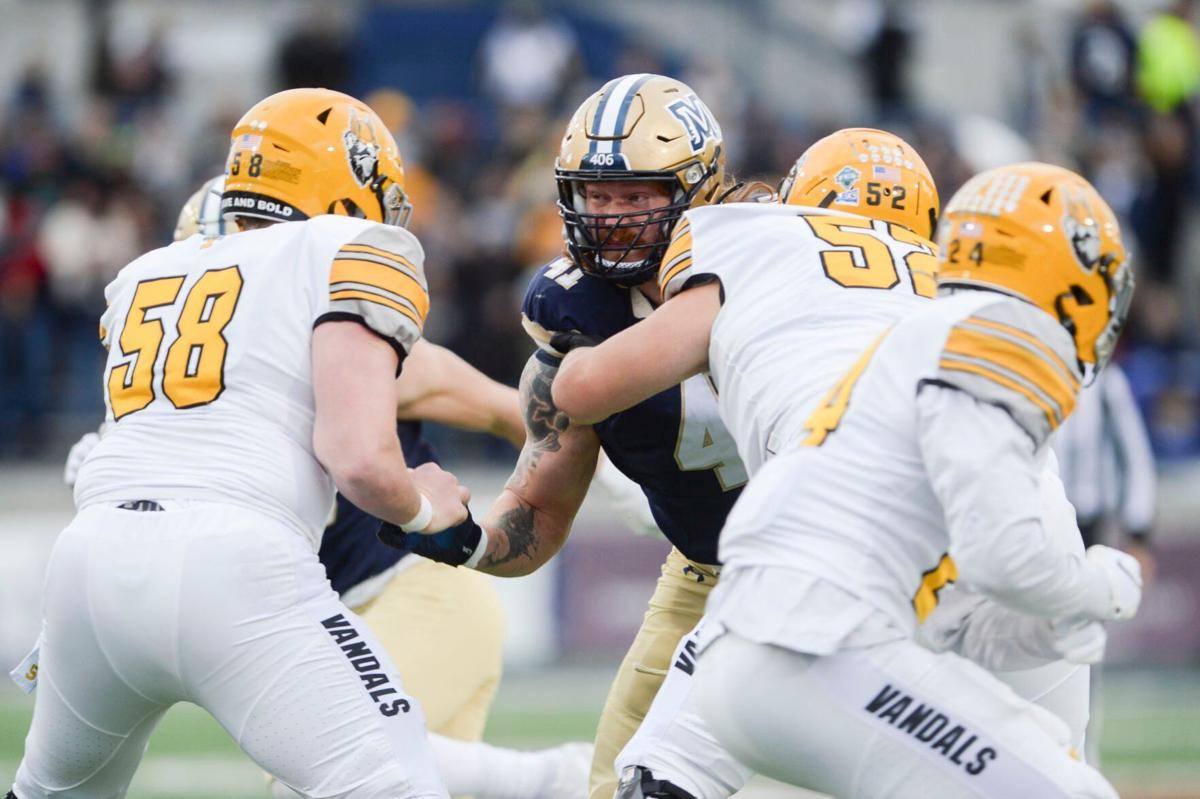 BOZEMAN — As the weight kept piling on, Chase Benson only seemed to be growing stronger.
Kane Ioane, a former defense coordinator at Montana State, thought it was like something out of a movie. Benson kept adding more pounds to the bar. Ioane never saw him fail a lift.
Eventually, Ioane said, Bobcat coaches had to cut off Benson. There was no need to keep going. It seemed Benson was on track to take on every single ounce in MSU's weight room.
No matter the pressure Benson was under, his power didn't seem to have a limit.
"There's no better person I've ever seen in the weight room when it comes to throwing weights around," Ioane, who is now a co-defensive coordinator at Boise State, said. "But what that speaks to is not just the strength side of things. That's one thing, but it really is determination and his resiliency.
"And that's a microcosm of Chase as a whole as far as his life. His resiliency, his ability to bounce back from adversity, and I think that's a really great way to look at what Chase has been able to do in life is just how he handles himself in that weight room. No matter what kind of weight you throw on him, he's going to respond and he's going to push back and he's going to succeed no matter what.
"There's no question, his ability to bounce back from adversity, to persevere through any given challenge that's presented to him through the course of his life is going to continue to allow him to be the successful man he will be as he goes through life. He's a guy that has been a foundation for this program."
Benson is rarely spotlighted, as his duties primarily include taking on double teams to aid his fellow defenders. But some of his teammates' favorite memory of Benson is a notable one, which is from the last time the Bobcats played their rival on the road.
Near MSU's own end zone with just a few seconds left, Benson forced a Grizzlies offensive lineman well into the backfield. The play resulted in a forced fumble, recovery and goal-line stand in the Bobcats' comeback win.
"He's a freak," MSU linebacker Troy Andersen said. "I think he's the best defensive lineman, maybe the best player in the Big Sky. Chase is just that dominant and proved it back then."
Bobcats linebacker Callahan O'Reilly, a former quarterback at Bozeman High, knew of Benson when he was playing for Helena High. Even then, O'Reilly remembers Benson being a "monster."
Tony Arntson, who was Benson's high school head coach, recalled a game when Benson drove the center back to the quarterback and caused a fumble. Even as a high school underclassman, Benson was wreaking havoc in opposing backfields.
"He's probably one of the great success stories in my 32 years of coaching," Arntson said. "He is a strong individual. But to watch his maturity and watch him grow up into the young man that he is has just been awesome."
Arntson said Benson "didn't have a really easy life." However, he was surrounded by people, like coaches and teammates, who helped him as he grew up.
Arntson couldn't think of a better word than perseverant to describe Benson.
"(Football) was the place where he didn't have to worry about that kind of stuff," Arntson said. "When he puts his helmet on and puts his knuckles in the ground, he's all business. He'll get after you, and when it's over, there's not a nicer person that you'd ever be around."
Arntson said Benson has "ungodly natural strength." But he added to that when he found his passion for weight lifting.
There, Arntson noted, he developed a work ethic. He was at the top of seemingly every category on Helena's weight lifting record board by the time he graduated.
"He never let anything stand in his way," Arntson said. "He ran a straight line and kept his focus, and that makes his story that much better."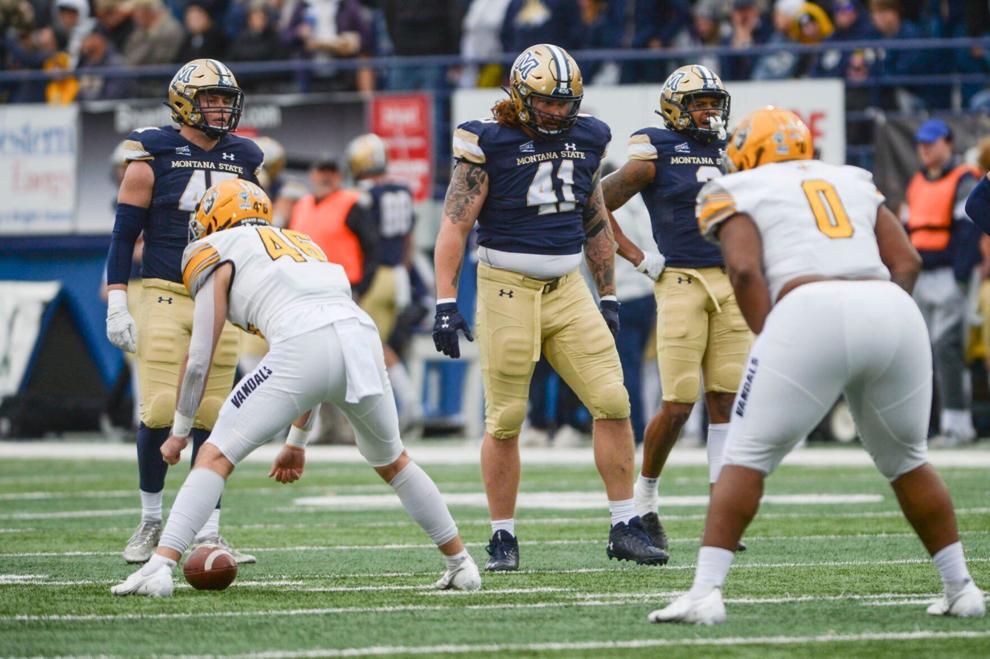 The Bobcats have lauded Benson, who would pursue a career in strength and conditioning if a professional opportunity didn't materialize after college, for his consistent dedication. That propelled him to becoming an all-Big Sky player.
"That was kind of what I first fell in love with," Benson said. "It's always been there and something you can really dive into."
Bobcats offensive lineman Lewis Kidd is constantly impressed by the amount of weight Benson can lift. He's capable of that because of his meticulous approach. Kidd, who is roommates with Benson, said the defensive lineman helps others with their training as well.
MSU safety Ty Okada said Benson and Kidd invited him over to their place to lift weights after the onset of the coronavirus pandemic when opportunities to do so were sparse. Okada called it the "power house." He feels that's just one example of Benson being willing to help others.
"It was kind of a haven for him," former Bobcats head coach and current Texas co-defensive coordinator Jeff Choate said. "He's just such a persistent kid. He's had a lot of challenges like all people do in their lives, but he's been able to really turn those into opportunities to grow and learn, and he's just an awesome example of what college athletics can do."
Fellow MSU defensive lineman Blake Hehl pointed out Benson's power and "sheer will" make him an issue for opponents.
Kidd also complimented Benson's intelligence. Andersen added Benson is his favorite player to watch because he can't often be successfully blocked one on one.
"You've got to be wired differently to play interior D-line if you are going to be double teamed," Choate said. "It's not just the strength, it's also the discipline that I've got to stay on my key and I've got to make sure my footwork and my hand placement are correct."
Benson may not make every tackle, but he makes his presence known by clogging up lanes along opposing offensive lines. When he didn't play against Idaho State earlier this season, it was noticeable.
Though he may be undersized, Bobcats head coach Brent Vigen said Benson has "a motor that doesn't stop." His consistent effort could help him have a shot at playing professionally.
"Chase is one of the best D-linemen in this conference," Vigen said. "We felt like the guys that stepped in played well, but they're not Chase Benson."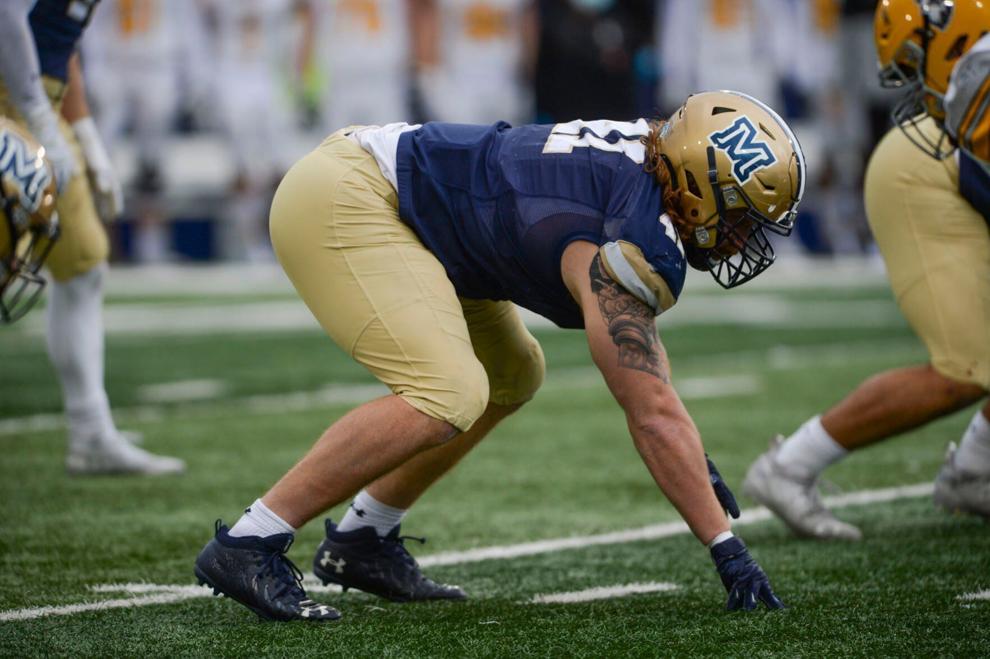 Bobcats defensive coordinator Freddie Banks said Benson often makes practices difficult because he "destroys stuff." He doesn't give the defense enough of a chance to see what a play might be like during a game.
But Banks said MSU doesn't limit Benson whatsoever. Banks called him the "spine" of MSU's defense. The Bobcats want Benson to be himself at all times.
"He's in the backfield on every play. I haven't seen him take a play off," Banks said. "He's not one of those guys that thinks, just because he's a good player, he's not going to do what's right."
Choate said Benson doesn't enjoy the spotlight. Benson, Kidd noted, didn't at first want to wear MSU's legacy number of 41 reserved for Montana natives this season because he didn't want any more attention on him, though he appreciates the honor.
Choate said Benson would rather be known for being "a great brother to the men in the locker room."
Hehl, a transfer from Tarleton State, said Benson helped with his transition to MSU. He stuck close to Benson and learned from the attention to detail he illustrated.
Though Benson may often be quiet, Okada called him a "phenomenal leader" by the way he holds himself and others accountable. MSU defensive lineman Amandre Williams said he can always count on Benson to take care of his responsibilities.
Benson said he enjoys witnessing the success of his peers. He added some of his fellow seniors like Kidd and Andersen will be lifelong friends.
"It's meant everything to me," Benson said of his time at MSU. "It's a family for sure that I've grown to love."
Benson doesn't record as impressive stats as he could in part because he's often double teamed. When he is, he doesn't mind. But he still hopes he can make an impact every single play.
His presence frees up his teammates to take down ball carriers. O'Reilly said his job is easier because of Benson.
"And he still eats double teams like a madman," Kidd said. "It's impressive. He's just smart and a great guy and a great player. Awesome to have him as a teammate."
Vigen added Benson's unselfish nature, along with his work ethic and ability, make him "the perfect package" as an interior defensive lineman.
"He's going to do the dirty work," Vigen said. "He's going to work his tail off."
The most impressive thing about Benson, Choate said, is not his resume. Rather, it's who he's become in the past six years at MSU. Ioane added he's amazed by his development as a person.
Benson only needs a few words, Ioane said, to set his teammates on the right path. That's because of the respect he's garnered.
"He's an extremely intelligent and extremely personable human being that comes off as this guy, he looks like the Undertaker from WWE, you don't look at him and say this is a guy that's going to have this tremendous sense of humor and is going to be an extremely personable, down-to-earth, awesome human being," Ioane said, "but that's exactly what he is."
Before MSU's game at Eastern Washington, a battle of two top-five teams, the Bobcats gathered for jumping jacks. At the center was Benson. All eyes were on him as he led them.
Through the tribulations of his career, Ioane credited Benson for his resiliency. Because of it, he compelled others around him to help the Bobcats reach the point they're at now.
When asked what his time at MSU taught him, Benson's answer was straightforward.
"Just never give up," he said. "Keep grinding. No matter what life throws at you, you can always push through."