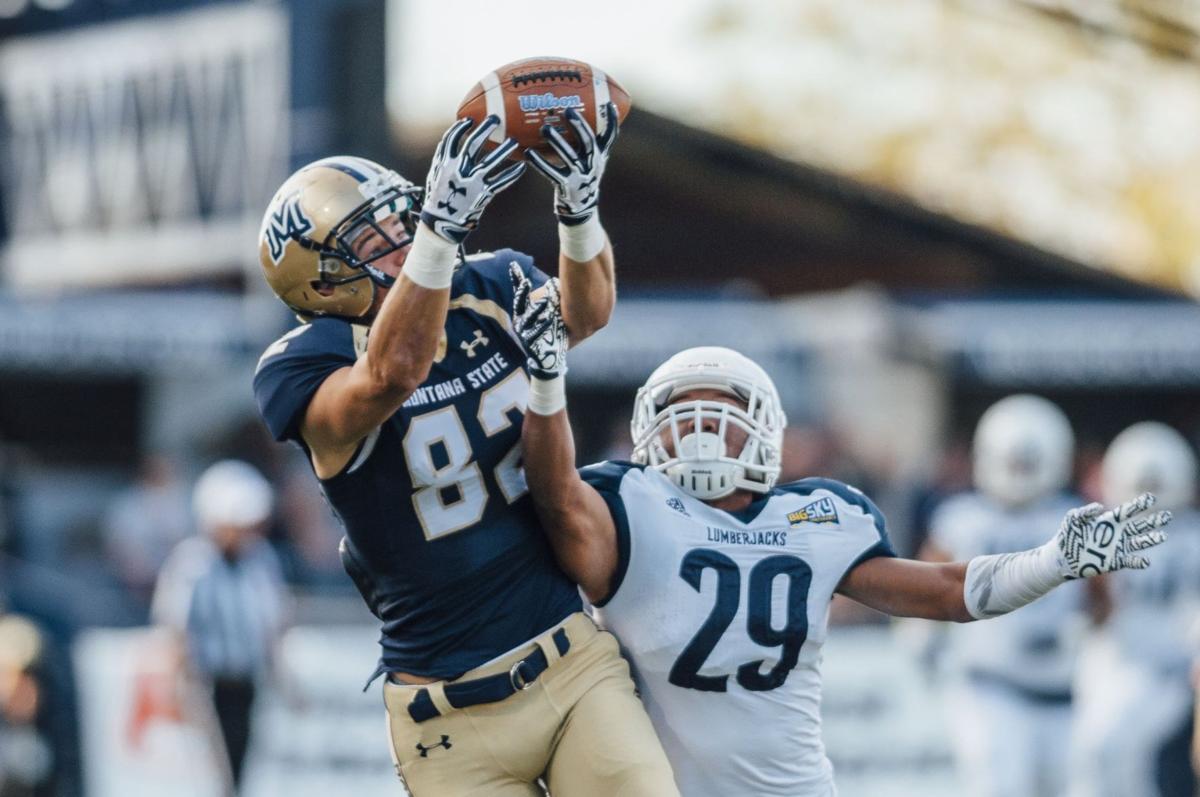 BOZEMAN — Montana State receiver Mitch Herbert earned second-team CoSIDA Academic All-America honors Thursday as one of the top student-athletes in NCAA Division I football.
A senior from Eugene, Oregon, Herbert led the Bobcats with 41 receptions, 497 yards and five touchdown catches in 2017. He finished his career ranked second in Bobcat history with 20 touchdown catches, fifth with 1,874 receiving yards, and sixth with 137 total receptions. But Herbert's academic accomplishments — he maintains a 3.84 cumulative grade point average in cell biology and neuroscience, with an eye on medical school — have overshadowed his considerable athletic achievements.
"In my 20 years of coaching I'd be hard pressed to find another young man that exemplifies what it means to be a true student-athlete the way that Mitch Herbert does," MSU coach Jeff Choate said. "He's a tremendously hard worker, he values his team and his teammates, has exemplary character, and is a scholar in the truest sense of the word."
As important as football and school have been for Herbert, he says his family's support has been ever-present. That came through on the CoSIDA Academic All-America list, which also featured his brother, Justin. Oregon's starting quarterback, Justin Herbert is the CoSIDA first-team Academic All-America quarterback.
"He's something else," Mitch Herbert says of his younger brother. "He's so talented, and he's not only super athletic but he's super smart. That's something that separates him from other guys, his ability to process information."
Success in both football and academics have been hand-in-hand for Herbert throughout his career, an emphasis that began with his parents.
"They definitely emphasized getting good grades growing up," Mitch Herbert said, "but it was something Justin and I were always interested in. We always to succeed in not only athletics but academics as well."
Mitch Herbert's legacy at Montana State extends beyond the record books and the classroom. He has been active in a wide variety of service projects, volunteering for projects that benefited Montana Special Olympics, the Heart of the Valley Animal Shelter, and Bozeman Health Deaconess Hospital. He also served as President of the MSU Student-Athlete Advisory Committee (SAAC).
"It's just something I enjoy doing, giving back to the community that's given provided so much to us as student-athletes," Herbert said. "To go out and return that favor is something that I pride myself on."
With one phase of his academic career winding down — Herbert's spring semester at MSU features just two classes, an introduction to psychology course and one in human neuro-anatomy — the next one is about to begin. He said he will spend considerable time in the spring studying for medical school entrance exams and considering where he will apply.
"I've been so focused on football and academics," he said, "it's something I'm going to have to start thinking about."
Be the first to know
Get local news delivered to your inbox!