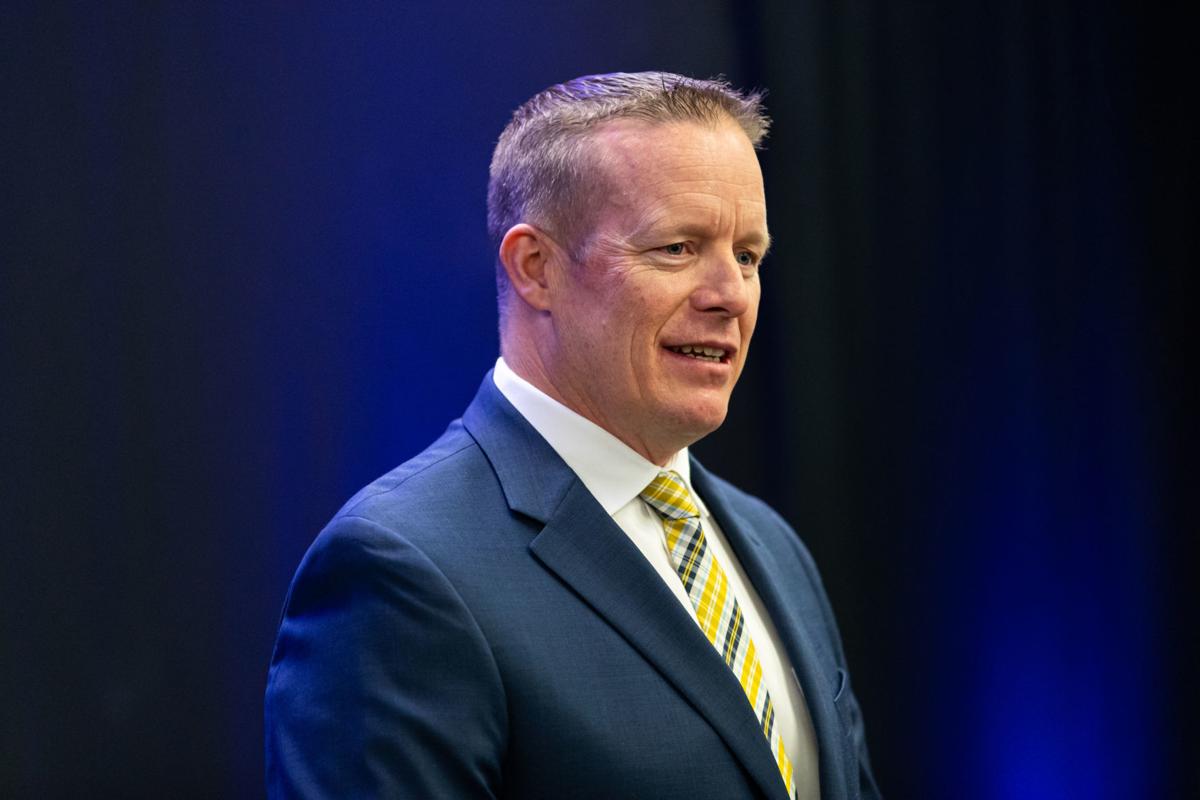 BOZEMAN — Last week, new Montana State head coach Brent Vigen signed a four-year contract, which was obtained by the Bozeman Daily Chronicle on Thursday morning, that includes a $210,437 base salary.
His predecessor, Jeff Choate, originally had a base salary at about $206,000 per year after he signed his contract extension in March. 
This was before Choate left to become a co-defensive coordinator and inside linebackers coach at Texas. If Choate had stayed, he would've made the same as Vigen because of a 2% pay increase. These contracts, however, included tens of thousands in easily attainable incentives.
Vigen, previously Wyoming's offensive coordinator, associate head coach and quarterbacks coach, was among the highest paid assistant coaches in the Mountain West with a base salary at $300,000.
Vigen's new contract includes a $35,000 per year retention incentive for staying with the university. That yearly sum increases by $5,000 every year he's at MSU.
Vigen is tasked with taking part in radio and/or television shows and meeting with media weekly. He will be paid $40,000 per year for radio shows and another $40,000 for appearances on television shows arranged by MSU.
Vigen will be paid $30,000 per year for being involved in fundraising and social activities, booster functions, public speaking engagements and ticket sales campaigns.
Vigen will also earn additional income if the Bobcats have an average team GPA of 2.7 or higher ($5,000), 2.85 or higher ($5,000) or 3.0 or higher ($5,000) per semester. He will make the same amount per benchmark at the end of every academic year. He will make an additional $5,000 if MSU's athletic department earns an NCAA academic progress rate of 985 or higher. Vigen will make $7,500 if the team has a 70-79% graduation success rate and additional $5,000 for every 10% more.
If the Bobcats play an FBS team — MSU is scheduled to open the 2021 season at Wyoming on Sept. 4 — then Vigen will make $15,000 and he will make an additional $10,000 for an FBS win.
Vigen will also be paid if MSU defeats a nonconference FCS opponent that made the playoffs the previous year ($5,000), wins eight games ($7,500), wins nine games ($7,500), wins 10 or more games ($7,500), makes the FCS playoffs ($7,500), advances to the second round of the playoffs ($7,500), advances to the quarterfinals ($10,000), advances to the semifinals ($10,000), advances to the national championship ($15,000) and wins the national championship ($50,000).
If MSU maintains or increases season attendance, Vigen will be paid $5,000. If he's selected as the Big Sky, regional or national coach of the year, he will be paid $10,000.
If MSU fires Vigen for reasons not related to criminal or ethical misconduct, it will pay him $250,000 or his unpaid base salary and benefits if less than a year is left on his contract. Vigen may terminate the agreement at any time, but his buyout is also $250,000 or an amount equal to his unpaid income if less than a year is left on his deal.
Vigen will also be given use of a vehicle, moving expenses, country club dues and tickets to MSU football, men's basketball and women's basketball games.
The contract outlines lesser benefits and incentives for MSU's assistant coaches as well for hitting similar academic and team performance benchmarks.
"I couldn't be more excited for this opportunity," Vigen said last week.
Photos: Montana State Bobcats football coaches at the NCAA level