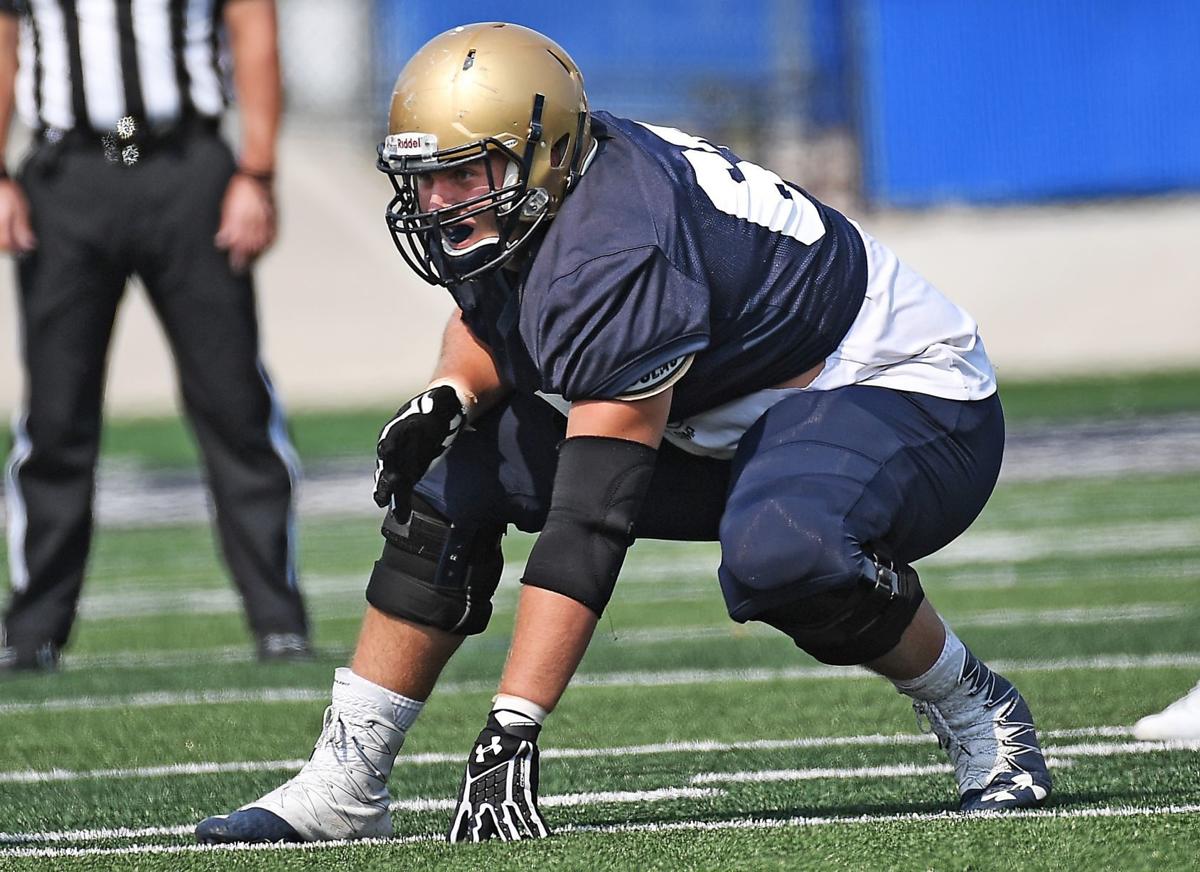 BOZEMAN — J.P. Flynn is one of the finest offensive linemen Montana State has produced. But Flynn took his considerable talent — and his 315-pound frame — to the NFL where he is fighting for a roster spot with the 49ers.
Back on campus, the heir apparent to Flynn at left guard is Jake McFetridge, an inexperienced yet plucky sophomore with a big upside. Just don't tell McFetridge he's filling anyone's shoes.
"Honestly, just to be mentioned in the same sentence as J.P. is an honor. But I know right now as a 20-year-old that I'm no J.P," McFetridge said after a recent practice. "So I'm just out there trying to do the best job that I can. It's all about effort, and I'm just trying to play hard."
McFetridge's journey to Montana State took a winding road. His original plan was to play college baseball, and as a high school pitcher in Huntington Beach, California, he had budding potential.
Armed with a fastball that topped out at 86 mph when he was 15, McFetridge said he'd garnered some early interest from a few college programs. But that's when things took a turn: McFetridge's pitching career ended before it even began — thanks to a torn labrum in his right shoulder suffered at 16.
McFetridge opted against having surgery at such a young age, and decided to take a year away from sports. By the time his senior year rolled around he joined the football team and, as he said, "something better worked out."
Originally recruited by former MSU offensive line coach Jason McEndoo, McFetridge was offered an opportunity to play for the Bobcats early in his first and only season of football. The rest is history.
"They liked my size, and I moved pretty well," said McFetridge, who is now listed at 6-foot-6 and 290 pounds. "I had no idea what was going on out there, but McEndoo liked that. He always used to call me his own little mold of clay that he could develop however he wanted."
Now McFetridge is the presumed starter at left guard for the Bobcats, and the coaches believe he's up for the challenge, particularly due to his approach to playing offensive line.
"I think he's really embraced the physicality that you have to have to play the guard position," coach Jeff Choate said. "One of the things we miss with J.P. being gone, quite honestly, is some mass.
"(Flynn) was 315 pounds, and a lot of times those guys are on double-teams ... they're kind of road-graders. Jake doesn't have that mass necessarily, so a little bit of it is an attitude, and I think he's embraced that attitude."
And McFetridge wants to be a cog in what he believes will be a turnaround season — in spite of a September stretch that pits the Bobcats against the likes of Washington State, South Dakota State, North Dakota and Weber State.
"I think the sky's the limit, to be honest," McFetridge said of the upcoming campaign. "This tough schedule at the beginning is just going to be a coming-out party.
"I think we're going to go to Pullman (Washington) and we're going to compete really well, and then come home to the No. 4 team in the FCS and compete here, and pretty much show everybody that we're not a 4-7 team anymore. I think that team is long gone."
Charting depth
Four of MSU's five offensive line spots seem set as game week approaches.
Dylan Mahoney is a mainstay at left tackle, McFetridge is coming of age at left guard, Alex Neale is virtually irreplaceable at center, and Mitch Brott is entrenched at right tackle after starting there as a freshman last year.
The exception is at right guard, where the battle between senior Caleb Gillis and freshman Taylor Tuiasosopo has treaded deep into camp. Tuiasosopo, who redshirted last year and missed spring ball while rehabbing from surgery, got more first-team reps as practice continued into August.
Both should play this season regardless, as Choate acknowledged the need for fresh bodies as the year moves along.
"We've tried to mix and match over at the right guard position a little bit and created more competition," Choate said. "We're probably going to need seven to eight offensive linemen to get through this season."
Tackle Lewis Kidd and true freshmen Connor Wood and Zach Redd, Choate said, will likely fit into the rotation.
"We're still relatively young. We've got Gillis and we've got Mahoney — and Mahoney's played a bunch. But Gillis hasn't gotten a ton of game reps, anyway," offensive coordinator and former offensive line coach Brian Armstrong said. "And then Taylor Tuiasosopo is now starting to come into his own."
Be the first to know
Get local news delivered to your inbox!