BILLINGS — Without the past you can't have the present.
It's a mantra Tanner Roderick takes to heart these days, a decade removed from an indelible high school athletic career and a meandering if not complicated collegiate experience that eventually led him back to his roots in Montana.
At Bozeman High, Roderick lived under an intense spotlight he never really wanted or asked for. It was the kind of hype that would be considered overwhelming for a young athlete even by today's standards.
But that was the price of success, and Roderick possessed the perfect combination of size, strength, natural ability and competitive desire to capture everyone's attention.
Former Bozeman football coach Troy Purcell called him "one of the most athletic people I have ever been around," and that's probably understating it.
It's difficult to attach a specific label to the kind of gifts the 6-foot-3, 195-pound Roderick owned.
As a dual-threat quarterback on the football field in the fall of 2010, he passed over and ran through opponents while forging one of the finest seasons in state high school history, and led Bozeman to an undefeated season and a victory in Class AA state championship game, which snapped the school's 93-year title drought.
As a physically superior guard on the basketball court, Roderick's flair for the dramatic — high-rise dunks and acrobatic shots — were a driving force in the Hawks winning another state crown.
By the time his senior year came to a close, Roderick had been selected for numerous all-star games and won Montana's Gatorade player of the year award in both football and basketball, making him just the third athlete in state history to claim the honor twice in the same academic year.
"The thing that comes to my mind is just dominance," said Wes Holmquist, Roderick's basketball coach at Bozeman. "I've been doing this for 20 years and I've been around some pretty good athletes, but he really had the 'it' factor.
"The bigger the game, the bigger the moment, the better he was. He just rose to the occasion whether it was football, whether it was basketball, it didn't matter."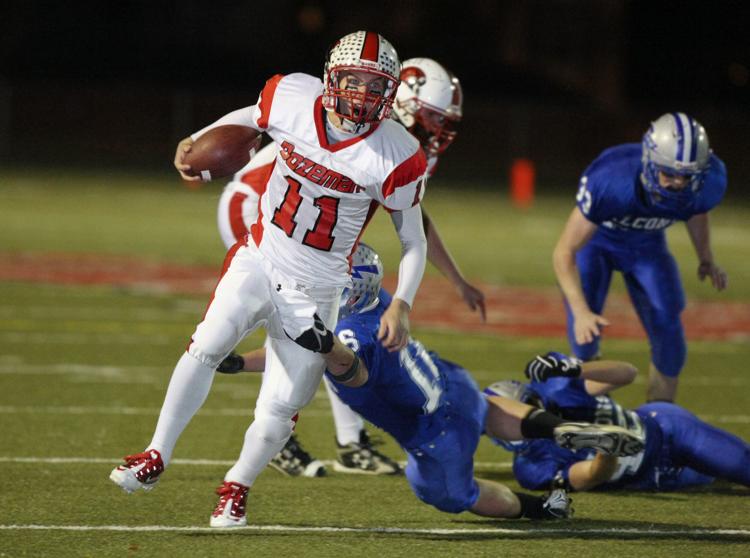 Roderick was a prized recruit in both sports, and he ultimately chose to attend the University of Nevada on a football scholarship to play for legendary Wolf Pack coach Chris Ault in the fall of 2011.
But a hamstring injury curtailed his chance to compete for reps at quarterback, and Ault's retirement after the 2012 season led Roderick to transfer home to Montana State, the same program for which his father Steve played years prior.
Roderick lined up at receiver for the Bobcats and caught a modest share of passes. He put up huge numbers in a thriller against Eastern Washington in 2014, but he played just two games as a senior and ended his career humbly and quietly — like the disposition with which he has always carried himself.
"That's probably the No. 1 question I get, if I have any regrets," Roderick said, acknowledging the expectations he faced. "There will always be plays, series, moments and decisions that you wish you could have back. But to say I have regrets, I don't.
"It's made me the person and man I am today, and I'm proud of who I am and for the people I've had in my life. That's what it's about, though. The journey."
Today, Roderick, 27, works at the Ridge Athletic Club in Bozeman as a sort of understudy to his father, the gym's owner and operator. He's also engaged to be married.
Things couldn't be much better.
But without the past you can't have the present, and Roderick's journey was quite the ride.
Roderick was more or less unstoppable as a high school quarterback. During his senior year, he led the state in both rushing yards and passing efficiency, finishing with 4,370 total yards of offense and 51 touchdowns.
Video game numbers, to be sure.
A week after edging Helena Capital by one point in two overtimes in the 2010 state semifinals, Roderick led the Hawks to a 28-7 win over Helena High in a blizzard at the old Van Winkle Stadium in Bozeman. His 79-yard touchdown run on his team's second possession gave Bozeman the lead, and his 46-yard bomb to teammate Justin Pierson with six seconds left in the first half made it 21-0 and served as the dagger.
The Hawks left the field with their first title since 1917, and it was the culmination of a season's worth of accolades, superlatives and attention, which Roderick managed — though at times he felt uncomfortable.
"Hats off to his athletic talent. He was different. You watched him and it blew your mind," said Purcell, who is now the head football coach at Carroll College. "But he was just very humble. I'm sure everybody likes to get a pat on the back, but he never let it go to his head."
"Those were the golden days for me," Roderick said. "Those people and those memories will always be special to me and something I will never forget."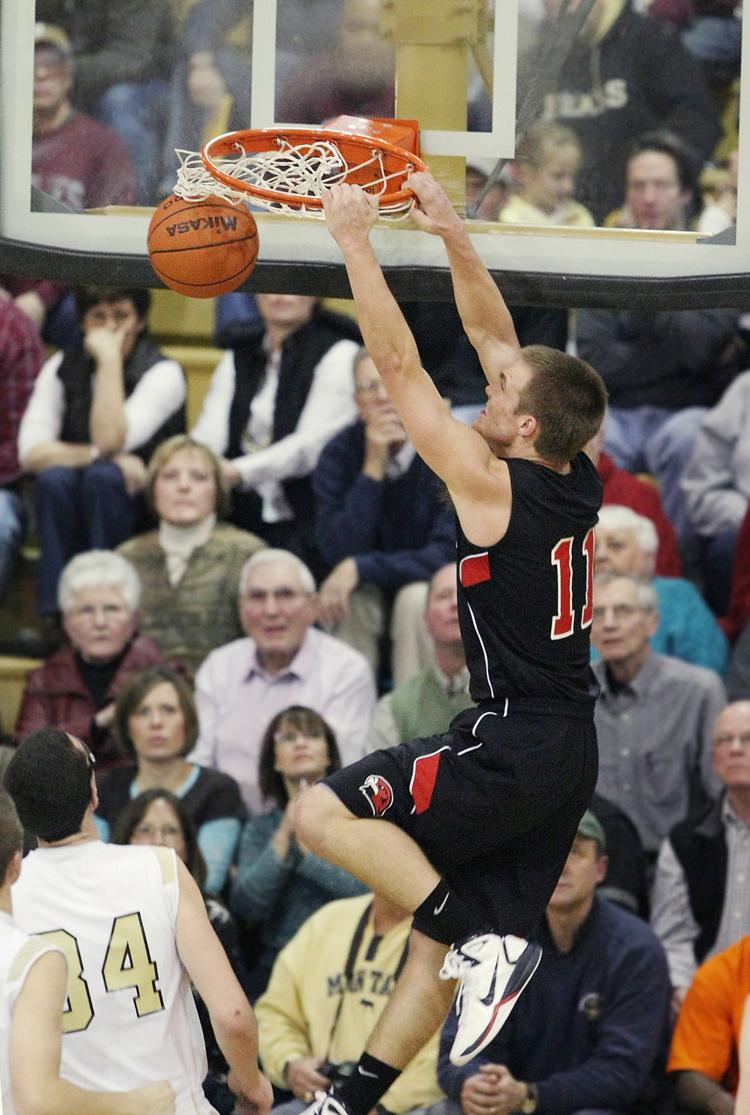 Roderick was a sought-after prospect by the time the basketball season rolled around that year. Holmquist remembers Roderick being a bit subdued in the early days of practice, whether it was the thigh bruise he was nursing or the quick turnaround from a dizzying championship season.
Roderick was, after all, the only football player on the basketball team, a rarity for any high school in these parts.
Holmquist gave Roderick a pep talk to motivate him to become the first person in Bozeman High history to win state titles in football and basketball in the same year. After that the Hawks were off and running.
Roderick finished that season averaging 18.3 points, 4.1 rebounds and 3.3 assists per game. The team, in turn, rolled to a 21-2 record and a 61-53 victory over Billings West in the Class AA state title game at the Butte Civic Center.
But the unforgettable highlight from that game — and the moment that best encapsulated Roderick's high school exploits — occurred in the fourth quarter of a close contest.
Receiving an entry pass in the low block (or so he thought) from Ryan Vanderpan, Roderick turned to attempt what Holmquist said was supposed to be a simple shot off the glass. But Roderick realized he was out of position, falling at a bad angle toward the boundary and away from the hoop.
What happened next was pure magic: Roderick hung in the air, adjusted, double clutched and lofted the ball awkwardly over the corner of the backboard. Nothing but net.
"We all get lucky sometimes," Roderick explained.
But it was much more than that.
"He's behind the backboard, he's falling out of bounds, he turns, smokes a cigarette, shoots and makes it," Purcell offered. "I said, 'He was in the air for like four days.' He just sat up there, hung around and made the shot. He was a special kid, for sure."
"Not a lot of kids could make that play," Holmquist added.
Roderick probably could have played basketball in college but the opportunity to attend Nevada, a Division I FBS program located in Reno, was too much to pass up. Roderick said he chose to play for the Wolf Pack over the Montana Grizzlies due to their use of the Pistol offense.
He redshirted as a true freshman and was expected to be in the mix of the quarterback competition the following year, but he pulled his hamstring on the final day of summer workouts and never saw the field in 2012.
When Ault retired, Roderick reassessed his options. This time, he chose to move on to Montana State.
The Bobcats, at the time under head coach Rob Ash, were already set at quarterback, first with DeNarius McGhee in 2013 and then Dakota Prukop in the following two seasons, so Roderick was content as a wide receiver. He just wanted to play.
But he broke his hand during a 31-30 loss at Southern Methodist during the 2013 season and didn't return until the final week. He had 122 receiving yards and two touchdowns in a 52-51 defeat to star QB Vernon Adams and Eastern Washington the following year in 2014, and that was his biggest game as a Bobcat.
In 2015, his final year of eligibility, he was scarcely heard from.
"It was just college, man," Roderick explained. "Just college."
For as high as the expectations were, some said Roderick didn't match the hype. But that's never what it was about. Those close to him know that best.
Coulda, woulda, shoulda? That's not important.
"I think some people might say that he didn't really 'make it,' but I don't look at it like that at all," Holmquist said. "I'm really proud of how far he's come and what he's done. He certainly had some tough moments, I think, throughout that whole process.
"It wasn't always easy on him. I'm really proud of everything he overcame. He is who he is and you can't take away what he accomplished."
Roderick had been busy in recent days at the Ridge preparing for its reopening after it was shut down — along with gyms statewide — due to the coronavirus outbreak. He serves as the manager on duty, sells memberships and administers various leagues club-wide.
Roderick also has his mind on his upcoming wedding to his fiancé Kelsey. The couple knew each other in high school but recently reconnected.
"Life goes on after sports," he said. "There's so much more. I'm very happy. Very happy."
Roderick says he will remember his days as an athlete as some of the best in his life. And he never shrunk from the vast spotlight that surrounded him.
He always felt more pressure to perform at a high level for his teammates he considered his brothers, and he always remained unpretentious.
"I've made so many great friends and great memories, but through that I also failed many times in sports and in life. But I've continued to get up," he said. "Life will always bring its challenges. You just have to keep your corner strong and continue to get back up."
The past has passed. Roderick is now focused on living in the present.
And you can't have one without the other.
Be the first to know
Get local news delivered to your inbox!