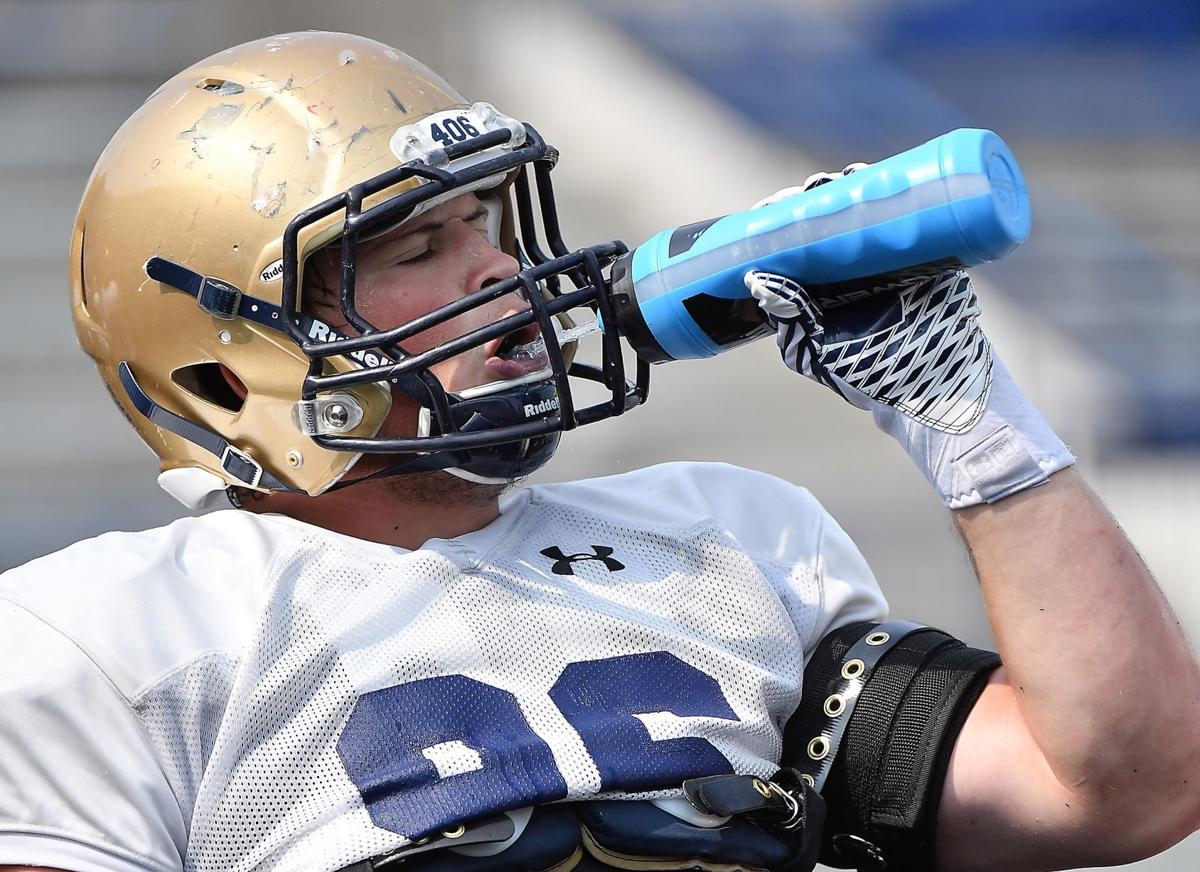 BOZEMAN — Zach Wright was recruited out of New Braunfels, Texas, to play football at Montana State by previous coach Rob Ash in 2013. Wright redshirted in the fall of 2014 and appeared in five games as a budding defensive tackle prospect the following year.
As the Bobcats' defense took a drastic turn for the worse and Ash was let go after the 2015 season, Wright's commitment to his teammates was tested.
But Wright never wavered. He had every intention of buying into the vision and methods of new coach Jeff Choate, and he doubled down on his promise to fulfill his obligations as a member of the MSU program.
"It's just who I am. It's the way I was raised. It's what I was taught," said Wright, who is entering his junior season. "Once I commit to something I'm with it 100 percent. My loyalty is what I live by. They could slash funding for the football program and I'd still be here. I made a promise to my brothers to stick it out.
"You just have to have faith in it. You get coaches that come in and want to make it into something great, and it's just having faith and believing in the program, sticking with it and doing everything you can to help it along."
As the start of the 2017 season draws near, Wright is poised to lead a refurbished defensive line that is at the forefront of the Bobcats' effort to improve on last year's 4-7 record.
As a rule, effort is never a question with Wright.
Wright ran the gamut of bumps and bruises last season, suffering ailments to his shoulder, elbow and knee, but he still started all 11 games. Defensive line coach Byron Hout said Wright averaged roughly 60 plays per game, partly out of necessity, partly due to his DNA.
"That's really tough for a defensive lineman to do," Hout sad. "The thing about Zach is that he gets better as the game goes on. His intensity and effort increase. You're looking at the trainers and they're baffled by it. The guy that should be tired and should be showing the most exhaustion isn't.
"It's that kind of effort that has earned him a lot of respect among his teammates. His game has vastly improved, too. We challenged all those guys up front to study film and develop as pass-rushers this offseason, and he's found a couple tools that have allowed him to do that.
"That's an area where I'm excited to see what he can do this year."
The Bobcats had a league low 15 sacks last year and struggled to disrupt the quarterback in other ways, too. It wasn't that long ago when guys like Caleb Schreibeis and Brad Daly stood tall as two of the best pass rushers in the FCS. Both left MSU as Buck Buchanan Award winners.
Wright said the defensive line has returned to the basics of fundamentals in order to improve as a whole.
"One of our focuses coming into this year has been to make sure we're a solid technique D-line, so there are no mental errors and no busts, and we're doing what we can do perfectly," he said.
"And then it's just developing as playmakers, stuff like getting knock-off on the ball, making plays, putting pressure on the quarterback, getting more sacks ... making that kind of difference.
"It's a fundamental ground-up outlook on it. It's about technique, and once we get that as a base then we start going after the ball and making the plays, getting the pretty numbers."
Wright is one of the Bobcats' foremost leaders on defense. Choate views him as invaluable.
"He's one of those guys that you know, no matter what, they're going to show up and they're going to give their best," Choate said. "He's a team player. He's passionate about the game. He loves playing at Montana State. His work ethic and his personal drive are really impressive to me."
Depth difference
Wright, at 6-foot-3 and 270 pounds, is projected to start at tackle for the second consecutive year. He is a member of a line that seems stronger and looks deeper than the injury-ravaged unit that trotted out on the field each week a year ago.
End Tyrone Fa'anono is back after missing all but one game last season with a foot injury. Nose Tucker Yates is 30 pounds lighter and quick on his feet. And end Derek Marks has garnered more responsibility after starting the final four games of last season as a true freshman.
Beyond that, interior linemen Brandon Hayashi and Fou Polataivao are both 300-plus pounds, tackle Chase Benson appears much bigger and stronger, and end Marcus Ferriter, who also started a handful of games as a true freshman, is in the regular rotation.
Even 315-pound freshman Elu Leota, who was a late signee, has shown flair and productivity in the middle.
"A lot of these guys have game experience under their belts," Hout said, "and that's a blessing to have."
Be the first to know
Get local news delivered to your inbox!