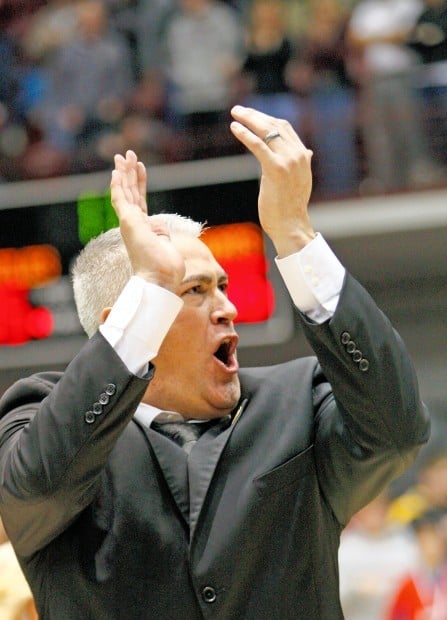 Whether anyone wants to admit it — whether right or wrong — the University of Montana has taken an image hit over the course of the last several months.
From the NCAA's ongoing investigation of the athletic department to the star quarterback's felony rape charge to the federal inquiry into the school itself, UM is wading through uncharted waters of scrutiny while trying to turn the tide of public perception.
Right now, there might not be a better ambassador for an embattled campus than head men's basketball coach Wayne Tinkle. A former Griz standout and UM alum who is the reigning coach of the year in the Big Sky Conference, Tinkle is one man who still holds the university in high esteem.
And he's doing his part to make sure the basketball program continues to set an example for stewardship, just as he always has.
"We are all role models," Tinkle said this week. "My position as the head men's basketball coach at such a prestigious university carries a lot of extra responsibilities. And I take great pride in it."
Tinkle, entering his seventh season at the helm in Missoula, made a swing through Billings on Monday to serve as the honorary celebrity for the "A Waiting Child" charity golf classic hosted by Wendy's of Montana at Yellowstone Country Club. The fundraiser benefits Wendy's "Wonderful Kids" adoption program, which aims to place the country's longest-waiting foster children into adoptive homes.
Tinkle is a family man first, a basketball coach second. Born into a sizeable brood in Milwaukee — he is one of 11 children — Tinkle knows the importance of a positive home life. A father of three, he also knows the value of doing right by young people.
At 6-foot-11, Tinkle is an imposing presence. But he is a gentle giant. There's always a tinge of compassion in Tinkle's voice, and the golf fundraiser bore that out even more.
"It's neat to be able to join such a great group of people from the Wendy's foundation to the Yellowstone Country Club and all the volunteers here in Billings to help," he said. "I'm a big family guy, and of course I have my own family now.
"To be able to lend help to such a good cause is a great thing. There's so many kids out there waiting for adoption and good homes to help them start solid foundations. So this is a real honor for me."
Tinkle is an example-setter.
With the football season roughly two weeks away, all eyes are on the gridiron at Montana. How will the Grizzlies perform after what was an incredibly turbulent offseason? Can they still be the scourge of the Big Sky Conference despite the suspension of quarterback Jordan Johnson and the firing of head coach Robin Pflugrad?
Those are big questions. But even bigger is the focus of whether the Griz can still be a beacon of positivity in the court of public opinion — despite the potential for sanctions as a forthcoming result of the NCAA's investigation.
New football coach Mick Delaney recently signed a two-year contract, which brought stability back to that program. Delaney is on record saying he will not tolerate behavioral problems. He has said he will demand discipline.
UM's basketball program is doing its part, too. And Tinkle is doubling his efforts to keep it that way.
"I think I'm only one of three or four Division I head coaches that are coaching at their alma mater," Tinkle noted. "So I've got a vested stake in that community and what it's done for me and my family. We're not going to compromise any of those things just to maybe have a chance at a player that can score 20 points a night or win us a couple more games.
"We're doing our part to put something out there that all the alum and current students can be proud of, faculty and staff as well. And our players know it. They understand the love that I have for this university. And they better do their part or they're not going to be around very long. We hold them accountable on a daily basis and don't give them a whole lot of rope."
With a 25-7 record, Tinkle's Grizzlies won both the regular-season and tournament titles in the Big Sky Conference while advancing to the NCAA tournament last season. And with guards Will Cherry and Kareem Jamar and forward Mathias Ward coming back, they'll likely be the choice to do it again in 2012-13.
Tinkle has won at a rapid rate already: In six seasons his overall record is 116-71, a winning percentage of .620.
But competitive success should always be complemented by parallel achievements in the classroom and in the community. They should be part and parcel of the privilege of being a student-athlete.
Tinkle admits that whether big or small, problems are bound to arise. But he has made the above components staples of his program. And it has shown so far.
"We hammer home from Day 1 that this is a 'We' deal. Never 'I,'" Tinkle said. "There are a lot of eyes watching. Our guys are fully aware of that. They are fully aware of the importance of the responsibility they have."