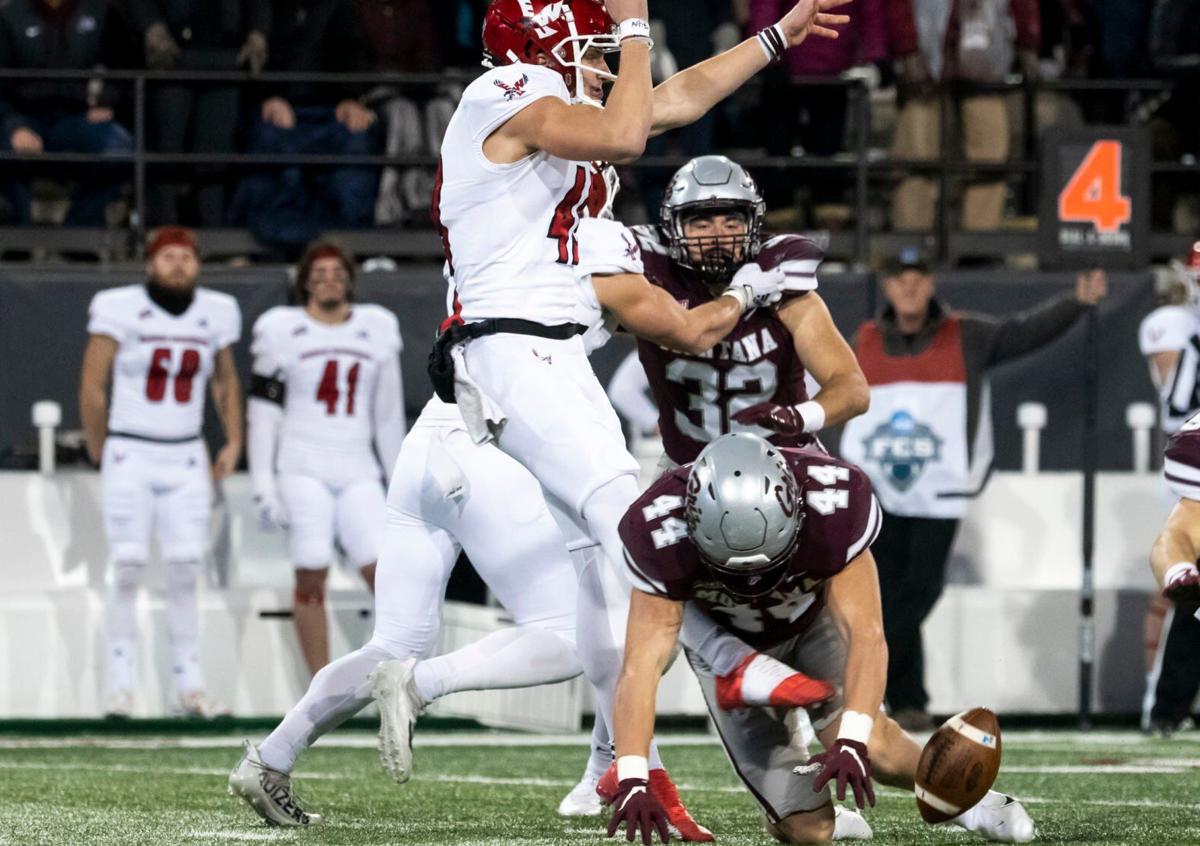 MISSOULA — Less than 17 minutes into Friday night's game, Eastern Washington already scored more points than it managed all afternoon last Saturday in a home win over barely-made-the-playoffs Northern Iowa.
Montana's football team had a problem, trailing the Eagles, 21-10. It needed to find a way to win a shootout against one of the best quarterbacks to ever play in the Big Sky Conference, senior escape artist Eric Barriere, and the No. 2-ranked offense in the country.
The Grizzlies found a way by changing the very nature of the contest. They turned a game of tag into a wrestling match. They hit harder on defense and turned a blocked punt by former Loyola Sacred Heart standout Ryan Tirrell into a critical TD that helped them creep back within one by halftime, 21-20.
That planted seeds of frustration and doubt for the super-dangerous Eagles. Maybe not enough to break their spirit, but enough to slow their roll. Then Montana continued with its own style of shootout, playing solid defense and burning the Eagles on special teams before QB Cam Humphrey and the offense clicked in the middle of the third quarter in a 57-41 win.
Eastern has a terrific football program and has enjoyed a ton of success over the past dozen years, including a national championship in 2010. Make no mistake, beating that team in the playoffs is a monumental achievement for Montana.
And whether you consider the Eagles a rival of the Grizzlies or not doesn't really matter — the game is about the guys on the field and you better believe Montana's players were competing every bit as hard Friday night as they were two weekends ago against Montana State.
The end result is that the Big Sky's best quarterback, maybe the best quarterback on the FCS level, is gone from the postseason derby. I'm going to miss watching Barriere work his magic — well, maybe not against Montana, but generally speaking.
Big congratulations to the UM defense and defensive coordinator Ken Baer for winning the night. They took a punch in the nose early and then turned mad-dog mean in a great sort of football way. It was truly inspirational.  
The Griz will now wait and watch Saturday at noon to find out who their opponent will be in the quarterfinals next weekend. It's either going to be No. 3 seed James Madison (10-1) or upset-minded Southeastern Louisiana (9-3).
It would be a long trip to play James Madison, but we all know what happened the last time the Griz flew to Harrisonburg, Virginia to battle the Dukes in the 2008 FCS semifinals. Montana won, 35-27, behind three touchdowns and 126 rushing yards by Drummond native Chase Reynolds, who now lives in Missoula and helped coach Loyola this fall.
It may be an uphill climb for the Griz from here if they have to play twice on the road to reach the championship. But anything is possible with that defense, which is the best I've seen in 15 years covering Montana.
Bill Speltz is Missoulian Sports Editor and has served as Sunday columnist the past 15 years. Do you have a story idea? Email Bill at bill.speltz@missoulian.com.