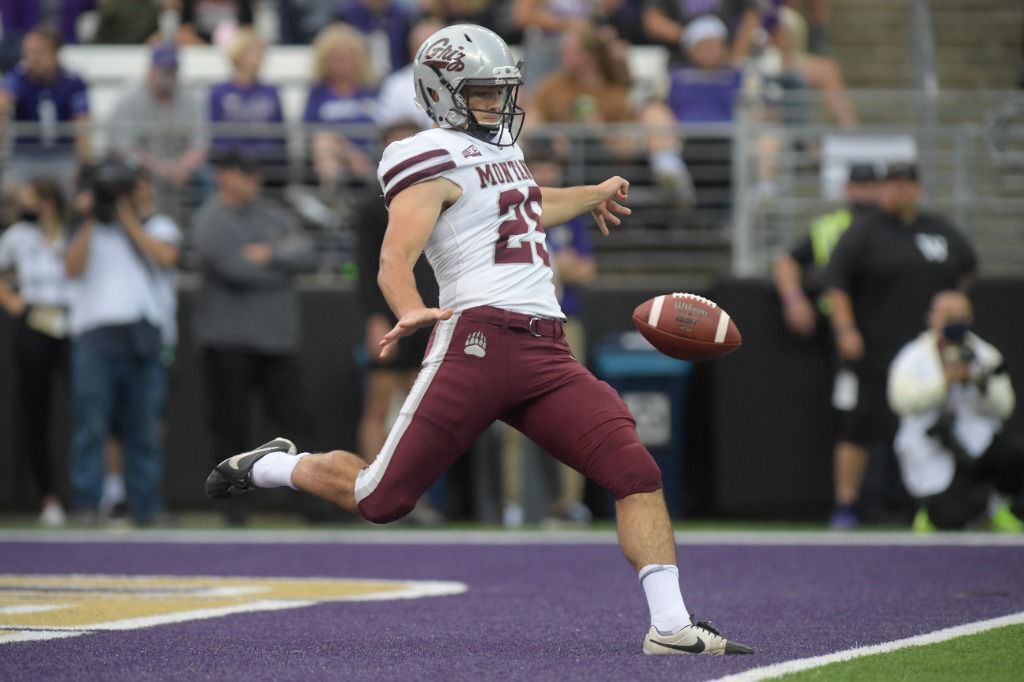 MISSOULA — Brian Buschini wasted no time getting his first weekly honor from the Big Sky.
The redshirt freshman punter/kicker was named the league's co-special teams player of the week for his performance in Montana's season opener at Washington. Buschini helped flip the field to win the field position battle in the low-scoring 13-7 victory. He averaged 47 yards on seven punts, pinned UW inside the 20-yard line three times and also handled kickoffs.
Buschini's strong performance came in his first fall football game for Montana. He walked on and redshirted in 2019 after graduating from Helena Capital and played in the two games in spring 2021.
Buschini sat down with 406mtsports to talk about his journey to UM and earning a starting role.
Q: What did it mean to you to be named special teams player of the week?
A: "I was happy. My average was good, and my net was good, but I could have played better. I want to be more consistent in my form and in what I learned this summer and just be more calm. I wasn't as calm back there as I could have been, and that'll help with my consistency, swinging easy, turning the ball over, just keeping focus on the ball."
Q: What do you like about playing special teams?
A: "The ability to control the game with field position. It's my favorite thing to do with punting. UW had a really good punt returner, and I was able to hang it up there and force a bunch of fair catches. When you can eliminate that aspect of a team, it helps a lot more than people know. I have a large part of the game in my own hands, and I like that. I like the pressure."
Q: How did you end up at UM?
A: "I wasn't super highly recruited. I tore my hamstring tendon coming out of high school, so I couldn't do many camps before my senior year. I was able to get healthy at the end of the summer, went to UM, MSU and Washington State and got preferred walk-on offers from here and MSU. I wasn't a fan of either team growing up, but it was cool to see an NFL-type atmosphere here, and I was set on coming here. My next goal is to go to the NFL."
Q: What are the biggest differences between special teams in high school and college?
A: "Here, it's a lot of directional punting. In high school, they called direction, but I was just trying to smash it every time. In college, it's all about your net punting. Directional punting is what will help you the most with that. If I put a returner on the sideline or I put it right out bounds, that's all net. If I can have a net punt of 45 yards, I'm perfectly happy. The college game is a lot faster, so my job is to eliminate the speed of the return team, and the way to do that is accurate punts and good hangtime."
Q: What sort of mindset do you need for punts and kickoffs?
A: "For me, I used to be a small guy, I was maybe 100 pounds soaking wet as a freshman in high school, so I used to put everything I could into the punt. I would take big steps and try to hammer the punt as hard as I could. I've grown a lot, and I've gotten a lot stronger, and now I'm able to focus on the opposite. If I overswing and I overstep, I'll get inconsistent punts. When I'm back there, I have adrenaline going through me, so if I focus on just having nice easy steps, swinging easy and being smooth with my form, the ball will just explode, and it'll be a great punt. It's just like golf. If you overswing in golf, you're going to shank it. If you swing nice and easy, you can place the ball where you like it. It's a weird feeling to get used to. Once you accept that you don't have to kill a ball for it to go way farther and way better, then you'll be golden."
Q: Are there special teams guys you look up to?
A: "(Seahawks punter) Michael Dickson has a good mentality. He doesn't take it too seriously. My redshirt year, I was too much focused on results and not being easy going. (Jets punter) Thomas Morstead is a super mature guy, and the way he trains is the way I'd like to be some day. (Former Colts punter) Pat McAfee, he's probably my favorite of all time because he's like a football player; he wants to lay people out, he wants to do things. We have special things with our punting we are going to try to do hopefully; I'm trying to be as good of an athlete as I can to do that. I think Pat emulated that at the position. Then (Rams punter) Johnny Hekker, the way he acts. I had the privilege to go down to Colorado this summer and meet him at One On One Kicking. Johnny is the most level-headed guy. That's what I need to be out here. If you're too high or too low, you're going to be a headcase, and no one wants a headcase on their team."
Q: A fun one to close: What do you like to do outside of football?
A: "I golfed a little bit last summer. I love watching football games. Now that I have an amazing girlfriend, I like hanging out with her. Road tripping is our favorite thing. I'm going to be getting married here soon (to Griz volleyball player Kellie Van Kirk). Breaking off on my own, but I'll always remember where I come from and stay humble. No matter what awards I receive, never being too high or too low is important. This player of the week was really special, but I want to keep doing it."
Frank Gogola covers Griz football and prep sports for the Missoulian. Follow him on Twitter @FrankGogola or email him at frank.gogola@missoulian.com.