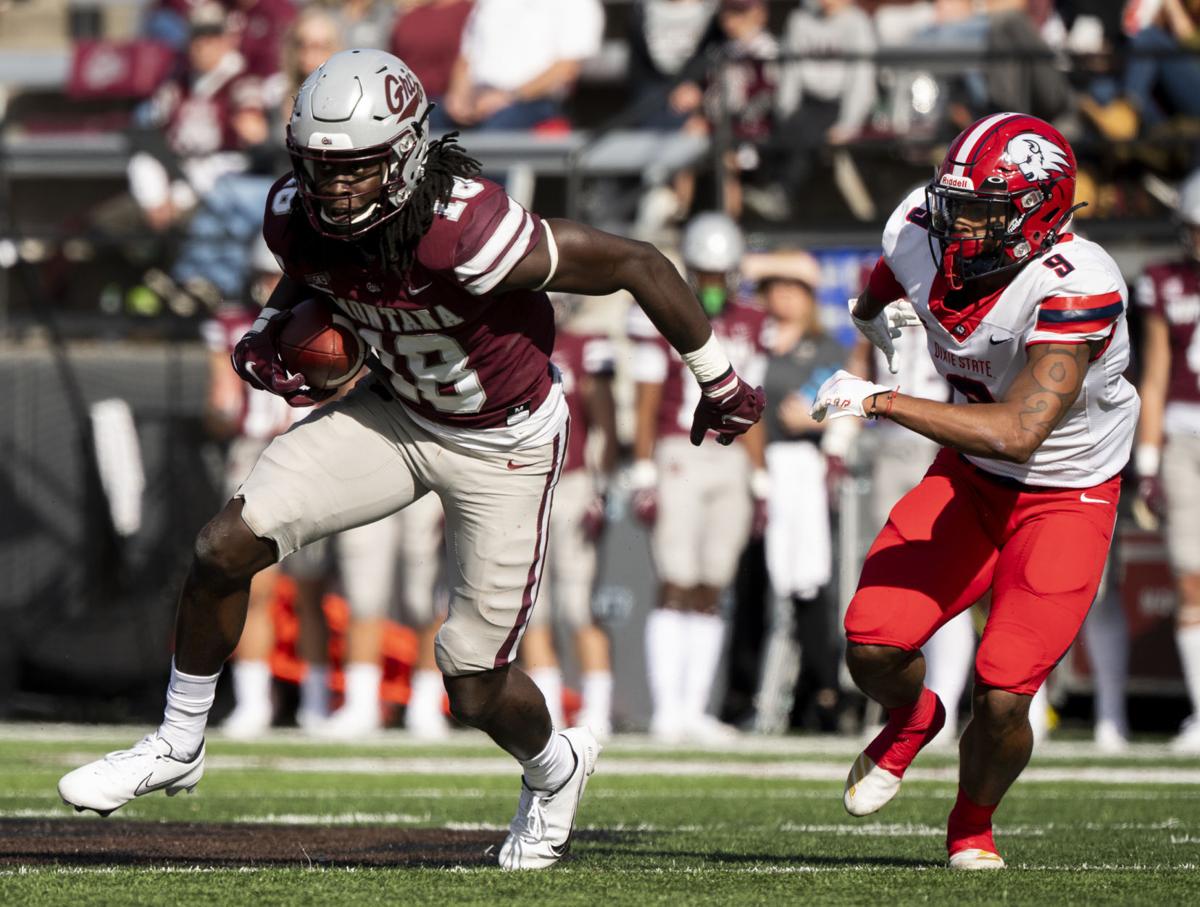 MISSOULA — It normally takes Montana coach Bobby Hauck until the first week of October to get a good feel about the type of team that he has each season.
The Griz finished the first full week of the month — the sixth week of the 12-week regular season — with a 31-14 win over Dixie State on Saturday to improve to 4-1 and move up to the No. 5 ranking in the FCS. While there has been some inconsistent play and injuries have continued to pile up in recent weeks, Hauck feels like he has a good handle on his team's makeup.
"We've done what good teams do: find different ways to win games," he said. "Still a hard-working football team that's a work in progress. When you can be that and be where we are right now, that's probably a good thing."
The Griz still have yet to put all three phases together. They locked down Washington defensively and used a fourth-quarter touchdown drive to score the upset win. Against Western Illinois, senior quarterback Cam Humphrey threw a career-high five touchdowns.
After their bye week, scores on special teams and defense lifted them over Cal Poly. They came within inches of beating Eastern Washington and its top-ranked offense on a Hail Mary as they tried to rally after their stout defense collapsed in the fourth quarter and Humphrey got hurt.
Through those four games, the offense looked inconsistent three times. That continued for the first half Saturday when UM went to redshirt freshman Kris Brown to fill in for the injured Humphrey. He and the offense did emerge in the second half to salvage a win.
The kicking game, though, missed a field goal for the fourth time in eight tries this season and got stuffed on a fake goal. The field goal they had blocked at EWU turned the tide of the game.
Simply put, no one is satisfied yet.
"I think we're competitive," Hauck said about his read of the team. "I think we play really hard. And I think they care deeply about the Montana Grizzlies and their result on Saturdays."
Injuries have impacted an already young team on paper. The Griz began the regular season with 13 seniors, 12 juniors, 10 sophomores and 14 freshmen on their two-deep.
On Saturday, they were missing their starting quarterback, an All-American running back and his backup, one starting wide receiver, one starting lineman (who retired), two defensive ends on their two-deep, a third-year starting safety and their starting punt returner.
UM also has other starters banged up or sick, limiting their playing time. The uncertainty of who could play and how much they could play last week was still an unknown for Hauck until right before kickoff. It could be a similar story this week.
"We had a lot of guys sick last week and all that. I don't know. We'll see who shows up today," he said.
Brown delivers
Brown was named the Big Sky offensive player of the week by College Sports Madness for his performance Saturday as he led the Griz to a win in his first career start.
Senior right guard Moses Mallory was impressed with Brown's composure. It was Brown's first start since November 2018 as a senior at Bozeman High School.
"It's always good to have guys that are able to come in and make an impact on the game," Mallory said. "Kris got his first start, and I know the whole team has full belief in him and his abilities. He practices with us every day. He's doing everything all the other quarterbacks are doing. It's good to see him stepping up and controlling the game."
Brown completed 20 of 30 passes for 241 yards and one touchdown, and he ran for two scores. All three of his scores and 141 of his passing yards came after halftime. He was intercepted once, lost two of his three fumbles and was sacked four times, resulting in minus-2 rush yards.
Mallory said it wasn't too different hearing Brown's voice behind the line of scrimmage. Brown has taken reps with the first-team offense going back to spring 2020, when he and Humphrey began competing for the starting job to replace Dalton Sneed.
"He just got his opportunity, and it was good to see him taking charge of the huddle when we did huddle," Mallory said. "It was good to see him out there on the field."
Poll position
The Griz moved up one spot to No. 5 in the Stats Perform FCS Top 25 after they rebounded from their first loss and got some help from higher-ranked teams losing.
Their 4-1 record through five games is what many expected. They just got there differently than what was anticipated. They opened the season with an upset of FBS Washington, ranked No. 20 at the time, and lost to Eastern Washington, which is currently ranked No. 2 in the FCS.
"We're excited to be 4-1, I think ranked in the top 5 in the country, so right where we have worked really hard to be at this point in the season," Hauck said.
South Dakota State dropped from No. 2 to No. 7 following a 42-41 overtime loss to Southern Illinois. James Madison fell from No. 3 to No. 8 following a 28-27 loss to Villanova.
Southern Illinois jumped UM to No. 4, behind top-ranked Sam Houston, Eastern Washington and North Dakota State. Villanova slotted in right behind the Griz at No. 6.
Frank Gogola covers Griz football and prep sports for the Missoulian. Follow him on Twitter @FrankGogola or email him at frank.gogola@missoulian.com.