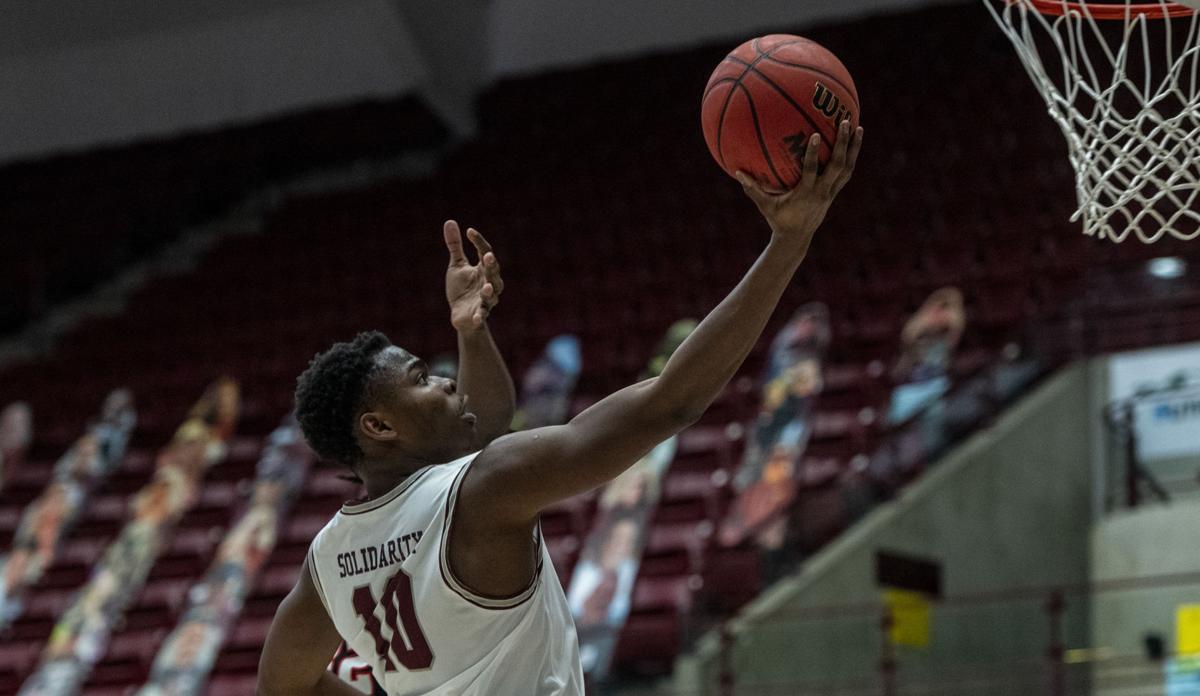 MISSOULA — The Montana men's basketball team will finish out a five-game homestand with two contests against Northern Arizona this week.
Tip for the first contest of the two-game series will be at 5 p.m. Thursday, while Saturday's game is at 11 a.m. The first game will be televised on SWX and the second on Pluto TV channel 1056.
NAU enters Thursday's contest at 3-8 with a 2-3 mark in Big Sky Conference play. The Lumberjacks fell to Idaho State twice last week.
Junior guard Cameron Shelton has been the catalyst for Northern Arizona this year, building on what was a strong sophomore season. The 6-foot-2, 175 pound ball handler is averaging 22.2 points, 5.6 rebounds and 3.8 assists per game this year.
He's shot the ball twice as much as any other member of the team (78 of 181) and has hit 14 of 42 attempts from behind the 3-point line. Pushing Shelton into a bad shooting night will be one of Montana's biggest priorities as the Grizzlies look to build on a two-game win streak.
Luke Avadalovic, a 6-5 redshirt junior, is the only other player on the Lumberjacks averaging double-digit points. The forward is shooting 43.2% from the field and 41.7% on 3-point attempts, coming on 48 attempts from beyond the arc.
Montana is just 1-3 in Big Sky play and has had those four games decided by a combined six points. The Grizzlies are currently 10th of 11 teams in the league standings, ahead of only winless Idaho.
The Grizzlies are coming off a 56-54 win over Northern Colorado to preserve a split in that two game series, as well as win over NCAA Division III Whitworth University.
Montana had last week off from Big Sky play, which allowed them to pick up a seventh non-conference contest.
The Grizzlies have used a balanced scoring attack this season and five players are averaging nine points or more through 11 games. Kyle Owens has led the way with 11.9 points and 7.1 rebounds per game this year.
Montana will also look to Michael Steadman, who has scored 27 points over his last two contests. The senior had his first double-double of the season — 19 points and 10 rebounds — in UM's last Big Sky contest.
Offense has occasionally been hard to come by for Montana, who has used a suffocating defense to find success this year. The Grizzlies are averaging 69.2 points per game this year while allowing opponents just 62.2 per game.
The 62.2 opponent points per game average ranks 28th in the NCAA. Montana has also defended the 3-point line well — opponents are shooting 28.4% — which ranks 28th in the NCAA.
After a slow start, the free throw line has treated the Grizzlies well too. Montana has hit 168 of 213 foul shots this year. Their 78.9% mark from the free throw line ranks 13th at the Division I level.
Montana is 73-32 all-time against NAU and have won 40 of 49 contests in Missoula. The Lumberjacks were, however, victorious when the two teams last played in Dahlberg Arena in February of 2020.
Jordan Hansen covers a bunch of stuff for the Missoulian and 406 Sports. Shout at him on Twitter @jordyhansen or shoot him an email at Jordan.Hansen@406mtsports.com