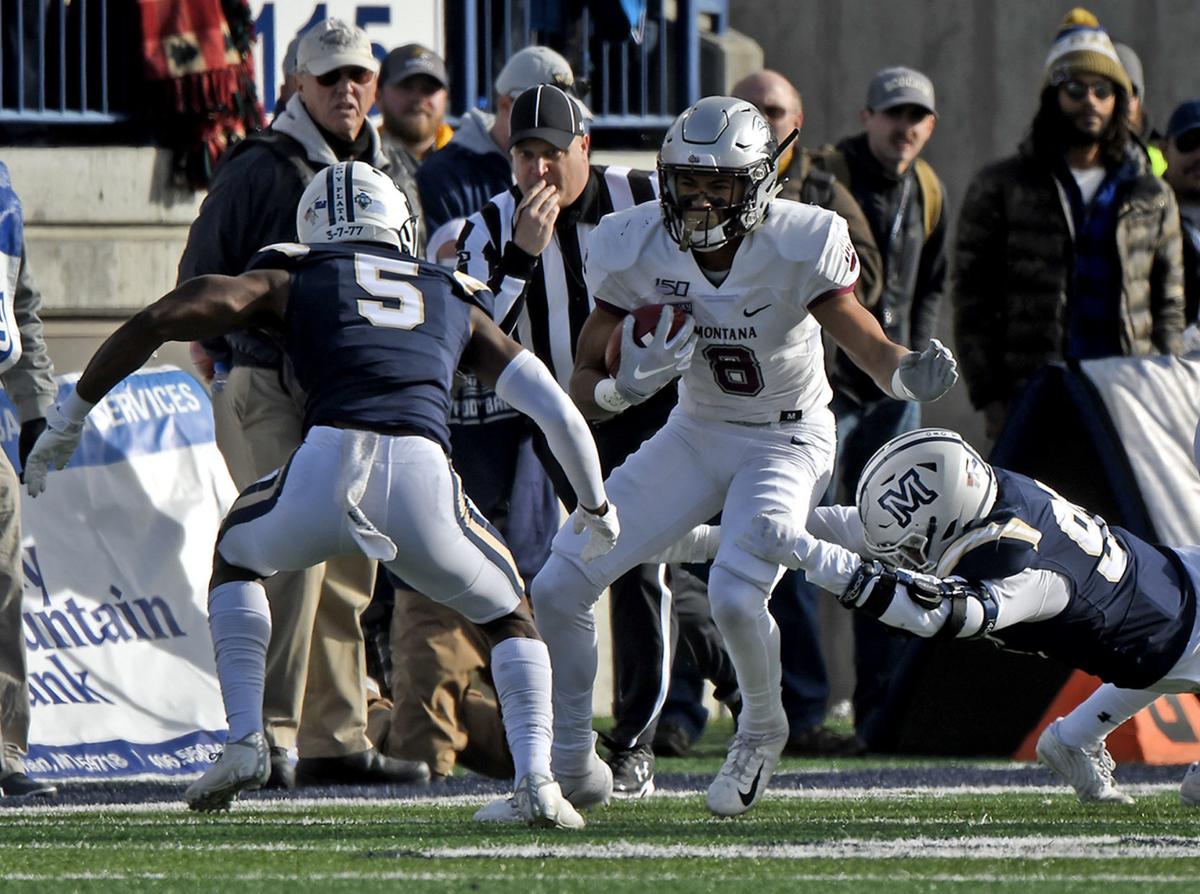 MISSOULA — Montana, Montana State and five total Big Sky Conference football teams are ranked in the HERO Sports FCS Preseason Top 25, including four within the top nine of the poll, which was released Wednesday.
Montana is ranked No. 7 after coming off a quarterfinal appearance with a 10-4 record in head coach Bobby Hauck's second season back in Missoula. The Griz need to replace linebacker Dante Olson, now with the Philadelphia Eagles, quarterback Dalton Sneed, now in the CFL, and all-time leading pass catcher and special teams ace Jerry Louie-McGee, among others.
Montana returns six of its 13 all-conference players from 2019: running back Marcus Knight, the league's newcomer of the year, wide receivers Samori Toure and Sammy Akem, linebacker Jace Lewis, safety Robby Hauck and offensive lineman Conlan Beaver. The big question for the Griz is who will be starting at quarterback this fall.
"The Griz have All-American talent all over their starting lineup," HERO Sports wrote in its breakdown of the poll. "Montana returned to national relevance last season and expectations are for the program to take another big step forward in 2020."
Montana State is close behind at No. 9 after making a run to the semifinals in head coach Jeff Choate's fourth season in Bozeman. The Cats return five of their 13 all-conference honorees from 2019: Do-everything player Troy Andersen, linebacker Amandre Williams, defensive tackle Chase Benson, and offensive linemen Lewis Kidd and Taylor Tuiasosopo.
"The Bobcats will once again have a tremendous rushing attack and a strong defense coming off of a trip to the semifinals," HERO Sports wrote. "If the growth of quarterback Tucker Rovig continues or NC State transfer Matt McKay proves to be the missing piece, this is a dangerous team."
Reigning Big Sky co-champ Sacramento State is the highest-ranked league team, landing at No. 4 after going 9-4 overall and 7-1 in the conference in head coach Troy Taylor's first season last fall.
"The Hornets had an incredible turnaround last season and most of that team is returning," HERO Sports wrote. "All-Americans Kevin Thomson (QB) and Elijah Dotson (RB) lead an offense that brings back 93.3 percent of the rushing yards and 97.1 percent of the receiving yards."
Playoff semifinalist and conference co-champs Weber State checked in close behind at No. 6.
"A majority of Weber State's starting lineup is back after a semifinal appearance," HERO Sports wrote. "The defense will remain among the best in the FCS as the offense looks to turn the corner with a new starting quarterback."
Eastern Washington found its way into the poll at No. 18 after missing out on the playoffs last season following a national runner-up finish in 2018.
"EWU has a knack for bouncing back in a big way after disappointing seasons," HERO Sports wrote. "The Eagles were playing their best ball at the end of last year, and that should carry over to the 2020 season with plenty of experience and playmakers coming back. QB Eric Barriere and LB Chris Ojoh are dynamic players to build an offense and defense around."
Portland State received votes but didn't make it into the top 25.
Defending national champion North Dakota State topped the poll, while South Dakota State was No. 2 and Northern Iowa was No. 3, all three of which play in the Missouri Valley Football Conference. Defending national runner-up James Madison checked in at No. 5, Villanova was No. 8 and Central Arkansas rounded out the top 10.
Montana is scheduled to play three ranked teams during the regular season: Sacramento State and Montana State at home and Eastern Washington on the road.
Montana State is slated to take on three ranked teams before the postseason: Montana, Weber State and Eastern Washington, all on the road.
Frank Gogola covers Griz football and prep sports for the Missoulian. Follow him on Twitter @FrankGogola or email him at frank.gogola@missoulian.com.
Be the first to know
Get local news delivered to your inbox!