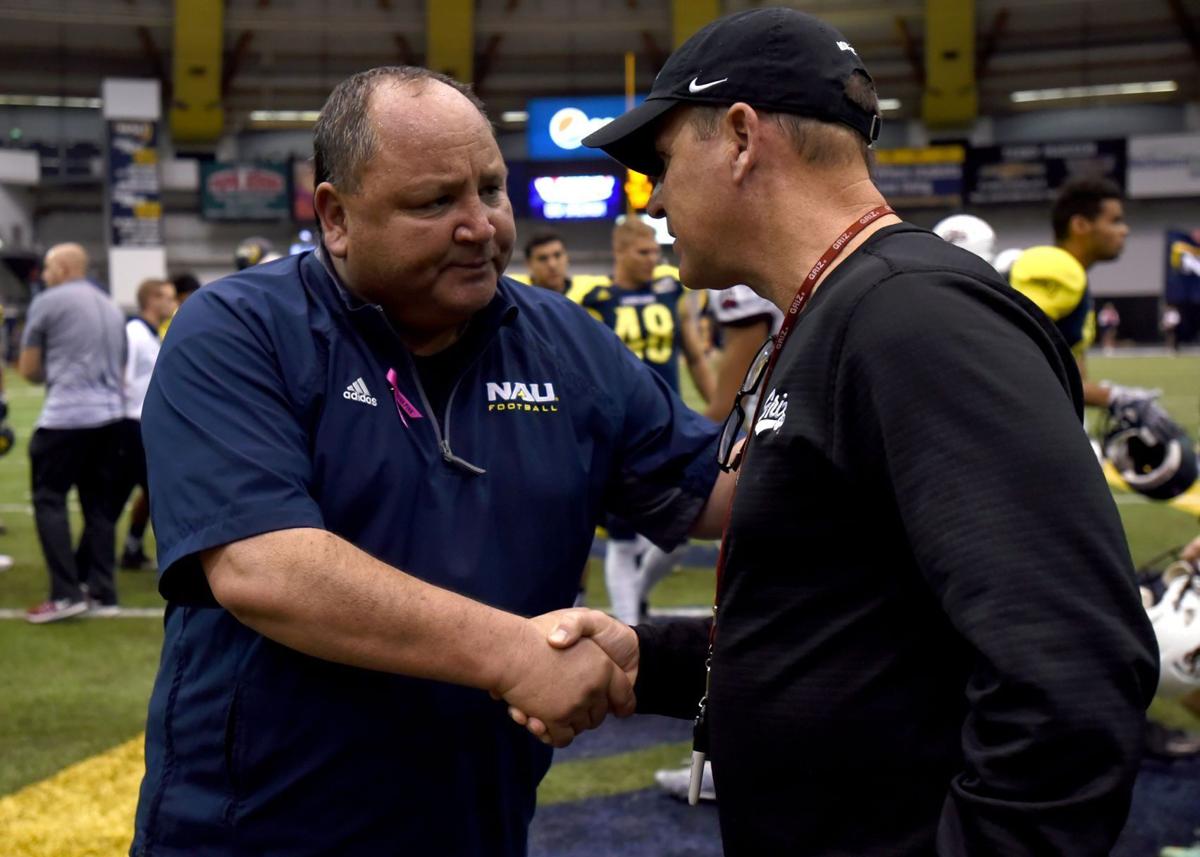 HAVRE — Former Northern Arizona head coach and Montana assistant Jerome Souers has been hired as head coach at Montana State-Northern, the school announced Friday.
Souers was introduced in a public forum Wednesday and hired shortly after. He is the Big Sky Conference's winningest coach, having compiled a 123-113 record at NAU from 1998-2018; he is 15 wins ahead of UM's Bobby Hauck. 
Souers was at UM from 1986-97 in a variety of coaching roles, including eight seasons as defensive coordinator. His defense at UM was the first in I-AA history to register back-to-back shutouts in the playoffs.
"I'm excited to have an opportunity to coach in a state that I'm very familiar with," Souers said in a release from the school. "In many ways, it is like coming home as some of my fondest memories and friendship were formed in Montana, these are people that I've had long-standing relationships with. And the people at MSU-Northern are phenomenal; they're clearly such an intensely collaborative group. So I can't wait to join the community and be a part of that." 
Souers succeeds Andrew Rolin, who resigned in November after compiling a 3-34 overall record but snapping the program's 47-game Frontier Conference losing streak this fall.
Also interviewed, per the Havre Daily News, were UM alum and former assistant coach Dave Sandau, now offensive coordinator at Northeastern Oklahoma A&M; Adam Siwicki, defensive coordinator at Culver-Stockton College in Canton, Missouri; and former Southern Oregon University offensive coordinator Kenneth M. Fasnacht.
"Jerome Souers is without a doubt one of the greatest coaches in the NCAA Division I history. I am very pleased and excited that he has agreed to head up the Northern Lights football team," MSU-Northern Chancellor Greg Kegel said in the release. "We pride ourselves on our ability to take students who are often at the bottom of the economic ladder and help them climb to the top of the economic ladder. Bringing in a coach like Souers will help our football team rise to the top of the Frontier Conference and compete for a national title."
Souers led NAU to NCAA Division I-AA/FCS playoffs in 1999, 2001, 2003, 2013 and 2017. He was Big Sky Conference Coach of the Year in 1999 and and Eddie Robinson Award finalist in 2003.
Souers was voted the top head coach at the Division I-AA level after leading the Lumberjacks to their first Big Sky championship in 25 years.
"I don't think the program was that far off. I think there were some really tough breaks," the Havre Daily News quoted Souers as saying of MSU-Northern during a conference in the Student Union Building. "It's important to build a strong culture on top of the talent that's here and we have to have the buy-in of the upper class. Too many times in programs, those guys are ignored in the presence of new players. To think they don't fit us anymore is wrong. They've invested in a program, they've been here that long, we have to find a commonality where they've bought in and they're able to lead the program."
Souers began his coaching career at his alma mater, North Eugene (Ore.) High School, while attending University of Oregon, where he graduated with a degree in physical education in 1983. He also made stops at Western Washington University and Portland State University.
Most recently, Souers served as Southern Oregon's defensive coordinator.
"MSU-Northern is very lucky to have landed a head coach like Jerome Souers with not only the experience but the passion and ability to develop both great football players and student-athletes," MSU-Northern athletic director Christian Oberquell said in the school's release. "MSU-Northern football has a great base of returning players and with the recruiting ability that coach Souers has, MSU-Northern will put a very solid and talented team on the field. I would like to welcome coach Souers to the Northern family."