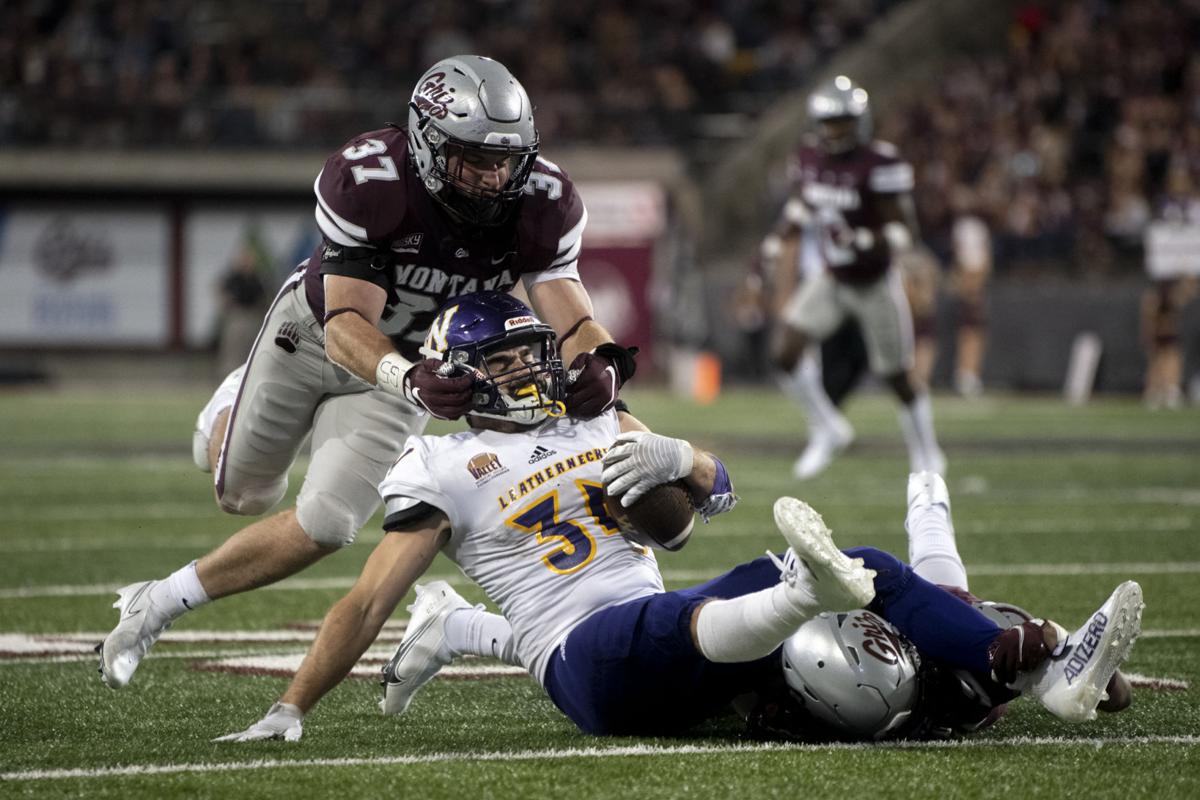 MISSOULA — Oh how prophetic Bruce Barnum was several months ago.
The last time the fourth-ranked Montana football team (2-0) played a home game before Saturday, they plastered Barnum's Portland State Vikings, 48-7. The PSU coach said on that April day: "That defense, the Griz are back. … That football team is the Griz of old."
Many people shook off his comments, chalking them up to the Vikings being without key players, the Griz playing their second spring game while PSU was playing its first or Barnum simply talking up his good friend, UM coach Bobby Hauck. They wanted to see Montana prove it in a "real" game, and the Griz have done just that.
Their defense has allowed all of seven points in two games this fall and hasn't given up any points over the past 115 minutes, 9 seconds after Washington scored on the opening drive of the year. The Huskies did struggle offensively and managed just 10 points Saturday on the road at Michigan, but the Griz defense has allowed only 17 points across the previous 240 minutes of football going back to the spring season opener the week before the PSU game.
UM's defensive shutout in a 42-7 win Saturday — Western Illinois scored on an interception — was the first time the Griz defense held an opponent scoreless since Oct. 8, 2011, against Idaho State, 33-0. They've allowed only one score on 25 defensive drives this season.
"The defense was terrific," Hauck said. "We're going on 115-plus minutes without being scored upon. I think that's pretty spectacular in this day and age in college football. It doesn't happen very much. I thought that Western Illinois had a really dynamic offense, and that was not the way it played out tonight in our stadium."
The Griz dominated in the trenches to limit WIU to 151 yards of offense one week after the Leathernecks put up 437 yards and 21 points against FBS Ball State. They disrupted WIU's protection for quarterback Connor Sampson, who was 21-of-31 passing for 111 yards and one interception.
UM limited Dennis Houston, who had 237 receiving yards last week, to 43 yards on five catches. The Griz held WIU to 40 rushing yards on 25 carries, the second-fewest yards allowed in the 29 games since Hauck returned in 2018.
Even as the Leathernecks tried to go with pace and tempo, WIU coach Jared Elliott felt Sampson never got comfortable in the pocket. Montana's multiple-front defense made it challenging to identify the edge rusher, and the solid open-field tackling made it hard for players in space to break off big gains.
"It's my belief that we've got good, if not great, speed on defense. It's shown up the first two weeks," Hauck said. "They're hard to run around. You have to body them up, and you have to win. We were doing a lot of different things on who's going to be the edge of the defense, so that's hard to figure out to a degree. They did not crack the code on that, certainly. When you start looking at it, and it gets to be where a 3-yard run is a big gain, you feel pretty comfortable with the defense."
The Griz bullied their way into the backfield for 11 tackles for loss, giving them 19 through two games, and six sacks. The TFL and sack totals Saturday were their most in a single game since Sept. 8, 2018, when they recorded 11 TFLs and seven sacks against Drake.
Junior linebacker Pat O'Connell headed up the defense, collecting nine tackles, three tackles for loss and 2.5 sacks. Eight players had at least half a TFL and five had at least half a sack.
O'Connell, linebacker Jace Lewis and defensive end Joe Babros all forced a fumble. Linebacker Marcus Welnel had a fumble recovery and interception, and Jacob McGourin recovered a fumble.
The effort the defense gave and the energy the defense played with was evident, especially on the play when Lewis forced a fumble. He attacked the ball while two other players already had wrapped up tight end Nathan Karsjens.
"I think that just comes with preparation and practicing like that, setting the standard to that, and guys don't want to disappoint their coaches, their teammates, the whole program," O'Connell said. "So, when we set that standard, everyone looks to compete and play and bring the effort to that standard and that's just something that is pretty special about our defense and our whole team."
Elliott saw firsthand the evolution of UM's defense after his team scored 24 offensive points in a 31-27 win over the Griz in 2018 in Hauck's third game back. He sees an improvement in the caliber of Montana's personnel and wrinkles added to the defense.
He left Wa-Griz with the same impression that Barnum had several months earlier.
"I think they're the real deal," Elliott said of the Griz defense. "We knew they were really good watching them on tape. You walk off the field seeing them in person, and they're the real deal."
He later added: "There's no question that's one of the better defensive units in the entire country."
As for if the Griz deserve to be ranked No. 1 in the country heading into their bye week, Elliott said: "I would say they should definitely be in the discussion."
Returning home
The Griz welcomed a full contingent of fans, including a packed student section, back into the stadium for the first time since December 2019. They won their 18th consecutive home opener, tied for the fourth-longest active FCS streak, and improved to 31-4 in home openers at Wa-Griz.
"Crowd was awesome," Hauck said. "It was so cool to have them back. I just told these guys this week, 'Just wait and see, it's going to be different than what you're accustomed to.' Our students were awesome. Our crowd was awesome. Everybody was into it. Everybody's pulling together. Our team feeds off it. It's the greatest setting in college football."
Montana improved to 10-0 at home since the start of the 2019 season. The Griz have outscored their opponents 500-159 over the stretch, having scored 34 or more every game and limiting the opponents to 28 or fewer points.
"There's nothing like it," quarterback Cam Humphrey said. "Like coach said, it's the greatest setting in football. To come out, see the fans all packed in there, riled up, it was something special for sure."
O'Connell even fed off the energy of the North End Zone, including when he had a strip-sack in the shadow of the end zone in the third quarter.
"With us facing the North End Zone, the fans were electric, the effort just amps up there, not that it's lacking any other play, but just something special about facing that North End Zone," he said. "There's nothing like."
Mr. 100
Hauck earned his 100th victory at UM to improve his record to 100-26 but heavily credited his assistant coaches.
"Every win that we get, that takes a lot of work by a lot of people," he said. "It's not one guy. It's a lot of work by a lot of people, pouring forth a lot of themselves, their time, their efforts, emotion. So I'm a figure head, and it's nice to be the guy that gets some of those accolades, but it's everybody else."
Hauck was already the all-time winningest coach, having surpassed his mentor, Don Read, in 2018. Since he returned to UM that season, he's led the Griz to their first playoff victory since 2015 and first 10-win season since 2013. They have bigger goals in mind and created a palpable buzz at Wa-Griz.
"I just said that in the locker room," Hauck said. "I told them, 'You guys, you did it, they're back, everybody's in, everybody's on board, everybody's having fun.' And most of all, maybe us."
Night games
Hauck has noted he's not a fan of night games because he thinks college football is an early afternoon sport. He's 11-8 in night games as the Griz head coach, but he's 3-1 in home games at night, including 3-0 at home since returning to UM in 2018.
"No one here's a big fan of night games, but you have to learn how to do that," he said. "I think we have a mature group. We tell them what we expect. They have the ability to focus on what needs to get done and then go do it. So, our adage is we'll play at 2 in the morning in the parking lot, if that's where we need to play, but we're going to go play and we're going to go win."
Frank Gogola covers Griz football and prep sports for the Missoulian. Follow him on Twitter @FrankGogola or email him at frank.gogola@missoulian.com.