Denarius McGhee is one cool customer. He's proven it throughout his freshman campaign -- all the while becoming the Big Sky Conference's No. 1 rated quarterback.
But how will McGhee handle the elements on Saturday when he and Montana State enter what will undoubtedly be a completely unhinged Washington-Grizzly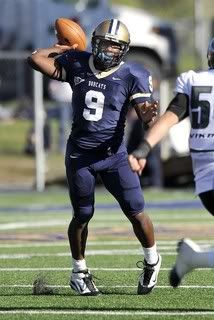 Stadium?
Early weather reports suggest the temperature will be a chilly 25 degrees on Saturday in Missoula, accompanied by a 40 percent chance of snow. Remember, McGhee comes from Texas, where you're more likely to come across a Democrat than a snowflake.
Furthermore, McGhee has been diagnosed with a football disease known as fumblitis, and it has reared its head at inopportune times this year. McGhee has fumbled seven times (losing six of them) so far this season, including five fumbles in MSU's last four games.
I'm guessing the colder temps -- which make the ball tougher to grip -- could play a factor if McGhee must scramble against Montana's blitzing defense. McGhee needs to make sure to tuck the ball in those situations, and that's something he hasn't done very well to date.
Beyond that, I'll be watching to see how McGhee handles the crowd noise. It's been said that because McGhee played high school football in big stadiums at the 5A level in the Dallas area, that he should be well-equipped to handle the 25,000-plus screaming nutjobs at Washington-Grizzly Stadium.
But I don't buy it. The crowd noise at Wa-Griz is more in-your-face than several of the larger stadims in the Bowl division, and is surely more effective against opponents than the big high school crowds in Texas. The silent cadence will be in full effect in this game.
McGhee once won 27 consecutive games and a 5A state title at Euless High School, but this may be his biggest challenge.