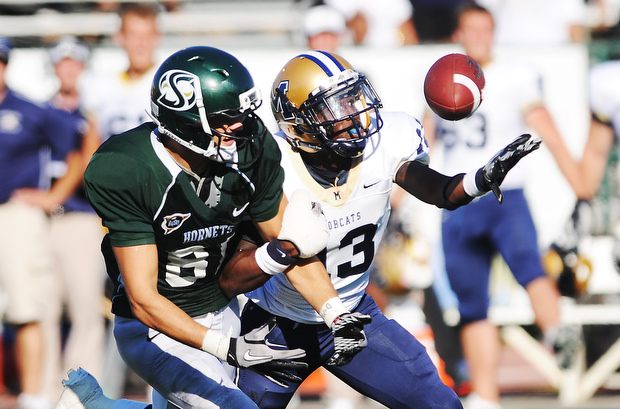 You like offensive football? We all remember what happened the last time the Bobcats traveled to Sacramento State. It was more like a track meet.
There were 125 points scored, 1,270 combined yards (including 521 on the ground), 52 total first downs, 160 offensive snaps and a staggering 17 touchdowns. In the end, MSU escaped with a 64-61 overtime victory, thanks to a 25-yard field goal by kicker Jason Cunningham.
It was a dizzying display, and it left Bobcats coach Rob Ash incredulous afterward. The 125 combined points were the most in any game in Montana State history. It easily eclipsed the 107 points the Bobcats combined to score in a 70-37 victory over Northern Arizona in 1990.
The Bobcats led 37-10 at halftime, but the Hornets scored 51 points in the second half -- including a school-record 35 in the third quarter. They scored touchdowns on all five of their third-quarter possessions. MSU quarterback DeNarius McGhee threw for a then-career-high 385 yards and four touchdowns, including 177 yards and two TDs in the fourth quarter alone.
For starters, the Hornets are again formidable. They're fresh off an upset victory over previously unbeaten Cal Poly in which quarterback Garrett Safron threw for 303 yards and four TDs without an interception. The playoffs are on their radar.
The Bobcats did a stellar job limiting North Dakota's passing attack last week. They kept QB Braden Hanson and star wideout Greg Hardin in check all day. And they'll have to remain the same this week if they're to have similar success.
MSU's defensive line -- Zach Minter, Caleb Schreibeis, Brad Daly, etc. -- will need to put sustained pressure on Safron. The entire defense would be good to get the Hornets in second-and-long and third-and-long situations like last week. Sac State has a pretty good running game. So force them to throw, pin your ears back up front and rely on solid coverage in the secondary.
There's no denying that Safron is solid: The sophomore is completing 67.3 percent of his passes with 18 touchdowns and eight picks.
But, as always, it comes down to execution on offense and ball security. The Cats were great in those areas last week, and need to be again if they want to win their eighth in a row against the Hornets.
This is a huge game for the Bobcats. The fact is, Sacramento State is tough at home -- especially against ranked opponents. The victory over Cal Poly bumped the Hornets' record in home games against ranked opponents to 5-1 in the last three years.
The lone blemish? The 64-61 loss to MSU.