Many of you have chimed in with your picks in our previous post, and it seems to be fairly split. On our official Cat-Griz prediction board, 63% of voters think Montana State will win. The average score? Bobcats 26, Grizzlies 23. Interesting.
Now it's time for my prognostication.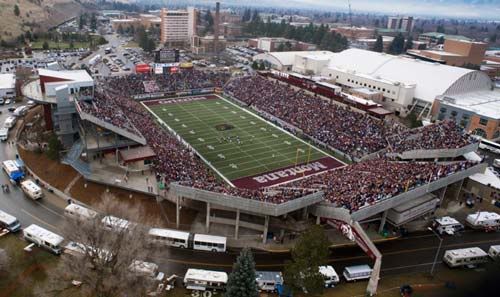 First off, I think this has the potential to be a classic, simply because there is so much on the line. The Cat-Griz game is always played at a different speed. It's faster, harder-hitting, and the teams lay everything on the line.
The Cats (8-2, 6-1 in the Big Sky) are fighting to win at least a share of the conference championship as well as the league's automatic bid to the FCS playoffs. The Griz (7-3, 5-2) are hoping to continue their 17-year postseason streak, and with a little help from Idaho State against Eastern Washington, still have a chance to gain a piece of their 13th straight league crown.
Montana State is led by a fabulous freshman quarterback in Denarius McGhee, a guy who has established himself as the best quarterback in the league. But the Grizzlies' pass defense is the best in the Big Sky -- and ranks third in the entire FCS. I don't think McGhee will have as easy a time tomorrow.
Not to mention, running back Chase Reynolds got his game revved up last week in a win over North Dakota, rushing for 173 yards and three TDs. I expect Reynolds to establish himself early in this game, while Griz QB Justin Roper will have the opportunity to make a big dent in the Cats' pass defense, which hasn't been very good this season.
Beyond all of that, I just don't know if the Bobcats can overcome Washington-Grizzly Stadium. Very few teams ever have. Even though McGhee is as cool a customer as you'll ever see, I think the crowd and the atmosphere will play a major role in ruffling MSU's feathers. It will be like nothing McGhee has experienced before.
And don't forget, the weather could play a major factor. Temperatures are expected to be in the 20s, but the wind chill could make it far colder than that. Oh yeah, and there's an 80 percent chance of snow.
The Cats, who have only won once all-time at Washington-Grizzly Stadium, can probably be considered the favorite in this game, and from top to bottom I believe they are the better football team. Still, I think the folks on our prediction board are on to something as far as the score goes, but I'm reversing it.
PREDICTION: Montana 26, Montana State 23 (OT)