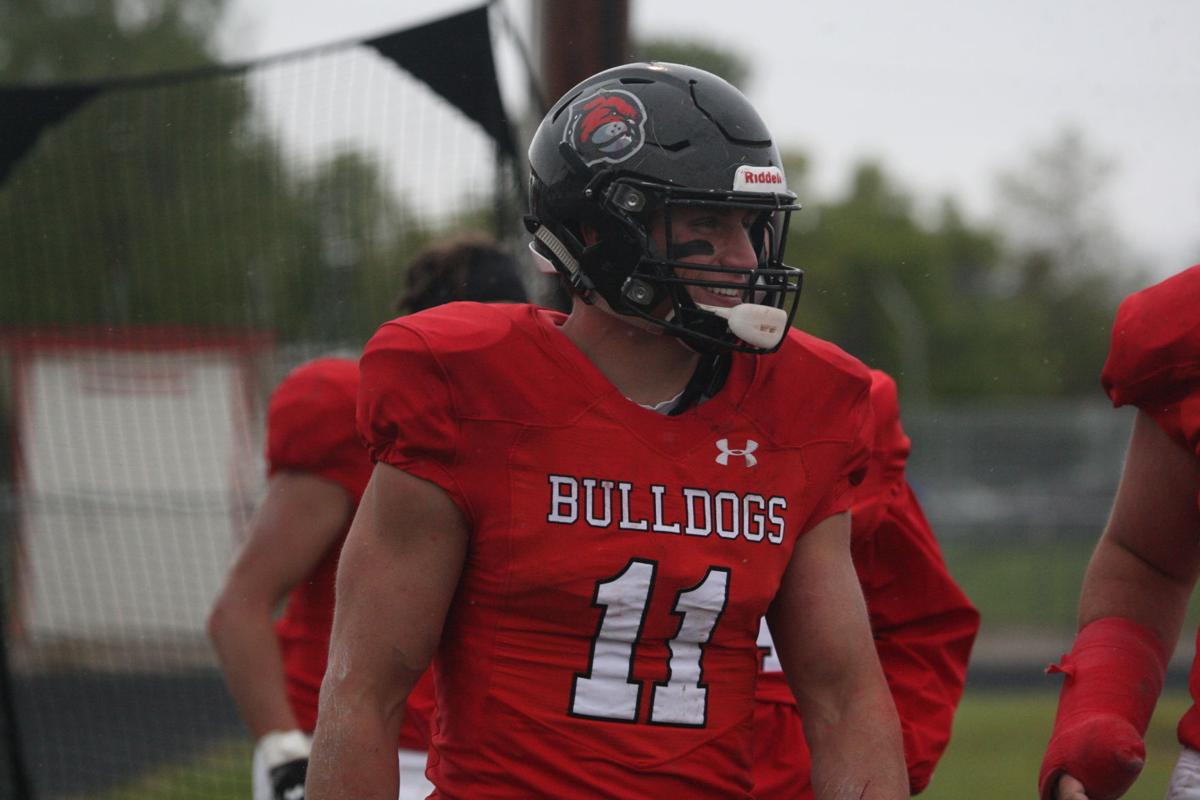 Nonconference success
The Bulldogs' defense pitched a shutout in the second half of a 42-30 victory, allowing Western to overcome a 30-21 halftime deficit. Quarterback Jon Jund was picked off three times — part of five total turnovers for Western — but threw four touchdowns and cleared 330 passing yards.
Reese Neville picked up 92 yards on the ground and added another 80 and a score in the receiving department while Trey Mounts caught 13 balls for 102 yards and a touchdown.
It was Mounts that caught the go-ahead touchdown in the third quarter as the Bulldogs scored in all four quarters to improve to 2-1 (1-1 Frontier).
Northern is scheduled to face Simon Fraser at home on Oct. 16 in the only other nonconference game featuring a Frontier team this fall.
Frontier Conference in the polls
A new NAIA Coaches' Top 25 poll — the first of the regular season — was released Monday. With a 2-0 start to the season, Eastern Oregon improved its preseason ranking five spots, moving up to No. 13 ahead of a trip to Helena, Montana, to face Carroll on Saturday.
Western moved into the poll for the first time this fall at No. 23, and with a perfect 2-0 campaign thus far, Rocky Mountain College joined the Bulldogs at No. 24. College of Idaho dropped from the preseason poll into the receiving votes category of Monday's poll.
Southern Oregon airing it out
The Raiders have themselves a new quarterback. Matt Struck — an Oregon native — made his way through the state of California to Idaho State and most recently Missouri State before joining Southern Oregon's roster for this fall.
In his first career start for SOU, Struck torched Northern's defense for 326 yards and five touchdowns through the air. He also added another score with his legs, helping him earn conference offensive player of the week, as well as NAIA national offensive player of the week honors.
Struck, who did not start Southern Oregon's season opener against Rocky Mountain but still tossed for 259 yards, has passed for 585 yards and six touchdowns through a pair of games. He has also rushed for another two scores.
Averaging better than 350 yards through the air per game as a team, Southern Oregon's passing attack currently ranks inside the top 10 nationally.
Conference Players of the Week
Offense: Quarterback Matt Struck, Southern Oregon*
Defense: Linebacker Joe Caicedo, Montana Western
Special Teams: Kicker Cesar Ruiz, Southern Oregon
*Struck also earned NAIA National Player of the Week honors for his performance.
Week 3 top performers
Southern Oregon quarterback Matt Struck: 22-for-34 passing, 326 yards, 5 TDs -- 7 rushes, 15 yards, 1 TD
Montana Western quarterback Jon Jund: 28-for-42 passing, 331 yards, 4 TDs, 3 INT
Southern Oregon wide receiver Bryce Goggin: 9 receptions, 128 yards, 2 TDs
Southern Oregon wide receiver Adrik Lamar: 4 receptions, 111 yards, 2 TDs
Montana Western wide receiver Trey Mounts: 13 receptions, 102 yards, 1 TD
Montana Western running back Reese Neville: 92 rushing yards -- 3 receptions, 80 yards, 1 TD
Montana Western running back Colten McPhee: 35 rushing yards, 2 TDs
Montana Western linebacker Joe Caicedo: 7 tackles, 1 sack, 1 TFL
Montana State Northern defensive back Joshua Rose: 9 tackles
Montana State Northern linebacker Dylan Wampler: 9 tackles
Southern Oregon linebacker Ty Glumbik: 8 tackles, 1 TFL
Montana State Northern defensive back Hunter Riley: 8 tackles
Southern Oregon linebacker Murphy McDowell: 5 tackles, 1 TFL, 1 QB hurry
Montana Western punter Joseph Lema: 3 punts, 109 yards, 36.3 avg., long 50, 2 punts inside 20-yard line
Montana State Northern punter Hunter Riley: 8 punts, 262 yards, 32.8 avg., long 67, 1 touchback, 3 punts inside 20-yard line
Southern Oregon kicker Cesar Ruiz: 6-for-6 on extra points
Week 4 predictions
College of Idaho vs. Southern Oregon: Raiders 24, Yotes 17
The Raiders have the best passing attack in the Frontier — and one of the best in the country — at this point in the season. College of Idaho's defense has proven it can be leaky at times, potentially opening the door for Matt Struck and company to have a big day.
Rocky Mountain vs. Montana Tech: Battlin' Bears 35, Orediggers 21
The Battlin' Bears have a good amount of momentum from beating College of Idaho on the road. They will now get a winless Tech team at home as Rocky Mountain looks to keep its perfect season alive.
Montana Western vs. Montana State-Northern: Bulldogs 42, Lights 3
Western has one of the more potent offenses in the Frontier and is fresh off beating a solid Dickinson State team on the road, a game in which quarterback Jon Jund threw for 331 yards and four touchdowns. Northern has given up 42 points in each of its first two games and will have to travel to Dillon to face the Bulldogs.
Carroll vs. Eastern Oregon: Mountaineers 28, Saints 17
The Saints have not beaten Eastern Oregon since 2014 and are without a victory against the Mountaineers at home since 2012. Eastern Oregon quarterback Kai Quinn is the reigning league offensive player of the year and is completing 63 percent of his passes through two games. Carroll's defense is yielding nearly 200 passing yards per contest, but both teams are pretty evenly matched in terms of yardage gained and allowed through a pair of contests.