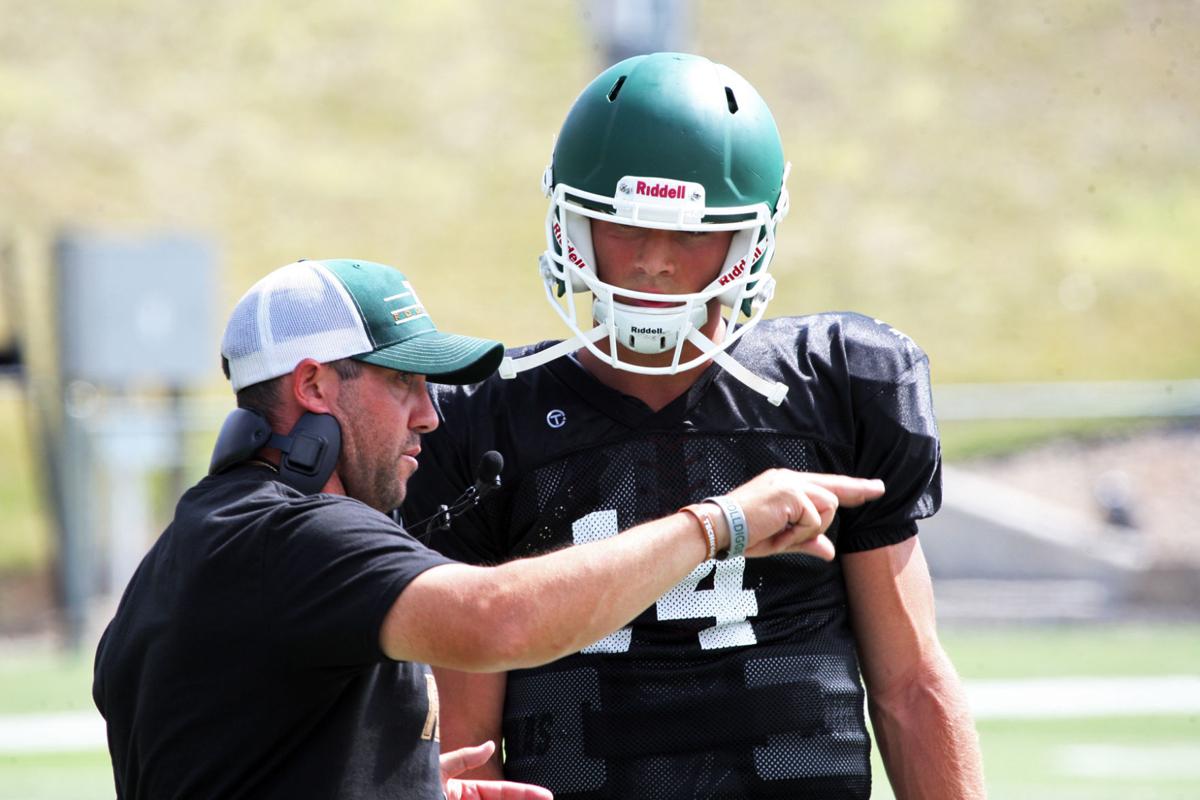 BUTTE — Montana Tech director of athletics Matt Stepan announced the hiring of Kyle Samson to lead the Oredigger football team on Tuesday. Samson served as Tech's offensive coordinator last season.
A press conference is scheduled for 4 p.m. Wednesday in the Copper Lounge of the Montana Tech Student Union Building to introduce Samson. The press conference is open to the public.
Samson replaces Chuck Morrell, who took an assistant coaching job at Fresno State after nine seasons at Tech.
"After a thorough process that included a national search and a committee interview process, it was clear that Coach Samson is the right choice for this program going forward," Stepan said.
"This is a huge win for not only our football team, but also for the campus and Butte communities."
Montana Tech had one of the top rushing attacks in the Frontier Conference under Samson coordination last season. Despite losing All-American running back Jed Fike early in the season, the Orediggers averaged 190.5 yards a game on the ground and reached the end zone 25 times.
Both were huge increases as the Orediggers averaged 170 yards and had only 12 rushing touchdowns in 2018.
Tech had a league-low five interceptions while leading the league in completion percentage and ranking second in pass efficiency. Sophomore wide receiver Trevor Hoffman had a career year and became just the fourth Oredigger in school history to break 1,000 yards receiving. True freshman running back Blake Counts averaged 4.5 yards per carry, finishing with 839 total yards while only playing full time part of the season.
"I am very humbled and honored for this great opportunity," Samson said. "Being the next head football coach at Montana Tech fulfills a lifelong dream of mine."
"Coach Samson is the right guy for Montana Tech," said the university's chancellor, Dr. Les Cook . "He not only cares deeply about football but more importantly, he cares about each of our players as individuals."
Samson coached the Flathead High School football program for five seasons prior to arriving at Tech. The Braves had one of the top offenses in the state, reaching the AA state title game in 2018 for the first time since 2000.
Flathead also made the playoffs three out of his five seasons. Samson called plays and coached quarterbacks at Flathead.
Samson served as the offensive coordinator and quarterbacks coach for seven seasons at Montana State-Northern from 2007-14. The Lights' offense was ranked in the top 10 nationally from 2011-13.
A player first, Samson was an all-state quarterback at Helena Capital. A three-time all-conference selection at Northern, Samson was the 2006 Frontier Conference offensive player of the year. He finished his career with 5,303 yards passing and 1,591 yards on the ground.
He had a 62.1 career completion percentage while accounting for 45 total touchdowns.
"I am so grateful to Mr. Stepan, Dr. Cook and the hiring committee for their belief in me and my vision for this program," said Samson.
"I want to thank my family, my wife Brooke, our three kids, and my parents for all their love and support. I would like to personally thank coach Morrell for all he's done for me and his mentorship this past year.
"I hope to continue to build on the foundation he's established. We have tremendous student-athletes here at Montana Tech and I'm so thankful that get to continue to work with them every day.
"We are very proud to be part of the community of Butte and excited to build upon the great traditions of our football program and this university."
Be the first to know
Get local news delivered to your inbox!