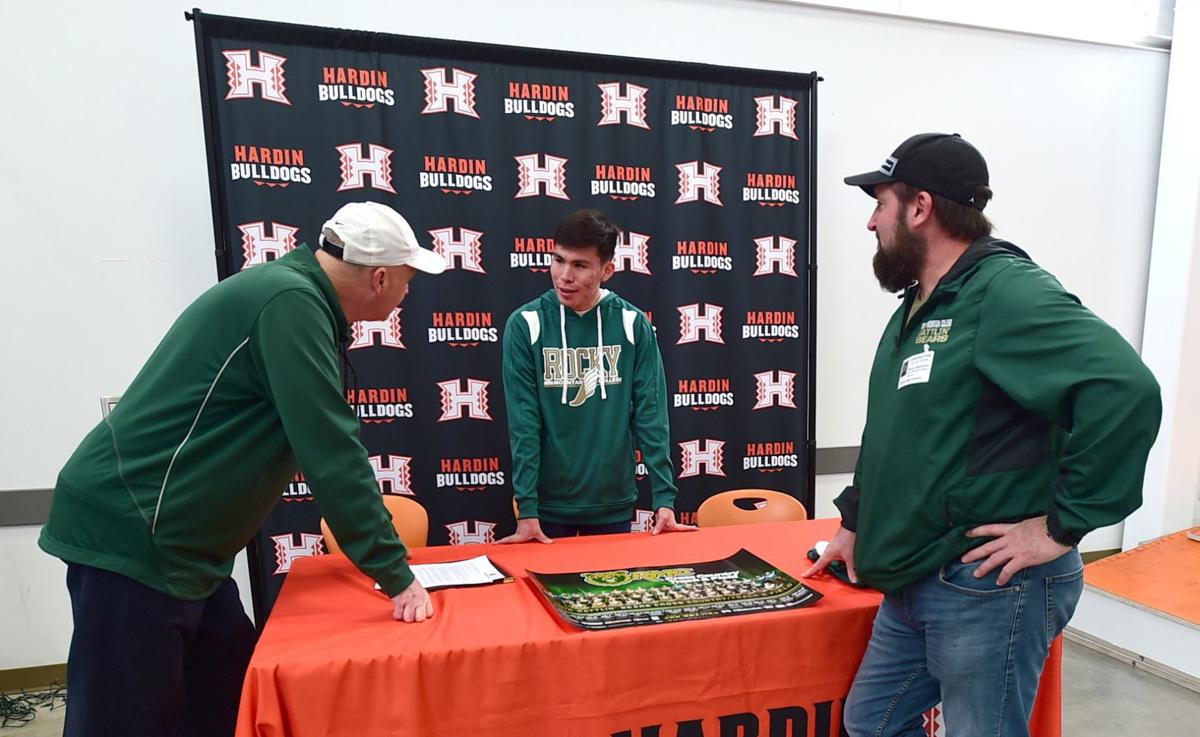 BILLINGS — Trajan Hill has a lot to be proud of.
The Hardin High School senior is an all-state athlete and an honor-roll student. He's headed to Rocky Mountain College next year to study biology and run cross country and track. He's done that while navigating family turmoil, sleeping on floors and bouncing from one home to the next. He's walked a tightrope and seen what waits for him if he falls off.
He is proud — especially of his academic achievements. But when given the chance to talk himself up, he asks a question:
"Can I talk about the reservation?"
Growing up
Hill, an enrolled member of the Crow Tribe, grew up in Hardin on the fringes of the Crow Reservation and has spent most of his life there.  
He recalls his dad teaching him basketball when he was about five, and joining with his dad's jogs.
"I remember just running by him all the time. I'm getting dropped and he'd stop for me," he said.
He also remembers financial struggles, and his parents' divorce. He remembers coming home from a basketball camp in sixth grade and finding out his parents had been arrested after being reported for driving under the influence.
His mom spent four months in jail. His dad, who had prior offenses, was jailed for six years.
He lived with his grandparents, then his mom again. But she struggled.
"I decided to take things into my own matters and go my own way," Hill said.
He lived with relatives, but there wasn't always enough to go around.
"Sleeping on the floor, you never really live the life of things being good," he said. "It's the only life I knew."
One thing was good: school. Hill earned good grades and had perfect attendance for a year in middle school. And something else good was coming.
Family
Hill recalls a phrase that his uncle, Augustine Hill, frequently told him: "Your education will last longer than your legs will."
His uncle was studying for his master's degree in Missoula with his wife when they took in Trajan for his seventh-grade year.  
"He just wanted to move with us, so we just kind of took him in," Augustine Hill said. "That's part of our tradition to do so."
At a young age he was taught the value of education.
"My grandfather was big into education, and my grandmothers who raised me were big into education," he said.
He saw it as something inherent in his nephew — a precocious understanding of what doors an education could open.
"He's always kind of been like that, even before he started living with myself and my wife," Augustine said.
Trajan found a more stable home life. He flourished in school and in running.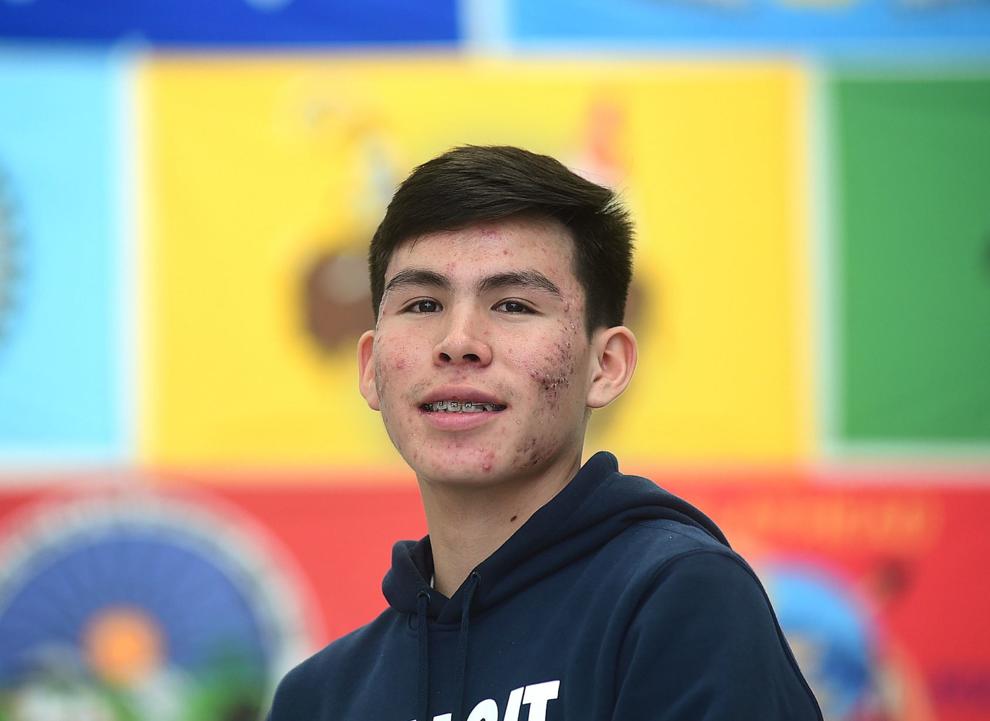 The family moved back to Billings, and for a while he commuted to Hardin. But he wanted to live in his hometown and participate in school activities without a 45-minute drive waiting at the end of the day.
He lived with his grandparents and other family members. He lived with friends. He lived with family again, then friends again. He lived in houses where he started off with a bed, then ended up on the floor as others took up residence.
Hill recalls sleeping on a dark blue carpet, waking up with a sore shoulder that he could never quite stretch out right.
He recalls staying with a friend's family, who was white, but his grandparents bristled at the notion of him having a "white family."
"I didn't want to feel like the enemy," he said.
By some measures used by schools, Hill would be considered a homeless student. Montana identified more than 3,600 homeless students in 2017. About 30 percent of them were Native American.
Amid struggles to find stable housing, those students are less likely to simply graduate, much less excel academically.
"It is tough," said Cindy Farmer, Hardin's cross country coach and a high school teacher. "To understand where they're coming from and what they go through, and still be able to maintain that focus, that drive … it's amazing."
Farmer's seen some of Hill's best and worst days.
"He's had so many struggles and challenges or adversity, whatever you want to call it. And I just think that that has really built his character," she said. "We talk about, 'it's OK to fail.' I think he's used that — if he's failed in anything — as a steppingstone to be that much more successful in school, in sports, whatever he's in."
She's also seen Hill's curious self-awareness, the sort that makes him say, "I understand that I'm not the only one," when he recounts bouncing from home to home, that makes him worry that he's talked too much about running and not enough about academics.
But back to Hill's question about the reservation.
'Why's it like that?'
He starts off struggling to describe something that he's clearly put a lot of thought into.
"Obviously you're proud to be Native American, but to have your reputation brought down the way it is … it hurts personally," he said. "I understood that at a young age."
Hill is talking about both discrimination, overt and subtle, but also about a lack of opportunity.
He watched too many athletes blossom, then wither after high school.
"They never really go anywhere," he said. "I always wondered, why was it like that?"
And as Hill has gotten older, he's hell-bent on avoiding that loop.
He's signed to run cross country at Rocky Mountain College, and he'll study biology. He sees Billings as a good balance between being able to visit home while still offering some distance and independence. 
He knows it's a predominantly white school where he'll be a minority, where the academic rigor will increase. He knows the tightrope won't get wider.
But he knows what to lean on.
Leaning on faith
Hill is active in the Church of the Jesus Christ of the Latter Day Saints.
"I don't think I'd be where I am if it wasn't for trusting the Lord," he said. "It all had a purpose to make me the person that I am today."
His uncle recalls Hill's Bible study.
"Even by himself, he was always reading the Bible, and always praying and doing the different things," he said. "That was what he leaned on, was his faith and his values."
Religion and education is a value that's easy to understand for Hill.
Another, in some ways, is harder to understand. But Hill stands by it, through sore shoulders and all.
"I always value family over everything," he said. "That's what holds you together."
Hill sees his own nieces and nephews already, and looks toward a future where he can give them a home if they need it.
"I don't want them to go through what I had to go through," he said.
And he sees a degree, and a career as a dermatologist, as a path to providing that.
"I understood that I couldn't fix a lot of the problems going on at home until I get my own situation handled," he said.
Farmer's seen Hill relish leg-burning interval workouts, and knows that it's the least of the challenges he's overcome.
"He'll do it," Farmer said. "He'll persevere."