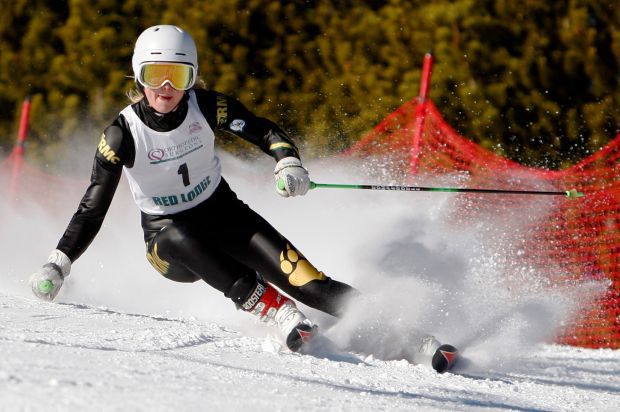 BEND, Ore. — When it comes to winning a national ski-racing championship, nobody does it quite like the Rocky Mountain College women and senior sensation Frida Svedberg.
The Battlin' Bears' women won their second United States Collegiate Ski Association national team title on a tiebreaker Saturday at Mount Bachelor, and Svedberg capped her remarkable Rocky career by becoming a four-time giant slalom champion and a three-time winner of the combined (slalom/GS) crown.
Rocky's men captured their fifth national team title on Friday, but this was the first time the school's men and women both came away as USCSA champions.
"It was pretty tough conditions here," said 16-year RMC coach Jerry Wolf, a Billings native. "A lot of snow, bad visibility, rain and wind. We came through. It is pretty amazing to come out on top after all of the work.
"It was super close to not happen. It was super exciting. I'm just happy for all of my teams."
Svedberg, who is from Sweden, won the GS competition with a combined time of 2:13.15 for her two runs. Rocky's Elsa Wilhelmsson placed third in the 83-skier field at 2:15.14, while teammate Camille Virelaude was seventh at 2:17.95.
Perennial powerhouse Sierra Nevada College, which finished second behind Rocky in the final combined team standings, won the GS on Saturday after placing three skiers in the top five and posting a collective time of 6:45.45.
Rocky was second at 6:46.24, but the Bears had to rally dramatically in the second run to do so, and also collect enough place points along the way to claim the combined title.
"We were behind and needed to make up 11 place points in order to win the overall after the first run," Wolf said.
Rocky made up 15 points, with Svedberg winning the run and Wilhelmsson moving up from seventh to second. Virelaude also advanced from 14th in the first run to fourth in the second.
"It was pretty sobering after the first run," said Wolf, who had a skier (Zoe Profit) break a ski and crash. "We got ourselves into a pickle being that far behind after the first run. They came out gunning and got it done."
The Bears, who won the slalom races earlier in the week, and Sierra Nevada, with its triumph in the GS, wound up finishing in a dead heat in the final overall standings.
The individual place points of each school's top three athletes in the slalom/GS were used to break the tie, and Rocky prevailed by five points to win it all.
"You can't write it any better," said Wolf.
Svedberg also scored a clean sweep individually in winning the slalom, GS and combined championships.
"Her eligibility is up," said Wolf. "There are a lot of people thanking God for that."
Rocky's first women's team title came in 2014 during Svedberg's freshman year.
"Now they won again her senior year," said Wolf. "What a way to do it, too. Just like her freshman year, we won it on a tiebreaker."
A pep rally is being planned at Rocky to salute their national champions.
"That has always been one of my milestones to get both men's and women's (championships) at once," Wolf said. "We've always had a lot of success in winning a slalom or GS here and there, but winning the overall title has been a struggle.
"Sierra Nevada has taken it away from us. It feels good to have them chasing us for a change instead of chasing them. It will be fun. We are definitely super excited, for the school, the town and ourselves. It feels good to win it."