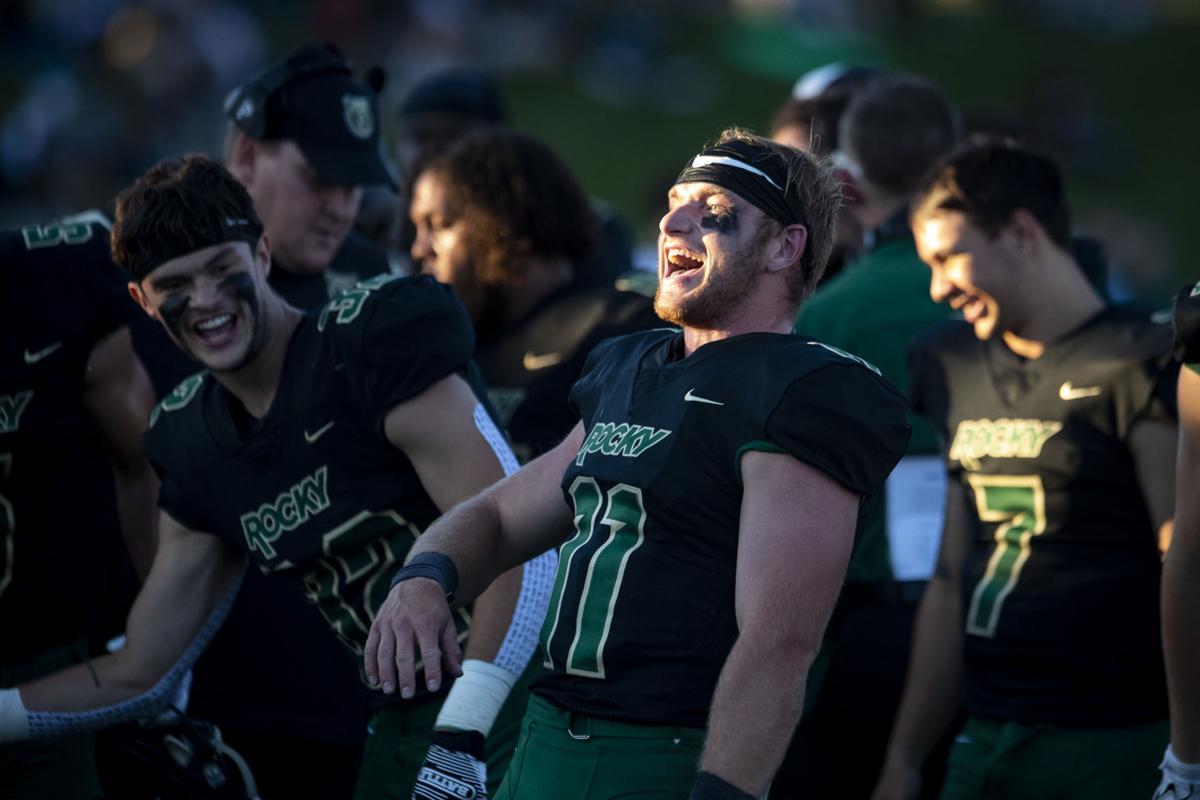 BILLINGS — It's been 23 long years since the Rocky Mountain College football program got off to such a prosperous six-game start. Nevertheless, the Battlin' Bears, after a 34-17 victory at Eastern Oregon last week, are 5-1 and find themselves alone in first place at the top of the Frontier Conference standings.
In 1998, Rocky ran the table in a nine-game regular season and won the first of two consecutive Frontier titles. The Bears reached as high as No. 2 in the NAIA poll and made the postseason for the first time in nearly 90 years.
Prior to a workout Wednesday at Herb Klindt Field, this year's Rocky team didn't exhibit any delusions of grandeur in terms of expectations as the season enters its crucial second-half phase. But players aren't naïve to the success they've had, even if they aren't looking too far ahead.
"We're having a great time playing football," senior edge defender Alex Bush said. "But we're always reiterating the fact that it's week by week. We don't think about last week, we don't think about next week, we think about this week. That's the sign of a mature team and a mature program, and we're not going to get ahead of ourselves.
"The goal is not just to win games, it's to win the conference and make a playoff push. We're confident right now, and we're going to keep rolling with it."
The Bears opened the season with a 42-28 home win over Southern Oregon on Aug. 28, then escaped with a 33-30 road triumph at the College of Idaho the following week. On Sept. 18 the Bears faltered at home 31-29 versus Montana Tech, then started a three-game winning streak a week later with a 31-28 win at MSU-Northern.
That was followed by a 41-31 victory at home against Montana Western, and last Saturday's complete-team effort at EOU.
Entering their second bye week this Saturday, Rocky has risen to No. 19 in the NAIA poll. The Bears return to the field Oct. 23 when they host rival Carroll.
What's fueled Rocky's strong start? Following are a few key factors:
Nate the great
There's no question the play of quarterback Nate Dick has given Rocky a huge boost. Dick entered this season having only played in seven career games — thanks to three separate foot injuries in three different seasons. But the Billings Senior alum is healthy and thriving again.
Through six games, Dick has thrown for 1,523 yards with 13 touchdowns. He's averaging 253.8 yards per game. More than that, Dick is showcasing the dual-threat capability that made him a two-time Class AA offensive MVP while at Senior, and he's rushed for a team-high 438 yards and four TDs.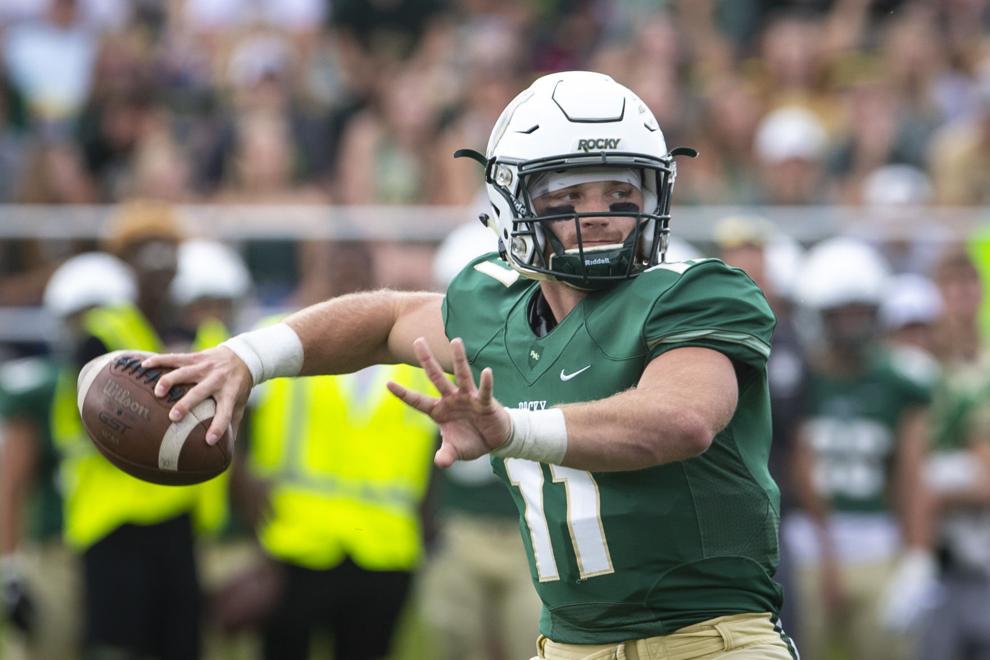 After the win last week against Eastern Oregon in which Dick threw for 224 yards and four touchdowns and rushed for 123 yards on 17 attempts, he was named the Frontier's offensive player of the week.
"No. 1 he really understands the offense," third-year coach Chris Stutzriem said. "He's a great competitor and he has the ability to get out of certain situations. There are times where you just go, 'Well, that's not really how we drew it up, but that's what happened.'
"We have to remember: Nate's only started seven, eight games in his career. We want to sit here and say he's a seasoned vet, but if he was a freshman we'd be saying, 'Hey, he's playing great as a freshman.' And that's kind of what he is. I think our offensive coaches are doing a good job of highlighting his abilities, as well as our offense."
Big plays
Offensively, Rocky has been able to consistently dial up explosive plays through the air. Among his 13 TD passes, Dick has connected with receivers on scoring throws of 66, 42, 85, 45, 57 and 38 yards. Dick is averaging 14.6 yards per completion.
The Bears' line has also allowed only six sacks, which is also due in part to Dick's elusiveness and mobility.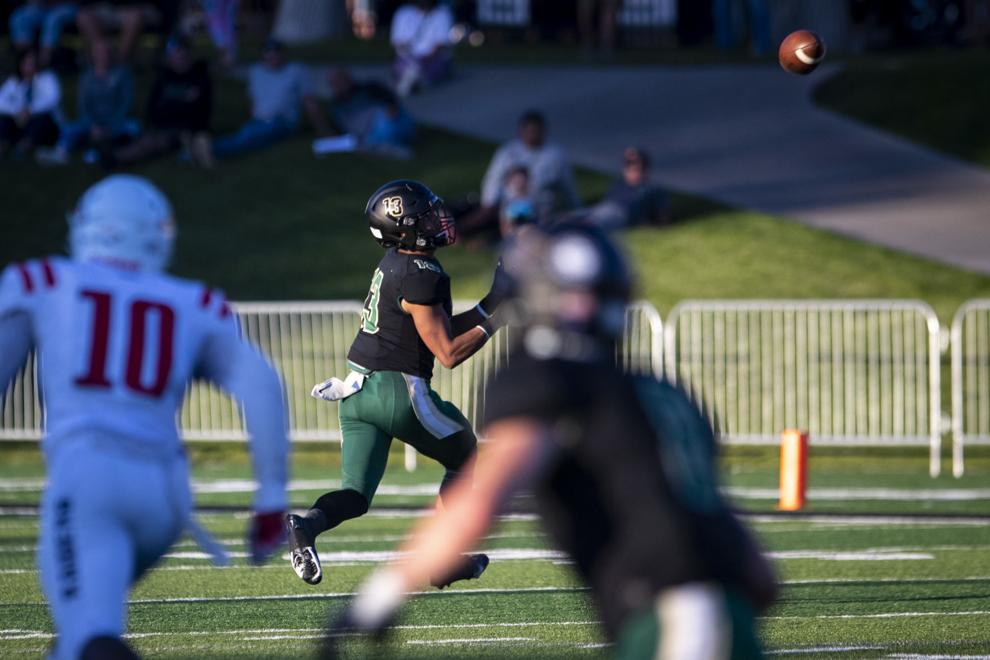 Four receivers are averaging better than 14.5 yards per catch, including Trae Henry, whose 21.4 per reception rank No. 1 on the team among those with at least 15 grabs. Lucas Overton caught two passes last week, both of which went for touchdowns, including a 57-yarder in the first quarter.
"Hitting those big plays … Nate's got to have time to throw and we have to have time to get open, and he is making the right reads," Overton said. "We're on the same page right now."
Road success
The Bears are 3-0 on the road, and two of those wins were by a slim, three-point margin.
The team came through with some of its most clutch plays in those scenarios. For instance: A blocked field goal by freshman Brail Lipford to preserve the win at the College of Idaho; a Dick TD run with under 2:00 remaining against Northern, followed by a game-sealing interception by defensive back Kaysan Barnett; a six-takeaway showing by the defense in the win over Eastern Oregon.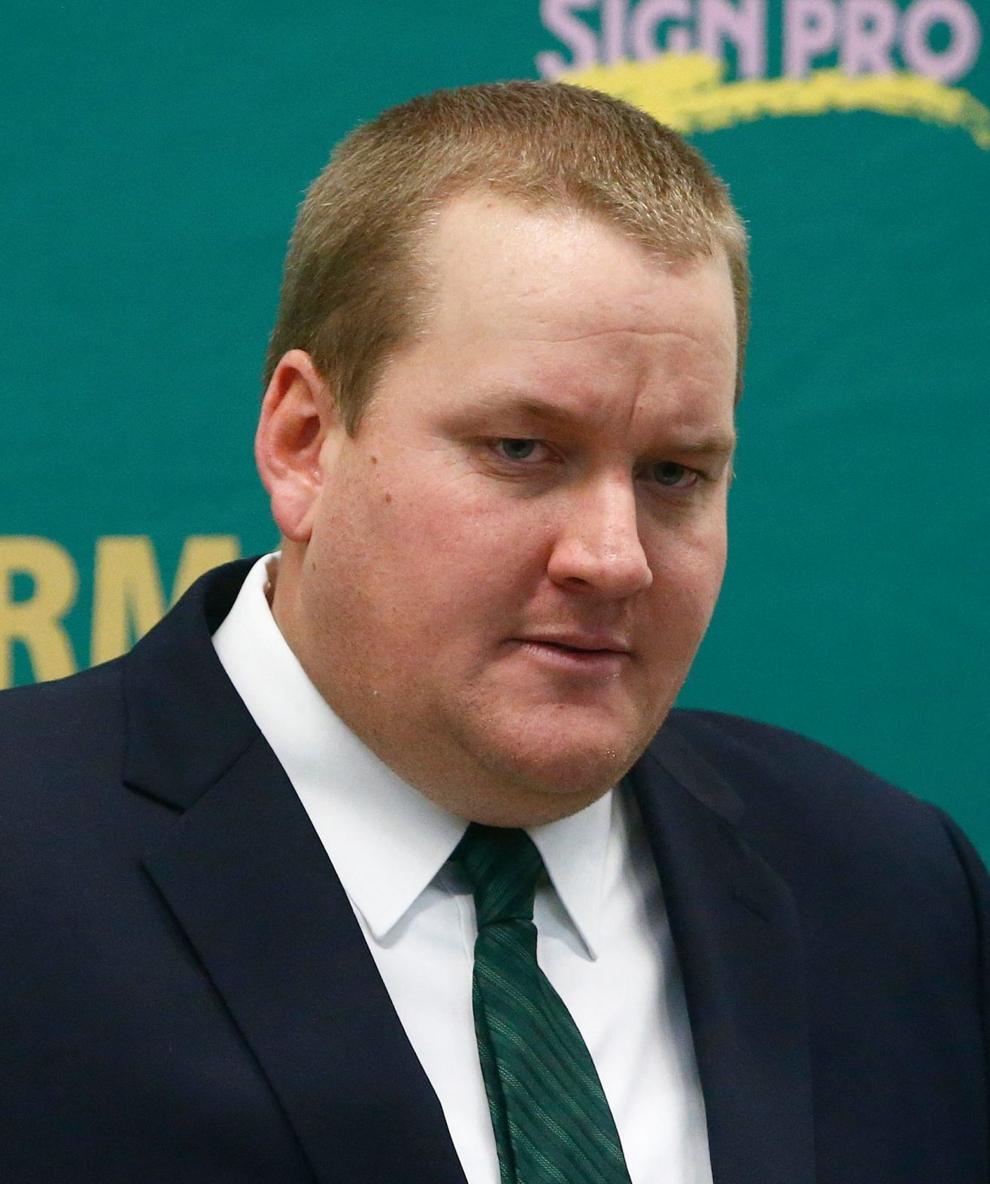 "That's just a testament of our players understanding we're on a business trip," Stutzriem said. "We're going to have fun, we're going to be loose, but we know the difference between football time and relaxation time.
"It's guys running the show. It's player-led, and any time you're player-led it's a lot better. I have confidence that our players are going to do what they're expected to do. And it's a great group to be around."
Turnover margin
After six games, Rocky is plus-5 on the turnover ledger. The Bears have intercepted eight passes, including three by veteran defensive back Ty Reynolds and two by Lipford. Linebacker Shamar Whestone has intercepted two balls and also recovered a fumble.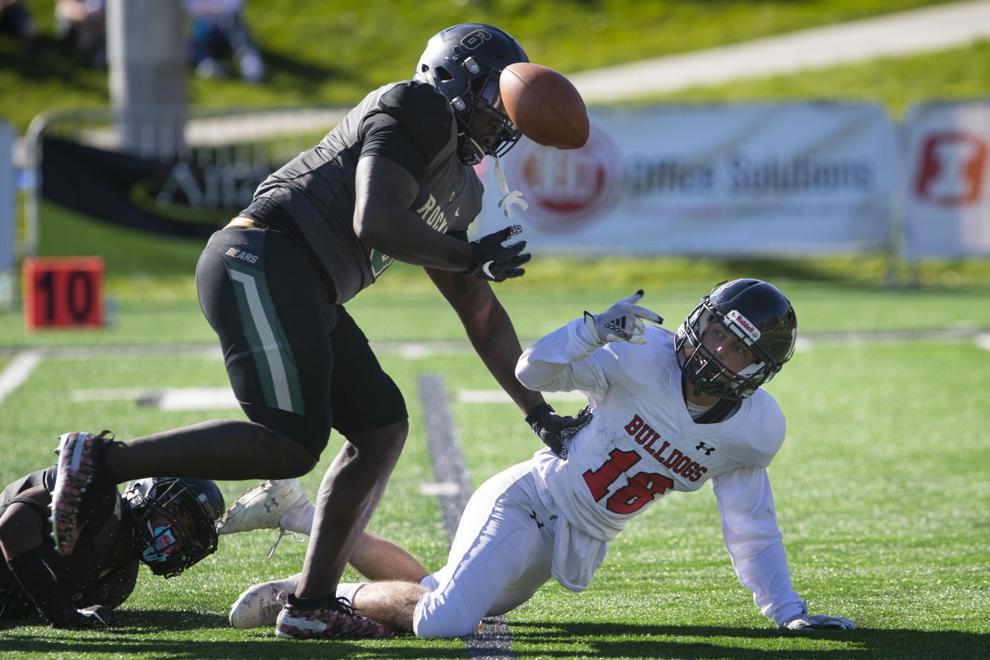 One of the biggest plays came in the season opener against Southern Oregon, when defensive lineman Dylan Beridon pounced on a fumble and returned it 45 yards for a touchdown.
Bush said defensive coordinator Joe Dunning "is always preaching to us about gang tackling. Everybody run to the ball. If we have that gang mentality of always running to the ball good things are going to happen."
Youth is served
Finally, Rocky has benefited from the play of several young players, some that Stutzriem said weren't necessarily expected to make an impact this quickly.
Freshman defensive end Ethan Hurst is a great example. Hurst's 5.5 sacks and 10.5 tackles for loss are tied for sixth-most in the NAIA. Freshman wideout Joseph Dwyer has found the end zone both through the air and on the ground. Fellow freshman receiver DeNiro Killian Jr. scored his first career TD on a well-timed and well-called fly sweep against Western.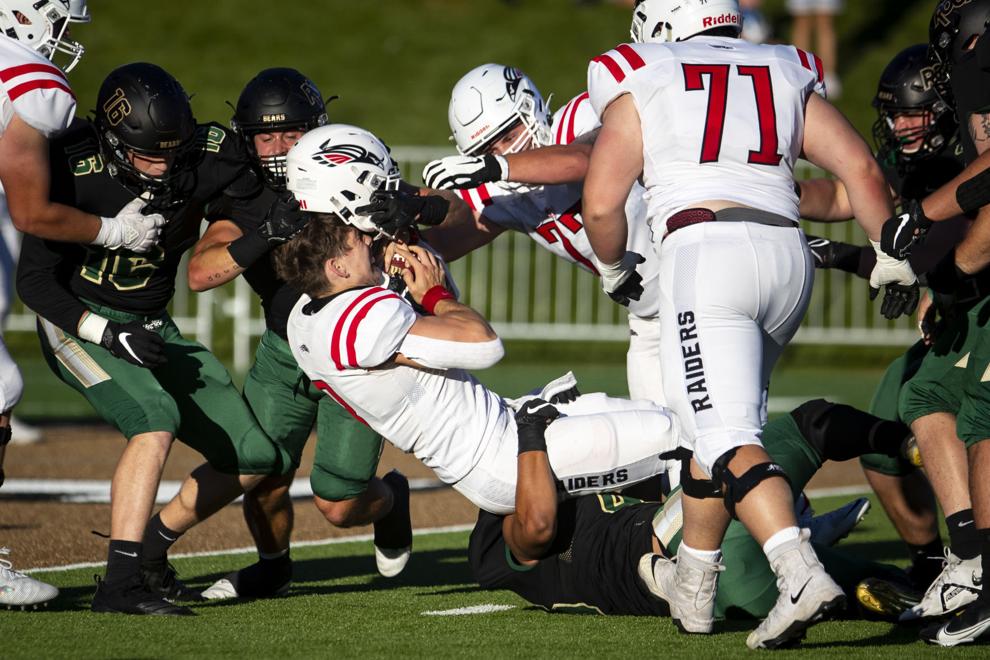 Elsewhere, 270-pound freshman T'Ziaha Quint has been a mainstay on the offensive line, having started all six games. Freshman running back Zaire Wilcox has filled in well with Rocky's top two backs on the shelf, and the Bears have rushed for 200-plus yards in each of the past two weeks.
"It's our coaches doing a great job of recruiting and finding guys that are good fits for us," Stutzriem said. "We say, here's your package for the game and you're going to be great at it.
"Even on defense, it's, hey, here's what we're going to do with you. It may not be 60 or 70 plays, but you're going to have a chance to make something happen. Our coaches are doing a good job of putting guys in good positions and not giving them too much. It's great to see."