BILLINGS — The first time Montana State Billings volleyball coach Casey Williams saw Bayli Monck playing during a recruiting trip, a light bulb went off.
Monck was primarily a setter in high school and in the club circuit originating in Colorado Springs, Colorado, but Williams and the Yellowjackets were in search of a right-side hitter to bolster their attack.
At 5-foot-10, Monck already had the height to fit that bill. Williams could see she also had the necessary talent and know-how to make the transition.
"I think her being as versatile as she is and as athletic as she is as a six-rotation opposite (hitter), it's like finding a unicorn a little bit," Williams said Tuesday after MSUB swept crosstown rival Rocky Mountain College 25-13, 25-15, 25-13 at Alterowitz Gymnasium.
"We saw her go up on a couple balls when she was setting in club and it kind of looked like a no-brainer. Just the athleticism alone was very intriguing to us from the start. She got on campus and she's been an opposite hitter the entire time. She got ton of reps that first preseason and she never looked back since that point."
A power lefty, Monck was integral in the victory over Rocky, which was MSUB's fourth in the last five matches of the Rimrock Rivalry series. The Jackets improved their overall record to 7-8. It was an exhibition match for Rocky (10-11).
Monck finished with 10 kills and a .304 attack percentage while also adding 13 digs.
But that's no surprise. Monck is a program pillar, and has been putting up big numbers since her first match as a freshman — a 20-kill effort on the road against Minnesota State Moorhead in 2017.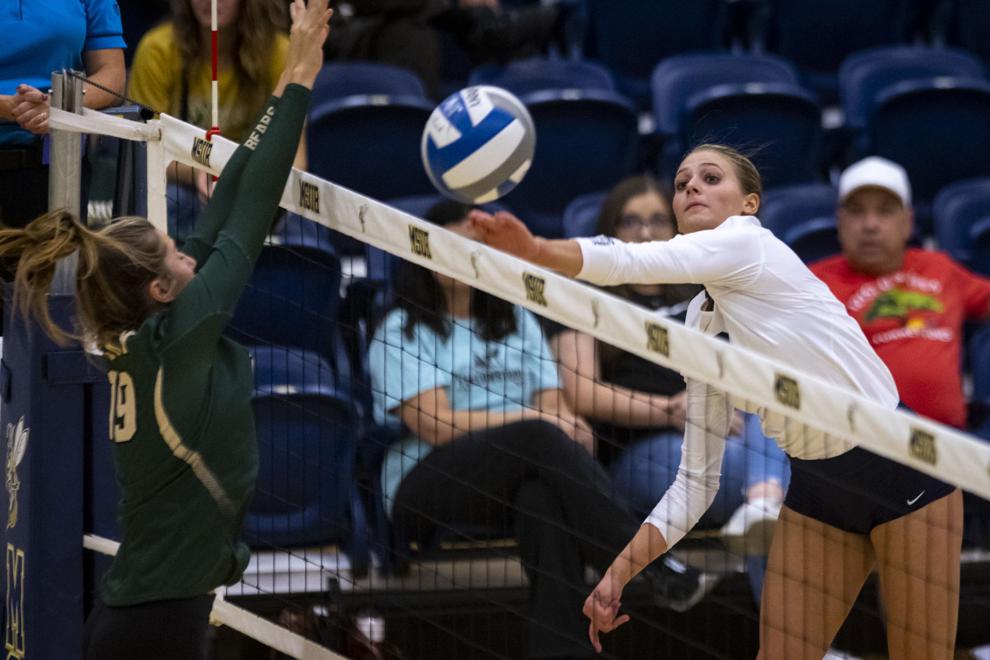 Before she arrived on campus, Monck wasn't sure she'd get immediate or regular playing time. But the roster was fluid, and personnel changes made her realize that she'd need to be ready right away.
Monck wasn't the only one thinking it, either.
"I remember talking to my dad about it and he said, 'You've got to step up. It's time to quickly grow up,'" she recounted. "Going from the club level in Colorado — which is very competitive — to NCAA Division II and one of the hardest D-II conferences in the nation, it was a learning curve times 10. But it was something I was very thankful for, because it made me realize I needed to be great in order to prove myself."
Now a fifth-year senior, Monck has played in 110 career matches and has slammed 1,074 kills. She reached the 1,000 kill plateau on Sept. 16 against Central Washington, making her just the ninth player in program history to complete that feat.
It was an important moment for Monck, and it did more than just underscore the kind of consistent production she has provided the Yellowjackets throughout her career. It was an aspiration Monck had even when she was 15 and 16 years old.
"It was a big goal to set, and I thought, 'I think I can do that,'" said Monck, who also has 885 career digs. "I didn't forget about it, but when it happened I had no idea that I was even close to it. It just made me think about when I set that goal, and then looking back at who I was then compared to who I am now, I think I've grown a lot. It was a really special moment. It was really great to achieve that."
As a junior last season, Monck had her best season with 314 kills and 359 digs. She was a first-team All-Great Northwest Athletic Conference selection.
This season, before which she was named preseason All-GNAC, has shown much of the same. On Monday Monck was named a co-recipient of the GNAC's offensive player of the week award, after averaging 4.25 kills and 2.5 digs per set with a .429 hitting percentage in wins last week over Western Oregon (a five-setter) and Saint Martin's (a sweep).
Against Rocky, Monck teamed with fellow front-row stalwarts Skylar Reed (12 kills) and Joelle Mahowald (nine kills) to facilitate a quick three-set win. MSUB hit a combined .291 with just 10 errors.
Monck credited Reed, Mahowald and all of her teammates for the experience she's had at Montana's only D-II school, which has been nothing short of rewarding. Monck had an offer out of high school from a small college in Florida, but that was too far away for her tastes. She also has family living in Helena — a grandfather and an aunt and uncle — which made MSUB a strong fit.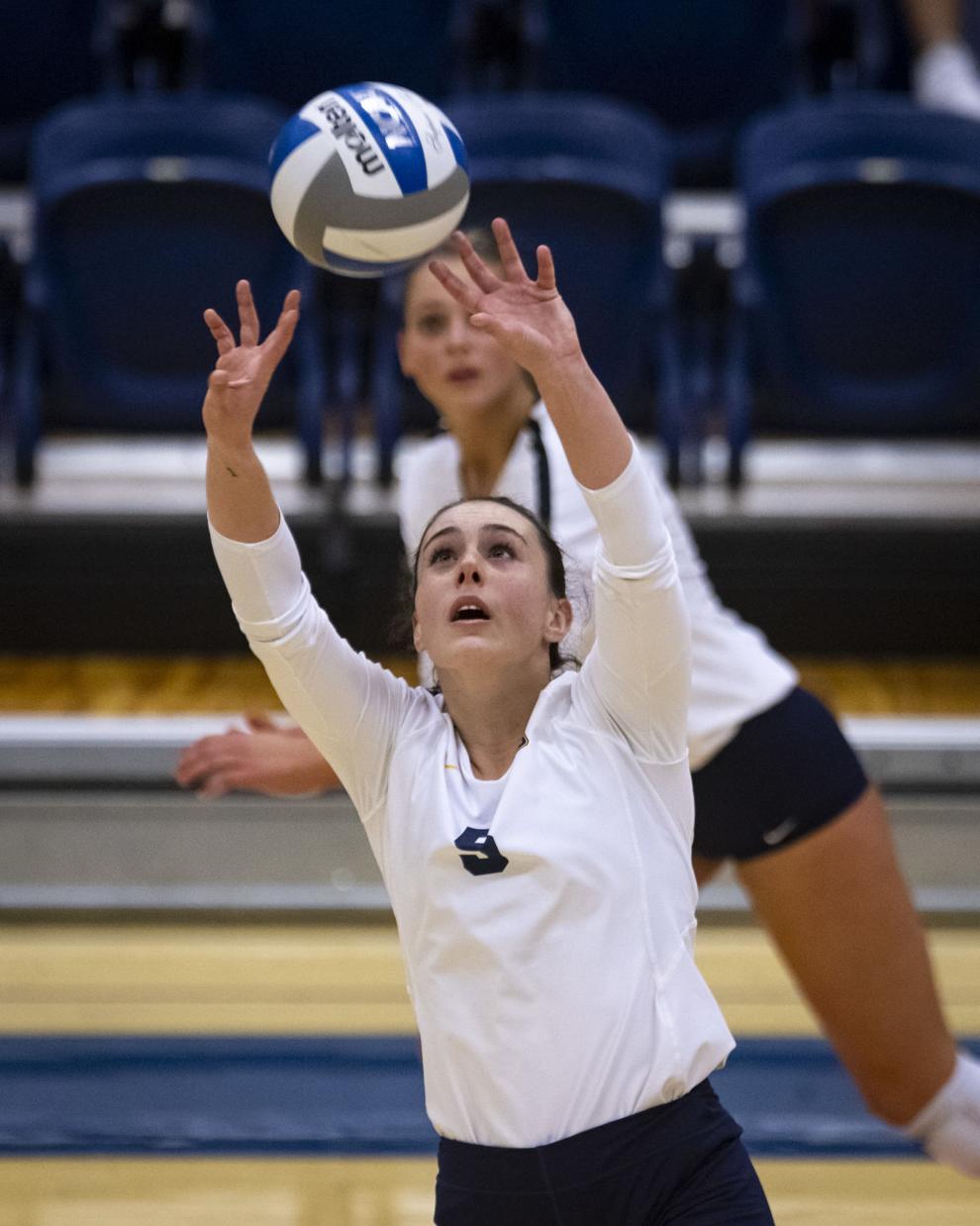 "This is the most supportive team I've ever been on. I know there's no doubt in anybody. We all have faith in each other," Monck said. "It's really great to have that confidence in your teammates. And Hash (setter Hannah Hashbarger) is really, really good at communicating with the hitters, as well. I just think the confidence everybody has within each other, that's where it all comes from."
Monck is majoring in Health and Human Performance, and is on track to graduate in December. What comes next, she's not sure. She has an interest in nursing, or to be a physician's assistant, or perhaps a dietician.
There's time to figure it out. There's also 13 matches remaining in MSUB's regular season.
Still, time flies. And Monck can see the finish line.
"I've looked back at the good and the bad and everything in between, and I wouldn't change anything," she said. "My experience has been so great. I've met some of the best people, some lifelong friends. It makes me sad to think that it's almost over."