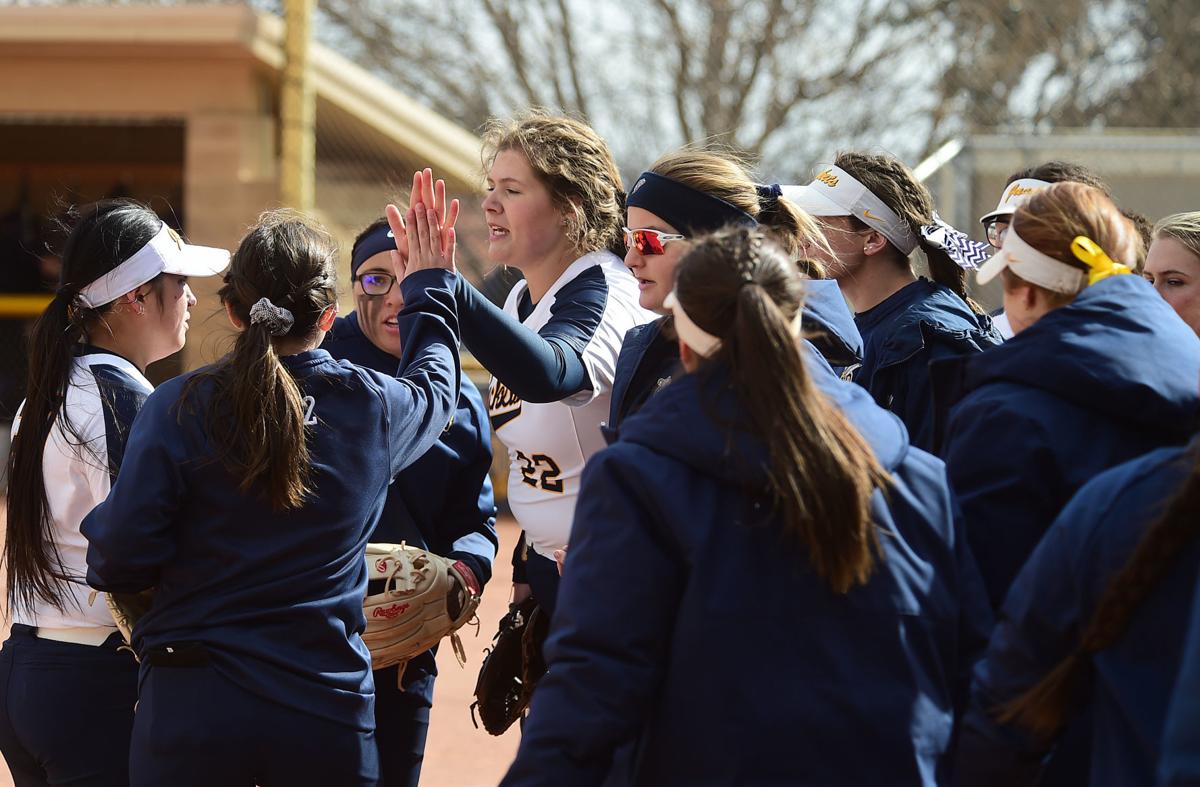 BILLINGS — Positive news is few and far between in an age of viral outbreak, but the Montana State Billings softball team was "relieved and excited" Wednesday when it learned its 14-day self-quarantine recommendation had been lifted.
MSUB players, coaches and athletic training staff had been in individual isolation both on and off campus since returning from an abbreviated road trip early Sunday over concerns of exposure to COVID-19, the disease caused by the novel coronavirus that is sweeping the nation.
Two unidentified players ultimately underwent testing for COVID-19, but the results of those tests came back negative Wednesday — at least two days earlier than expected — which allowed the quarantine to end.
MSUB head athletic trainer Tom Ebel got the initial word of the negative tests from officials at RiverStone Health in Billings, and he passed the information on to a team in need of some positivity.
"I think all of us are excited," coach Lisa McKinney told 406mtsports.com, adding that the team received the news around 9:30 a.m. Wednesday. "I know there's still some precautions that we need to take, and obviously a lot has changed since we got home, but the whole team is just relieved and excited that the tests came back negative."
Some players began feeling ill during the road trip, which included stops in Washington, Oregon and British Columbia for games against Great Northwest Athletic Conference opponents Simon Fraser and Western Oregon.
But the GNAC canceled the remainder of its spring sports schedules last Thursday due to coronavirus concerns, which preempted the Yellowjackets' trip.
Instead of flying home, which would have meant a stop through the Seattle airport and the risk of further exposure in a state that was essentially ground zero for the virus, MSUB chartered a bus from Portland, Oregon, back to Billings.
Upon their arrival home early Sunday, each member of the team agreed to the self-isolation recommendations. Some stayed on campus on a vacant floor at Rimrock Hall and others remained off campus. The quarantine ended up lasting three full days.
"I was thrilled to hear that the tests were negative. Absolutely. That was the news we were waiting for," MSUB athletic director Krista Montague said. "It's obviously been weighing on all of us, not just for our softball student-athletes but other students on campus and all the different places the team has traveled.
"There's so many unknowns about this virus and how fast it's spreading. That was concerning for us. So we're very excited and very relieved to have that news come in."
Both McKinney and Montague said the quarantine was an uneasy time for MSUB's players, but that everyone seemed to handle it as well as they could.
As for the two players that underwent COVID-19 tests, McKinney said neither were anxious or fearful.
"They didn't portray that to me," she said. "I think they just knew that it was out of their hands. We were all going through it with them."
"Our coach, Lisa McKinney, did an outstanding job keeping in touch with them and explaining to them why this was important and what it meant," Montague said. "They handled it like champs, and a lot of that credit goes to Lisa, and also our staff in the residence halls. I definitely don't want to forget about them."
McKinney said the team is now returning to at least a sense of normalcy, but also said it will adhere to the social distancing guidelines set by both the Centers for Disease Control and Prevention as well as the federal government in an effort to slow the spread of the virus.
Those guidelines include limiting public gatherings to 10 or fewer people, maintaining a personal distance threshold of six feet and staying home if you are sick.
On Tuesday, all restaurants, bars, casinos and wineries in Yellowstone County (and other municipalities) were ordered closed for a least a week. K-12 schools, colleges and universities across the state were also shuttered in favor of online-only learning.
"That was reiterated when we got the news that the tests were negative, that we should still practice social distancing — groups of no more than 10, staying six feet away from people, avoiding public areas," McKinney said. "Obviously since we are negative now that doesn't mean that we're immune, and we need to continue to do our part."
As of Wednesday afternoon, reported confirmed COVID-19 cases in the United States neared 8,000, while the death toll had reached 140. There were 11 confirmed cases in Montana.
Montague said the majority of the MSUB athletic department staff is now following a work-from-home policy that was implemented by the university.
"Overcaution in this circumstance, I don't think we're ever going to regret that," she said.
Concerned about COVID-19?
Sign up now to get the most recent coronavirus headlines and other important local and national news sent to your email inbox daily.