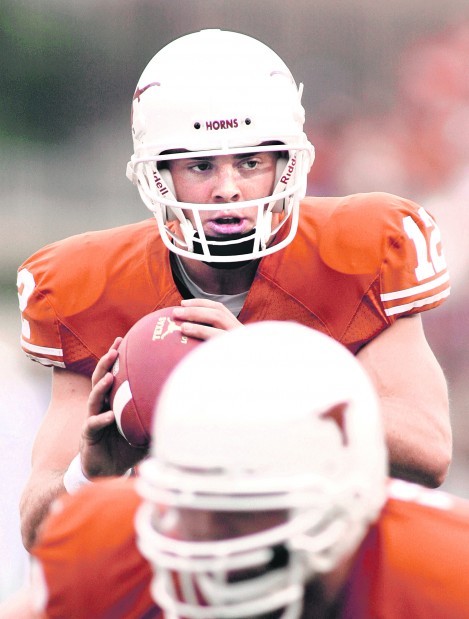 Colt McCoy's assessment of his season opener nearly matched that of Wyoming's quarterback duo.
McCoy and the Longhorns were good but not great, and there were plenty of aspects that needed work.
The difference between McCoy and UW's Robert Benjamin and Austyn Carta-Samuels: McCoy's team put up 59 points and 562 yards of total offense in beating Louisiana-Monroe.
"I felt like we did a great job of coming out early on, and getting on the board and scoring 14 points real quick, and then I think we just kind of relaxed a little bit offensively for two or three series," McCoy said. "If we want to be the best we can be, we can't let that happen.
"It's one of those things where you go in after the game, and think, 'Man I could have done a lot of things better.' I don't feel like we played that well, but then you look and you score 59 points."
Just another day at the office for the 2008 Heisman Trophy runner-up.
McCoy completed 21 of 29 pass attempts for 317 yards and two touchdowns, including a 78-yard scoring strike to Jordan Shipley that helped break open the rout.
It was his 30th 200-yard passing game and his 11th 300-yard effort, and the victory improved the senior's career record to 33-7.
"He makes great reads, he never throws the ball into traffic, he's a great decision-maker with the ball in his hands," Cowboys coach Dave Christensen said. "He's very, very similar to how Chase Daniel was for us (at Missouri). He's one of the premier quarterbacks in the country."
And he's working with an offensive system that keeps defenses guessing.
McCoy and the Longhorns primarily use a spread offense, which gives him plenty of options and allows him to get the ball where it needs to be.
But Texas also operated successfully out of the I-formation last week.
The Cowboys' defensive task will be to show the Longhorns as many different looks as the Longhorns are likely to show them.
"You've got to try to get pressure on him, that's how you get any quarterback out of rhythm," Christensen said. "We're going to have to do some things up front, try to defeat some blocks to get some pressure on him. You gotta disrupt the receivers' routes so their timing comes off.
"As with any quarterback, if you get a chance to get in there and start getting the pressure on him and knocking him down a little bit, that changes things."
The Cowboys have seen their fair share of the Longhorns on SportsCenter.
And they've taken a look at film.
"You see that the highlights don't lie," UW junior cornerback Marcell Gipson said. "They're just as fast, they're just as big and physical as the highlights show.
"But I feel like we can play with them. I feel like we can play with anybody, but that's just me being a Cowboy."
On Saturday, the Cowboys will get to see, and try to slow, Texas' offense first-hand.