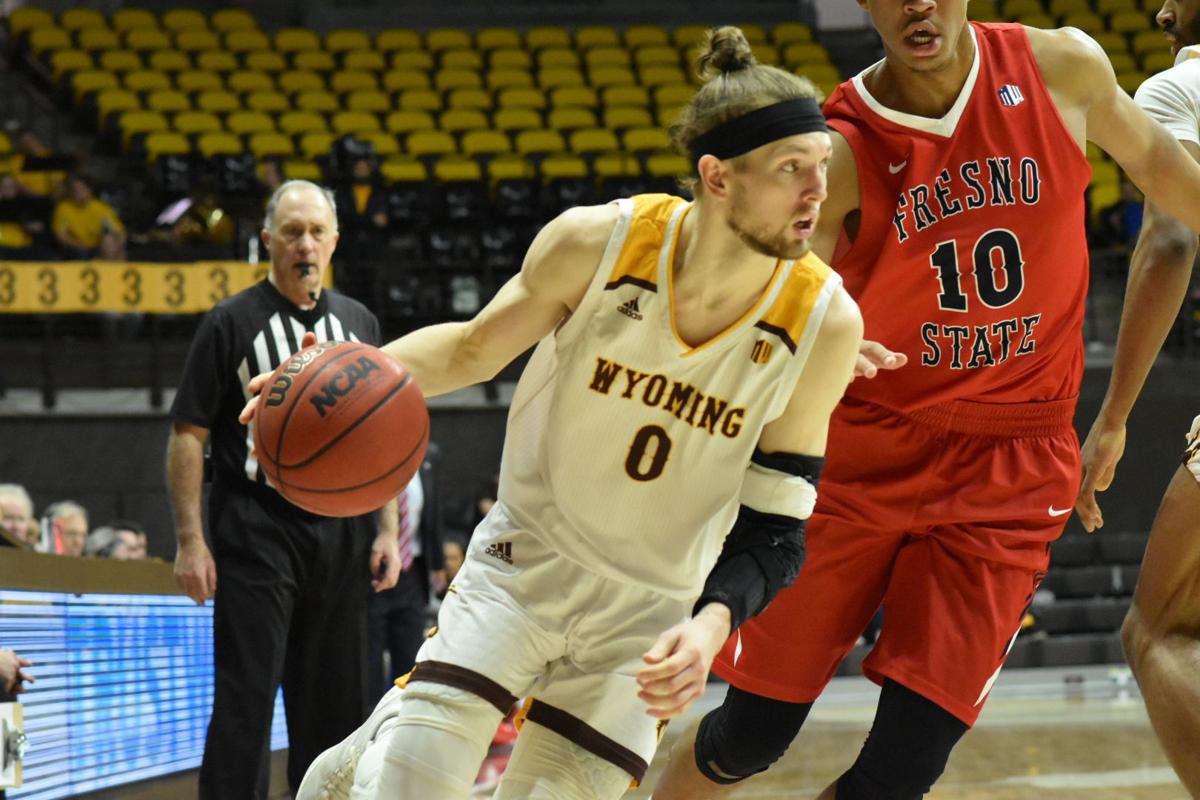 The Cowboys took another step back Saturday.
Wyoming was the only winless team left in MW play entering its tilt with Fresno State at the Arena-Auditorium, but the Bulldogs weren't far behind. The teams were a combined 1-12 against league foes with Fresno's lone conference win coming at home against San Jose State on Jan. 4.
Yet there proved to be far more separation on the court than on paper.
Fresno dominated the Cowboys on their home floor, and Wyoming's futility in league play continued with a 65-50 loss. As has been the case for most of the season, the Cowboys' issues were largely on the offensive end as they shot just 34.5 percent from the field and 31.3 percent from 3-point range in their lowest scoring output in league play this season.
"It is a little frustrating because we were taking steps, but tonight we took a step backward with not executing the game plan and not doing what we should've done and could've done," said guard Hunter Maldonado, who had seven points -- 11 fewer than his season average -- on just 3 of 11 shooting.
Jake Hendricks and freshman guard Kwane Marble II each scored 12 points for Wyoming, but the Cowboys went a stretch of 11 minutes, 26 seconds of game time without a point that all but sealed their fate. Wyoming trailed by as many as 23 early in the second half and never got closer than 10 the rest of the way en route to their sixth straight loss and ninth straight conference loss dating back to last season.
Next up for Wyoming? A rematch Tuesday with college basketball's lone unbeaten in No. 7 San Diego State, which handed the Cowboys a 72-52 loss at the Arena Auditorium less than two weeks ago.
You have free articles remaining.
"You'd hope that you don't take steps back, but when you do, you only can adjust going forward and go back to the drawing board," Wyoming coach Allen Edwards said. "It's not like you say, 'We just took step a back, so let's pout about it.' We've got to find a way to get back up, dust ourselves off and go into a tough environment on the road against San Diego State."
Orlando Robinson led Fresno with 19 points while New Williams added 18 points for the Bulldogs, who weren't much better offensively at 37.7 percent from the field and just a 30.4-percent clip from deep. But Fresno, which shot 22 more free throws than Wyoming, made 72 percent of its freebies (18 of 25) and outrebounded the Cowboys 44-30 to snap its two-game losing streak.
The Bulldogs pulled down 19 offensive rebounds leading to 21 second-chance points. Fresno scored 19 more points off 13 turnovers, nine of which it forced on its way to a 31-16 halftime lead.
"They scored 65 points and yet 50 of them came off of our turnovers, second-chance points and then us fouling at the end and putting them at the free-throw line," Edwards said. "So our half-court defense is actually solid. It's just that securing the rebound and, especially in the first half, taking a step back in a sense of the turnover department.
"We dug ourselves a big hole, and we're not the most prolific offensive scoring team, so it's always tough to try to come back from a deficit like that."
Fresno missed 11 of 14 shots during one span in the first half, but Wyoming's more anemic offensive showing still had the Cowboys trailing by 15 at the break after scoring their fewest points in a half against a conference foe all season. Marble's layup with 7:13 left in the half cut Fresno's lead to single digits, but the Cowboys missed nine straight shots from the end of the first half into the second. 
"They're a tough team, but I also think we didn't execute as much as we could've," Maldonado said. "I think we did get some good shots, but they didn't fall. At the end of the day, that's what happened."
The Bulldogs pushed their lead to 39-16 before Hendricks' corner 3 finally ended the Cowboys' drought with 15:46 remaining. But Wyoming shot just 39.4 percent from the field in the final 20 minutes and never came close to threatening Fresno in its 23rd loss in 27 league games dating back to last season.
"We had two close games, and then I didn't think we worked as hard tonight. And I think that's why the result was what is was," Hendricks said. "We've just got to come in tomorrow, get a good practice in, get a good practice in Monday and then just keep working."