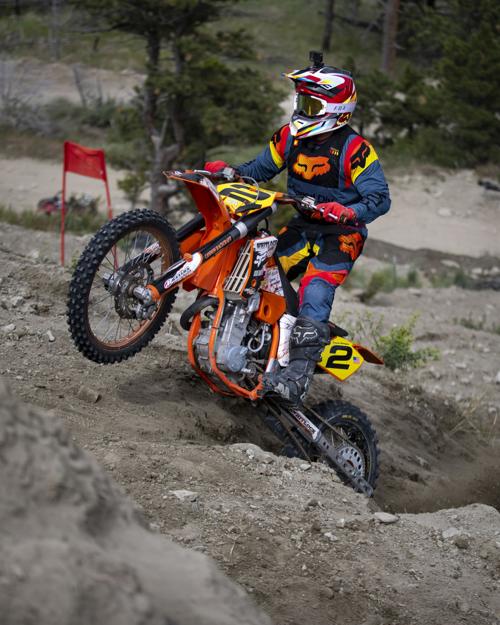 Spectators at the Nitro National Pro Hillclimb near Columbus over the weekend will want to keep their eyes on the action as motorcycle hill climbers attempt to crest the hill, measuring approximately 800 feet in length.
And, when the daredevils of summer aren't speeding up the hill, keep an eye out for freestyle motorsports stars Adam Jones and Brian McCarty, who will be performing throughout both days of action during breaks between classes.
Some of hill climbing's biggest stars — including Travis Whitlock, Austin Teyler, Logan Cipala, Logan Mead, Jake Anstett, Joe Shipman, Nick Beer, Carson Holden and Harold Waddell — will be trying to tame the Columbus hill, which two years ago only three riders in the 450cc class conquered, according to promoters.
Nitro National hillclimb owner Tyler Johnson of Billings said last year 9,700 fans attended the event on Saturday and 6,900 on Friday. This year, he believes there will be 10,000 fans on Saturday and 8,000 to 10,000 spectators on Friday.
"Everybody is looking forward to it," Johnson said, noting rider entries are at an all-time high in the $20,000 event. "In motorcycle hill climbing, where else can you ride in front of 10,000 people?"
Friday is qualifying, beginning with the 450cc class at 10 a.m. Action continues throughout the day with the 450cc podium class and its approximate 10:30 p.m. start.
Saturday, the kids and women's division begins at 8 a.m. and the competition continues throughout the morning, afternoon and evening. Opening ceremonies will be at 9 p.m., a fireworks show will be "right at dark," and the open main division will begin at approximately 10 p.m.
Johnson said the fireworks show will be held earlier this year in an effort to make the event more family friendly so "all the little kids who are tired and want to, can go home after" watching the fireworks.
While much of the area is behind in moisture this year, Johnson said the fireworks show is on schedule and gave credit to the Columbus fire department.
"Yes, we will do fireworks," he said. "We have been maintaining with the fire department and watering down the hill and trying to get ready.
"Special thanks to the Columbus fire department. They help with the fireworks. At the end of the day, that's where it's at. The Columbus fire department comes out and works their butts off in the heat. They come out every single year and they are in the heat and make sure it goes well. We are grateful to them."
Tickets for the event, six miles north of Columbus on Rapelje Road, are $25 per day. Those 5 years old and under are free. There is a $50 fee per camping unit and gates open at 8 a.m. Thursday morning for camping.
Johnson said campfires will be allowed, but they must be enclosed in a fire ring, or campers can use a propane fire pit. Campers won't be allowed to burn pallets.
There will be 11 food vendors, and alcohol, water and soda sales available.
"Come out and have a party," Johnson said.
"I love hill climbing, but I also love atmosphere. I want it to be a fun family, plus a fun party, event. I want those over 21 years old who want to, to have a cold one. I want people to enjoy the weekend. Stay the night, camp, don't leave and don't drink and drive."
Also don't blink, or you just might miss an amazing or captivating ride, stunt, fireworks display, or other entertainment among the sea of people.