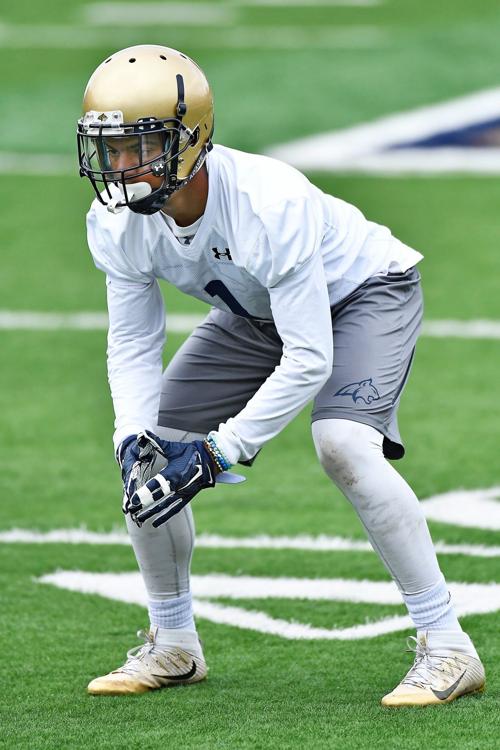 BILLINGS — Tre' Strong's college football journey has been nothing if not circuitous, and it's taking yet another turn.
Strong, once a three-sport athlete at Billings Skyview High School and originally a defensive back for the Montana State Bobcats, signed a letter of intent Thursday to play at FCS Southern Illinois in Carbondale, Illinois, officially his third collegiate program since 2015.
Strong appeared in 10 games last fall as a junior walk-on for coach Kyle Whittingham at FBS Utah, playing primarily on special teams.
He was preparing to use his final year of eligibility this fall to play for first-year coach Chris Stutzriem at Rocky Mountain College but had yet to enroll. When an NCAA rule preventing walk-on transfers from competing right away in Division I was dissolved, it allowed Strong to unite with former Rocky head coach Jason Petrino, now the defensive coordinator at SIU.
Strong indicated that Petrino initially tried to lure him to Rocky when Strong first left Montana State after the 2016 season. Strong instead chose to attend Utah, where he redshirted in 2017.
Strong (6-1, 195) is listed as a cornerback on the Salukis' roster. He said he has received a full scholarship.
"It's my final chance, basically, to accomplish some things at this level," Strong told 406mtsports.com. "I'm excited. I'm ready for the opportunity."
You have free articles remaining.
Strong was credited with making two tackles last season at Utah during the Utes' run to the Pac-12 championship game. Strong said he saw the majority of his playing time on defense during a 41-10 victory over Weber State on Aug. 30.
Strong played right away as a true freshman at Montana State in 2015, then earned a starting spot at cornerback the following year, which was Jeff Choate's first season as coach.
In two seasons with the Bobcats, Strong had 33 tackles, eight passes defended, seven pass breakups and an interception.
Strong said the coaching staff at Southern Illinois "gave me the feeling that I was wanted and that I was a player that they needed at the corner position.
"It's a cool family vibe. The players took me in when I went out there on a visit. The coaches there are excited for me to come. It's a comfortable feeling. They're people that I want to go out and play for and sacrifice my body for. I'm just excited to get back out there and get to know them more and get things rolling."
Southern Illinois competes in the Missouri Valley Football Conference, perhaps the top league in the FCS. The Salukis went 2-9 overall and 1-7 in the MVFC in 2018. They are 10-23 in three seasons under head coach (and former Salukis quarterback) Nick Hill.
SIU hasn't made the playoffs since 2009, when it went 11-2 and 8-0 in the MVFC under previous coach Dale Lennon.
"I feel like I can make a high impact on that defense," Strong said. "Whatever they need me to do, whether it's go inside and play nickel or play outside or play both, I'm ready to do that and I'm ready to make plays for my teammates and the program, and hopefully we can go as far as we can.
"I don't want to do nothing less than make an impact. If I'm not making an impact then I'm not doing what I'm supposed to do."