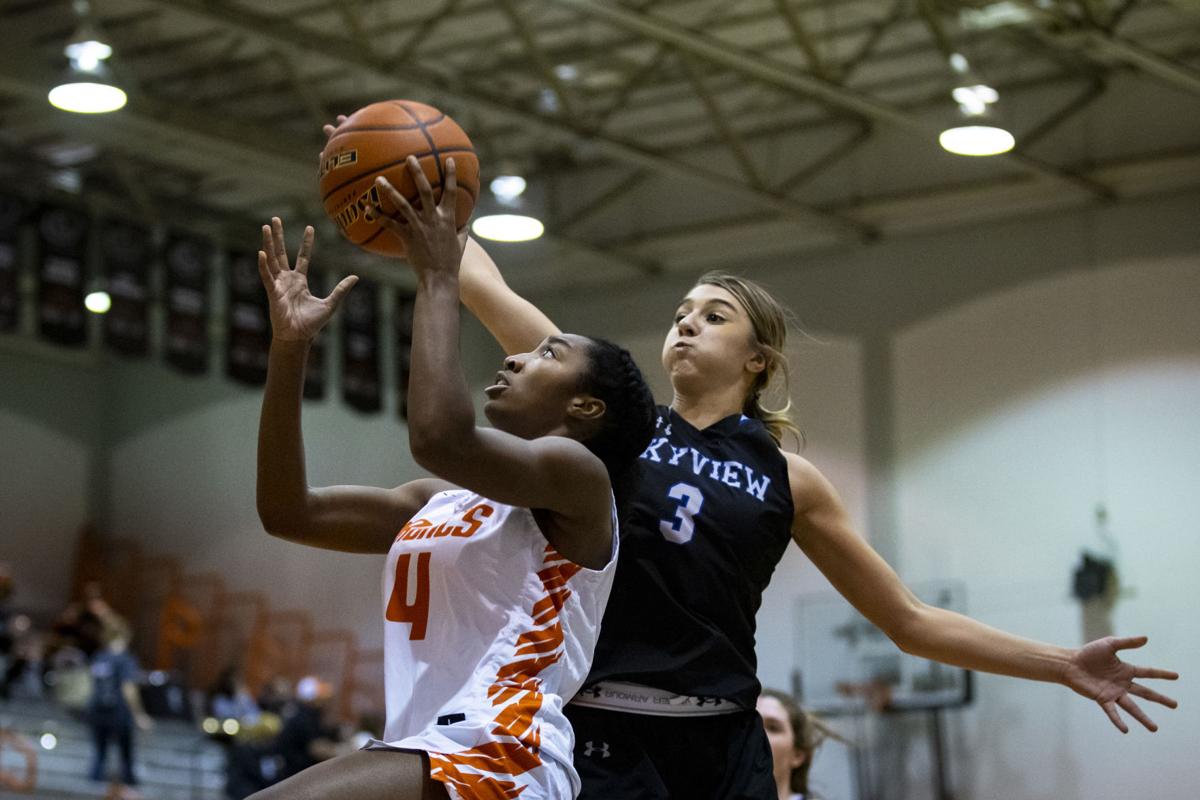 Editor's note: Full Court Press will be updated as we receive results. 
Boys Basketball
• Beckett Arthur hit a 3-point shot at the buzzer in overtime to lift No. 3 Missoula Hellgate to a 66-65 overtime win at Butte. The Knights trailed 49-41 going into the fourth quarter. Hellgate outscored the Bulldogs 15-7 in the fourth quarter. Josh Wade and Cave LaRance each scored 22 points for Hellgate. Jake Olson led the Bulldogs with 14 points and Cael Stenson added 13. 
• Gabe Hatler scored 11 points to lead 10 Billings West players into the scoring column in a 51-28 win over Belgrade. Neil Daily and Cooper Tyson added eight points for the Golden Bears, who led 28-10 by halftime. Ta'Veus Randle had 10 points for Belgrade.
• Joston Cripe had a game-high 22 points, Hunter Hickey helped with 18, Ethan VandenBosch added 12 and Kalispell Flathead got the best of Kalispell Glacier 62-48 in the crosstown game. Jaxsen Olson scored 17 to lead the Wolfpack. 
• Cade Morgan had the hot hand with 21 points, Jace Hill added 14 and Alec Knapton provided 12 to power Columbia Falls past Eureka 68-42. Gavin Bates had 13 and TJ Carr 10 for the Lions.
• Brock Blatter tallied 15 points in helping direct No. 3 Billings Central to a 67-52 win at Miles City. Teammates Malachi Stewart and Kaden Merchant added 10 points apiece for the Rams. A 24-9 second-quarter scoring spurt propelled Billings Central into a 35-19 advantage by halftime. Ryder Lee's 19 points led Miles City. Zach Welch and Dalton Polesky added 13 apiece for the Cowboys.
• Blayne DeRoche scored 20 points, Luke Juneau added 13, Riley Cromwell 12 and Cash Lazyboy 11 as Browning won a wild 76-67 three-overtime thriller over Class B Rocky Boy. Browning trailed 28-18 at halftime but made up all but one point of the deficit in the third quarter. The teams scored seven points each in the first overtime and six in the second OT before the Runnin' Indians put it away with a 14-5 third extra session. Ben Crebs led all scorers with 23 points for the Stars, who also received 12 from Joe Demontiney and 10 from Sean Gibson.
• Devin Shelton scored 15 points, Wyatt Hayes added 14 and Frenchtown used a strong third quarter to outlast Butte Central 46-38. The Broncs led by four at halftime but built the margin to 12 after three quarters. Dougie Peoples scored 16 points for the Maroons.
• Caden Williams poured in 25 points and TJ Anderson provided a boost with 19 to lead Libby past Whitefish 52-39. The Loggers led by two at halftime but did most of their damage with an 11-4 third quarter. Bodie Smith scored 13 points and Talon Holmquist 11 for the Bulldogs. 
• Logan Leck had the hot hand with 36 points and Rhett Reynolds had a big night as well with 26 as No. 2 Shelby remained unbeaten with a 77-52 rout of Conrad. The Coyotes broke open a close game in the second quarter for a 37-26 lead. Brady Bokma scored 16 points, Jarek Shepard 11 and Kade Harwood 10 for the Cowboys.
• Thompson Falls rolled to a 62-26 win over Seeley-Swan. Kade Pardee paced the Blue Hawks with 25 points. Sawyer Shelmerdine scored 12 points for the Blackhawks.
• Jaxen DeHaven led with 15 points and Colton Zubach had 14 as Shepherd rallied past Roundup in the fourth quarter for a 42-39 win. The Mustangs trailed 36-32 entering the final eight minutes. Kaide Griffith paced the Panthers with 13 points, and Jace Lemmel had 12. 
• Owen Long came up big with 35 points and Three Forks raced to a 22-point halftime lead and held off a second-half surge by Big Timber for a 63-57 win. Jacob Buchignani added 13 for the Wolves, who led 43-21 at the break. Tristin Matzik had a big night for the Herders with 27 points, and Kurt Gillings added 11.
• Kyle Lawson scored 15 points and Mario Garcia chipped in with 13 to lift Hot Springs past Noxon 50-35. The Savage Heat led by eight at halftime and outscored the Red Devils 13-4 in the third quarter. Brody Hill's 15 points and Matt Cano's 11 led the way for Noxon.
• Bryce Grebe poured in 22 points and Tyler Kombol backed him with 19 in Melstone's 51-35 rolling of Wibaux. The Broncs fell behind by five points after one quarter but flipped it for a 10-point halftime lead and blew it open with a 20-4 third quarter. 
• Caleb Ball had a big night with 28 points and Tanner Day provided 11 as St. Regis rolled past Plains 56-29. The Tigers used a 17-3 third quarter to pull away.
• Colton Young poured in 28 points, Tysen Young added 13 and Taytin Young provided 11 to lead Absarokee's 61-29 romp over Roberts. The Huskies outscored the Rockets 37-9 over the middle two quarters. Joe Allen's 17 points led Roberts.
• Kain Vincent and Ace Becker shared scoring honors with 17 points apiece as Denton-Geyser-Stanford cruised past Jordan 55-34. Jace Balback added nine for the Bearcats, who led by 15 at halftime. 
• No. 2 Manhattan Christian took out arch-rival Manhattan 62-41 behind a balanced attack. Seth Amunrud scored 17 points, Logan Leep 16, Tebarek Hill 12 and Caiden Hill 11 for the Eagles. The Tigers, ranked fourth in Class B and previously unbeaten, were led by Tate Bowler's 15 points and Caden Holgate's 11.
• Charlie Kruer scored 22 points and No. 3 Twin Bridges stayed perfect on the season with a 61-45 thumping of Ennis. Connor Nye had 12 points and Matt Kaiser nine for the Falcons, who led 24-9 after one quarter. Brand Ostler scored 15 points and Ian Swanson 11 for the Mustangs.
• Billy Boone had a double-double with 11 points and 15 rebounds, and No. 8 Valley Christian kept its perfect season going with a 58-55 squeaker over Philipsburg. The Eagles made 16 3-pointers to account for all but 10 of their points. Asher Beaudin and Eyan Becker also had 11 points, and Brennan Cox provided 10 for Valley Christian. Brian Ward led all scorers with 22 points for the Prospectors, who also received 14 points from Kade Cutler. Philipsburg led by six after the first quarter before the Eagles chipped away.
• Hayden Diekhans scored a game-high 20 points as Fort Benton won at home 60-30 over Chester-Joplin-Inverness. Diekhans scored all of his points during the game's first three quarters. Teammate Devin Bird pitched in with 11 points. Fort Benton led 25-8 at halftime, then put up 24 points in the third quarter en route to winning big. Bryce Kammerzell's nine points topped CJI's scoring column.
• Aidan Fishell led four players in double figures and No. 1 Scobey handled Fairview 64-40 after racing to a 13-point first-quarter lead. Jayce Tande and Reagan Machart each had 12 points and Parker Cromwell scored 11 for the balanced Spartans, who put 10 players in the scorebook. Scobey led 37-13 at halftime.
• Carter McDowell's 25 points helped highlight Simms' 81-32 win at Power. He scored 17 points in the second quarter alone, and drilled four 3-pointers overall. Dallin Nelson scored 17 points for Simms, and Kaidin Thibert tossed in 15. Simms outscored Power 30-4 in the third quarter, with Nelson scoring 13 points. Spencer Lehnerz led Power with 15 points.
• Three players scored in double figures for Winnett-Grass Range in a 79-55 victory over Centerville. Walker Doman led the Rams with 20 points, Brady Bantz had 17 and Derrik Zimmerman added 16. Keegan Klasner led Centerville with 12 points, and teammates Chaz Dilley and Karson Smith each had 10.
• Aidan McDanield had the hot hand with 25 points and Bridger Vogl helped with 12 to lead Belt over Roy-Winifred 59-39. The Huskies led 23-9 after one quarter. Brody Geer and Justin Stulc had 12 apiece for the Outlaws.
• William Sanguins was on fire with 32 points and Kade Erickson had a big night with 20 as Broadview-Lavina raced past Fromberg 69-19. The Pirates led 27-5 after one quarter and pitched a shutout in the third. Brody Dobson scored six for the Falcons.
• Giammo Ferrarese scored 20 points, Abe Smith had 15, Wes Braddock 12 and Philippe Landwehr 10 for No. 9 Terry, but their efforts couldn't prevent the Terriers from suffering their first defeat of the season, 72-61 to Broadus. Terry led by four after one quarter but the Hawks went on a 22-11 spree over the next eight minutes and built the margin to 12 after three quarters. No statistics were available for Broadus.
• Colt Parsons scored 12 points and Samuel Bryant helped with 10 in Drummond's 36-27 win over Darby. Preston Smith's nine points led the Tigers.
• Braedon Romo dropped in 23 points and Jesse Strickland added 16 to fuel Bainville's 61-40 toppling of Brockton. The Bulldogs led by 11 after one quarter, nine at halftime and 21 by the end of three quarters. Allen Russell scored 12 points and Malcom Yellow Hammer 10 for the Warriors.
• Kody Strutz's 19 points led the way for Big Sandy in a 70-61 triumph over Turner. Kade Strutz had 13 points, Brayden Cline 12 points and Lane Demontiney 10 for the Pioneers. Shane Kimmel and Austin Welsh were a two-man whirlwind for the Tornadoes, each scoring 23 points. 
• Colter Woldstad pumped in 23 points and Johnny Mysse provided 11 to fuel Harlowton-Ryegate's 58-41 victory over Plenty Coups. The Engineers led 21-6 after the first quarter. Irvin Crow scored 14 for the Warriors.
• Oshar Pula led with 24 points and Ethan Bell backed him with 19 to lead Chinook past North Star 82-52. Gavin Spicher led the Knights with 14 points. 
• Kaden Acosta scored 17 points, Dylan Flatt added 11 and Shields Valley built a 13-point first-quarter lead on the way to a 59-35 win over Gardiner. The Rebels led by 11 at halftime and put away the game with a 21-8 third quarter. 
Girls Basketball
• Brooke Berry compiled 17 points in leading No. 4 Billings Skyview to a 54-43 victory at No. 5 Billings Senior. The Falcons outscored the Broncs 26-14 in the middle quarters en route to the win. Morning Grace Spotted Bear contributed 11 points overall for Skyview. Senior was led by the 14 points of Olivia LaBeau. Kennedy Venner knocked down three 3-pointers for her nine points.
• Taylee Chirrick, Sydney Pierce and Kourtney Grossman all scored 12 points and Bella Murphy added 10 as Billings West coasted past Belgrade 64-11. McKenzie Turner had five points for the Panthers. 
• Alex Covill had 15 points and Lauren Dick scored 11 to lift top-ranked Missoula Hellgate past Butte 51-26. The Knights led 14-2 after one quarter and were up by 20 at halftime. Tyler Clary led the Bulldogs with eight points.
• Kenzie Williams had 13 points, eight rebounds and six steals to propel Kalisipell Glacier past Kalispell Flathead 45-27 in the first crosstown showdown. Ellie Keller added 12 for the Wolfpack. Molly Moy scored nine for Flathead. 
• Walker Running Crane led four players in double figures with 21 points and Browning had no trouble with Class B Rocky Boy 81-16. Mecca Bullchild added 12, Tatum Running Crane 11 and Arena Matt 10 for the Runnin' Indians. Nine players scored for Browning. Jour'Dai Coffee and Jayci Demontiney had five points each for Rocky Boy.
• Sadie Smith paced Frenchtown with 11 points, and Cassidy Bignell and Demi Smith added eight apiece in the Broncs' 40-32 toppling of Butte Central. Frenchtown led by four enternig the fourth quarter. Brooke Badovinac scored 10 and Sofee Thatcher nine for the Maroons.
• Top-ranked Billings Central won its eighth in a row, beating Miles City 62-16. Mya Hansen led the way with 22 points and nine rebounds, and Isabelle Erickson added 12 points and eight rebounds. Solei Elletson added nine points for the Rams, who have given up more than 30 points just twice this season.
• Jillian Litwiller scored seven points to lead Glendive in its 54-27 loss to No. 3 Havre. The Blue Ponies led the Red Devils by 10 after one quarter and 15 at halftime. No statistics were available for Havre. 
• Hannah Schweikert's 21 points paced unbeaten and fourth-ranked Columbia Falls past Class B No. 7 Eureka 67-49. The Wildkats (7-0), who also received 17 points from LaKia Hill and 14 from Maddie Robison, put the game away with a 21-8 fourth quarter. Katie Schmidt led the Lions with 22 points. 
• Brook Smith topped all scorers with 18 points and she received help from Gracie Smyley and Erin Wilde with 10 apiece as Whitefish overcame Libby 49-31. Elisa Erickson led the Loggers with 11 points. 
• Jada Clarkson had a team-high 25 points and Brynna Wolfe helped with 14 to help Whitehall fend off Jefferson 71-58 despite 27 points from the Panthers' Rachel Van Blaricom. The Trojans, who also received 10 points from Kendra Klapan, sprinted to a 23-11 first-quarter lead and withstood a 21-8 onslaught by Jefferson in the fourth quarter. Cia Stuber added nine points for the Panthers.
• Blythe Sealey led with 21 points and Tia Stahl provided nine as Roundup remained undefeated in conference play with a 42-25 whipping of Shepherd. The Panthers led by 11 at halftime. Lyndsey Kale led the Fillies with nine points.
• Makenzi Meagher put up nearly half of Deer Lodge's points with a season-high 24 in a 50-41 triumph over Arlee. Courtney Boese had her back with 13 for the Wardens, who had only four players score. Princess Bolen tallied 10 points for the Scarlets. 
• Payton West scored 14 points, Sawyer Wiggs added eight and Columbus surprised Class A Laurel 41-40 in double-overtime. The Cougars trailed by three entering the fourth quarter and each team scored eight points in the first OT. Grace Timm scored 13 and Morgan Maack 10 for the Locomotives.
• Maddison Underdal tallied 22 points and Vivi McDermott did her part with 18 to lead Shelby past Conrad 50-43. The Coyotes led 15-9 after one quarter and upped the lead to nine after three. Brae Eneboe had 12 points and Lauren Phillips 10 for the Cowgirls.
• Emily Cooley rolled up 16 points and Bailey Finn backed her with 12 as top-ranked Big Timber raced to a 15-point first-quarter and trounced Three Forks 63-23. Fallon Page and Jayden Woodland each had five points for the Wolves. 
• Emma Berreth scored 15 points and Bigfork pitched a first-quarter shutout in downing Troy 47-10. Callie Gambala and Scout Nadeau each added nine for the Valkyries, who led 13-0 after eight minutes and 30-2 at intermission. Elaine Folkerts led the Trojans with five points. 
• Josie Hatler was high scorer for Huntley Project in a 52-34 loss to Class A Lewistown in which the difference was the second quarter. The Red Devils led 11-9 after the first eight minutes but the Golden Eagles outscored them 24-2 in the second quarter. Project then outscored Lewistown 21-19 in the second half. No statistics were available for the Golden Eagles.
• Anika Ploeger drained 22 points and Baker created a big early lead and held on to down Lodge Grass 55-50. The Spartans led 19-7 after the first quarter but the Indians chipped away. Jordan Jefferson scored 21, Shantell Pretty On Top 17 and Diamond Amyotte 10 for Lodge Grass.
• Draya Wacker continued her prolific pace with 24 points and Kayla Kombol added nine to lead No. 2 Melstone over Wibaux 50-24. The Broncs led by 11 at halftime and built the margin to 20 after three quarters. Annika Lunde led the Longhorns with seven points. Wacker is averaging 27.8 points per game.
• Hailey Fiske pumped in 18 points and Callie Beckett had nine in Broadview-Lavina's 47-23 rout of Fromberg. The Pirates led by 16 entering the final eight minutes before outscoring the Falcons 23-1. Siera Guffey scored 12 points for Fromberg. 
• Karli Lane had a game-high 19 points and Mesa Butler provided 14 to carry Harlowton-Ryegate over Plenty Coups 48-38. The Engineers led by four after one quarter and eight at halftime, then held on.
• Morgan Fairchild paved the way with 14 points and Aspen Sanderson was right behind with 10 to help Shields Valley rally from a 10-point first quarter hole to down Gardiner 42-34. The Rebels trailed 16-6 after the first eight minutes and closed the gap to three by halftime and one after three quarters. A 14-5 fourth quarter won it for Shields Valley. Alexis McDonald scored 13 points and Ellie Reinertson 10 for the Bruins.
• Kiersten Van Kirk was high scorer with 19 points, and Eliana Kuperus had a double-double with 14 points and 11 rebounds to power No. 10 Manhattan Christian to a 58-35 triumph over Class B Manhattan. The Eagles led by 10 points after one quarter and nine at halftime before speeding away in an 18-6 third quarter. Cayli Chapman had nine points and Olleca Severson and Adele Didriksen eight apiece for the Tigers. 
• Sadie Ullmer led a balanced Bainville offense with eight points and the Bulldogs outlasted Brockton 57-14. Ten players scored for Bainville, which led 17-1 after one quarter. Kyra Stormy led the Warriors with nine points.
• Emma Brensdal had the hot hand with 21 points and Liv Wangerin backed her with 15 to lead Plentywood over Westby-Grenora 49-32. The Wildcats trailed by one point after a quarter but went on a 17-3 run over the next eight minutes. Elizabeth Field led the Thunder with 14 points. 
• Bridger downed Roberts 51-22 as Emily Adkins popped in 18 points and Dylann Pospisil added 12. The Scouts started slowly, leading 7-3 after one quarter, but outscored the Rockets 19-7 over the next eight minutes.
• Kinsey May compiled 15 points, Jersey Somerfeld 12 and Amara Bodkins 10 as Power slipped past Simms 44-39. The Pirates' margin of victory came in the third quarter, when they outscored the Tigers 12-7. Taylee Sawyer scored 12 and Lara Zeitzke 11 points for Simms.
• No. 5-ranked Valier used Erica Ramsey's game-high 23 points to stay unbeaten with a 77-51 victory over visiting Heart Butte. Ramsey received plenty of help, with Loni Orcutt (13), Hannah Monroe (12), Hannah St. Goddard (11) and Emma Valdez (11) all scoring in double figures. Valier led 33-18 at halftime. St. Goddard nailed three 3-pointers in the middle quarters. Lish Spoonhunter had 19 points for Heart Butte. Aaina Spoonhunter added 14.
• Augusta brought home a 62-46 victory over Cascade with the help of Olivia Isakson's game-high 27 points. Payton Levine also chipped in 13 points for the Elk. Mattison McKamey led Cascade with 12 points.
• Sydney Von Bergen led the way with 23 points and Adie Woodhall dropped in 16 as Denton-Geyser-Stanford toppled Jordan 65-48. The teams were tied 25-all at halftime before the Bearcats outscored the Mustangs by six in the third quarter and 11 in over the final eight minutes. Lacey Lawrence scored 17 and Lindsey Lawrence 15 for Jordan.
• Kimmy Curry scored 19 points to lift Plains past St. Regis 58-30. Macy Hill's 11 points paced the Tigers. 
• Livvy Shelton scored 18 points, Lindsey Paulson added 15 and No. 7 Belt got a measure of revenge against No. 3 Roy-Winifred 43-35 in a showdown of last year's state co-champions. The Huskies bolted to a 17-7 first-quarter lead and led by 12 at the half. Madeline Heggem scored 12 points and Trinity Edwards 11 for the Outlaws, who suffered their second defeat since defeating the Huskies 41-26 on Jan. 5. 
• Drummond drubbed Darby 61-27 as Sydney Phillips scored a game-high 21 points for the Trojans. Makena Hawkinson scored 11 for the Tigers.
• Abi Whitney popped in 16 points to lead Centerville over Winnett-Grass Range 37-25. Emily Benes and Erika Benes each scored seven for the Rams.
• Gracee Lekvold kept up her hot shooting with 25 points to spark Scobey's 50-16 win over Fairview. The Spartans led 10-2 after one quarter and by 17 at halftime.
• Shyan Krass had 20 points, Dakota Krass 17 and No. 4 Turner had no trouble with Big Sandy 52-7. The Tornadoes led 48-1 after three quarters. Lainey Terry scored all four of her points in the fourth quarter for the Pioneers. 
• Heidi LaBree led four players in double figures with 14 points and Ekalaka started and finished strong in its 54-22 rout of Custer-Hysham. The Bulldogs led 18-4 after one quarter but saw the Rebels trim the gap by four over the next 16 minutes. Kenzie Tooke had 11 points, and Codi Melton and Ella Owen 10 apiece for Eklalaka, which closed the game on a 24-2 run. Charlee Yochum led Custer-Hysham with eight points. 
• Aspen Conley's 14 points paced Seeley-Swan in 55-48 win over Class B Thompson Falls. Bethany Hoag added 11 for the Blackhawks, who trailed by six points after one quarter. Megan Baxter scored 18 points and Riley Wilson 10 for Thompson Falls.
• Reece Pitcher led three players in double figures with 16 points and Philipsburg blanked Valley Christian 17-0 in the first quarter on the way to a 61-23 win. Amelia Hill scored 14 and Asha Comings 12 for the Prospectors, who led 38-6 at halftime. Ashlyn Kelly scored eight points and had five steals to lead Valley Christian, which received 13 rebounds and six steals from Taylor Vance.
• Emmie Collins led the way with 17 points and Ashlynn Roos provided 16 in West Yellowstone's 45-32 victory over Sheridan. The Wolverines led by four entering the final eight minutes. Faith Larsen scored nine and MaKenzee Fabel eight for the Panthers.
20-Point Club
35: Owen Long, Three Forks
32: William Sanguins, Broadview-Lavina
28: Caleb Ball, St. Regis
28: Colton Young, Absarokee
27: Rachel Van Blaricom, Jefferson
27: Olivia Isakson, Augusta
27: Tristin Matzik, Big Timber
26: Rhett Reynolds, Shelby
25: Jada Clarkson, Whitehall
25: Carter McDowell, Simms
25: Kade Pardee, Thompson Falls
25: Gracee Lekvold, Scobey
25: Caden Williams, Libby
24: Draya Wacker, Melstone
24: Makenzi Meagher, Deer Lodge
23: Sydney Von Bergen, Denton-Geyser-Stanford
23: Braedon Romo, Bainville
23: Colter Woldstad, Harlowton-Ryegate
22: Bryce Grebe, Melstone
22: Charlie Kruer, Twin Bridges
22: Brian Ward, Philipsburg
22: Cave LaRance, Missoula Hellgate
22: Josh Wade, Missoula Hellgate
22: Mya Hansen, Billings Central
22: Joston Cripe, Kalispell Flathead
22: Maddison Underdal, Shelby
22: Katie Schmidt, Eureka
21: Emma Brensdal, Plentywood
21: Jordan Jefferson, Lodge Grass
21: Blythe Sealey, Roundup
21: Walker Running Crane, Browning
21: Cade Morgan, Columbia Falls
21: Sydney Phillips, Drummond
21: Hannah Schweikert, Columbia Falls
20: Kade Erickson, Broadviewi-Lavina
20: Giammo Ferrarese, Terry
20: Hayden Diekhans, Fort Benton
20: Walker Doman, Winnett-Grass Range
20: Blayne DeRoche, Browning